The Eternal Palace Loot and Essence Guide
Patch 8.2's raid, the Eternal Palace features 4 difficulties, each with its own tier of loot: item level 400 for LFR, 415 for Normal, 430 for Heroic, and 445 for Mythic.
In addition to the usual weapons and armor items (including BoE bracers and gloves for all types of armor and a cloak), the raid also rewards you with 3 essences (1 per DPS, 1 for healers, and 1 for tanks) and their 4 ranks of upgrades, as well as 4 pets (dropping from select bosses in all difficulties), and a mount:

Azshari Bloatray (reward for the

Glory of the Eternal Raider meta-achievement).
TABLE OF CONTENTS OF THIS PAGE
There are 4 pets that can be obtained in the Eternal Palace. They drop from select bosses in all difficulties:
Completing the

Glory of the Eternal Raider meta-achievement rewards you with the

Azshari Bloatray mount.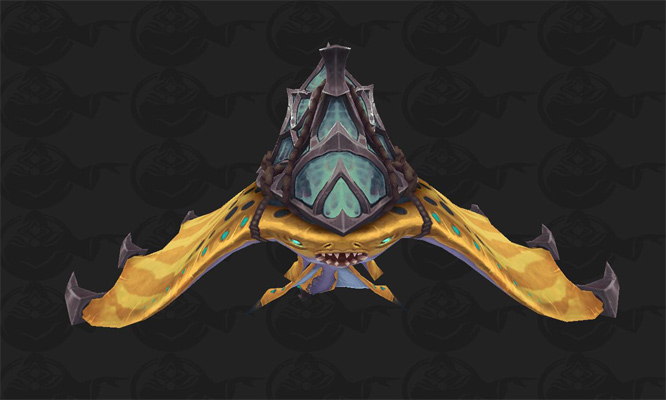 For more information, please refer to our Azshari Bloatray post.
As part of the Patch 8.2 Essence system, 3 essences (and all their upgrades) are obtainable exclusively from the Eternal Palace raid, depending on your specialization. The first 3 ranks are obtained by combining

Aqueous Reliquary items that drop from in every difficulty from Radiance of Azshara, The Queen's Court, and Queen Azshara. Rank 4 (which is purely cosmetic) is a Mythic-only drop from Queen Azshara.
The essences you can get from the Eternal Palace are the following.
Condensed Life-Force for DPS
Vitality Conduit for healers
Azeroth's Undying Gift for tanks
3.1.
Essence Pages for each Spec/Class
| Death Knight | Demon Hunter | Druid |
| --- | --- | --- |
| | | |
| Hunter | Mage | Monk |
| | | |
| Paladin | Priest | Rogue |
| | | |
| Shaman | Warlock | Warrior |
| | | |
08 Jul. 2019: Added guide.
Show more
Show less