Argussian Reach Reputation Farming Guide (Legion 7.3)
Table of Contents
Although many struggled to oppose the Burning Legion's conquest of Argus, not all were able to escape. Emboldened by the arrival of new allies, these refugees and outcasts stand united in their mission to reclaim their home.
Argussian Reach is a new faction added in Patch 7.3 comprised of refugees and outcasts of Argus. This guide will help you to learn more about how to acquire reputation and gain access to various vanity items, mounts, pets and more.
2.
Patch 7.3 Reputation Catch-Up
We found two Bind-to-Account items that help with catching up on reputation with the Broken Isles and Argus factions. Sources remain unknown for now.
Nathrezim Tome of Manipulation is a tome that increases reputation gain with factions of the Broken Isles by 200% for 2 hours. The item is intended for alts and cannot be used above level 109. It drops from Vagath the Betrayed in Krokuun (61, 20).
Demon's Soulstone is another item that increases reputation with the factions of the Broken Isles and Argus by 1,000. The item can only be used on Argus. It is especially useful for fresh alts that need to catch up on reputation with the Nightfallen. The item has a small chance to drop from Argus rare elites.
3.
Quests and Reputation Advancement
In this section, you will find out how to increase your reputation standing with the Argussian Reach faction. Most of the reputation is gained from completing Argus world quests, Argus missions, and weekly quests.
3.1.
Argus Story Chapters
Some Argussian Reach quests in Mac'Aree reward 75 reputation (e.g. A Non-Prophet Organization), but their main purpose is to unlock access to world quests.
The most efficient way to increase your reputation standing with Argussian Reach is by completing world quests. Each Argussian Reach world quest will increase your reputation standing by 75. To be granted access to Argussian Reach world quests, you must first complete portions of the Argus story (separately for each zone).
Argussian Reach world quests are specific to Krokuun and Mac'Aree. You will not find them in Antoran Wastes.
Do not forget to ride the carousel for the

WHEE! buff whenever the Darkmoon Faire is up, before doing world quests.
We encourage you to download the World Quests Group Finder addon for faster and efficient completing of world quests.
Joining a group of players that are on the same quest is only a few clicks away thanks to the addon.
Completing four Argussian Reach world quests when the Argussian Reach emissary quest is up grants:
Click here for a full list of quests that award reputation with Argussian Reach.
3.3.
Argus Missions & Reputation Insignias
To unlock Argus missions and followers (

Krokuun Equipment) you must first complete the Remnants of Darkfall Ridge quest, which is a 16-hour mission. The Scouting Table can be found aboard the Vindicaar, downstairs at 69, 54. There is no need to return to your Order Hall to begin the mission. Once unlocked, you will be able to complete missions that reward Argussian Reach reputation insignias.
We found the following insignias associated with the Argussian Reach faction:
We also found two Bind-to-Account insignias:
Besides standard quests, missions and world quests, there are several Argussian Reach weeklies.
For every 10,000 reputation earned with the Argussian Reach faction beyond Exalted, you will complete the Supplies From the Argussian Reach quest and earn

Crumbling Chronicles of Argus (Artifact Power token) and

Brittle Krokul Chest. Other rewards have not been confirmed yet.
It is worth noting that Elekk mounts obtained from the Army of the Light reputation paragon cache (

Gleaming Footlocker) require Revered reputation standing with Argussian Reach: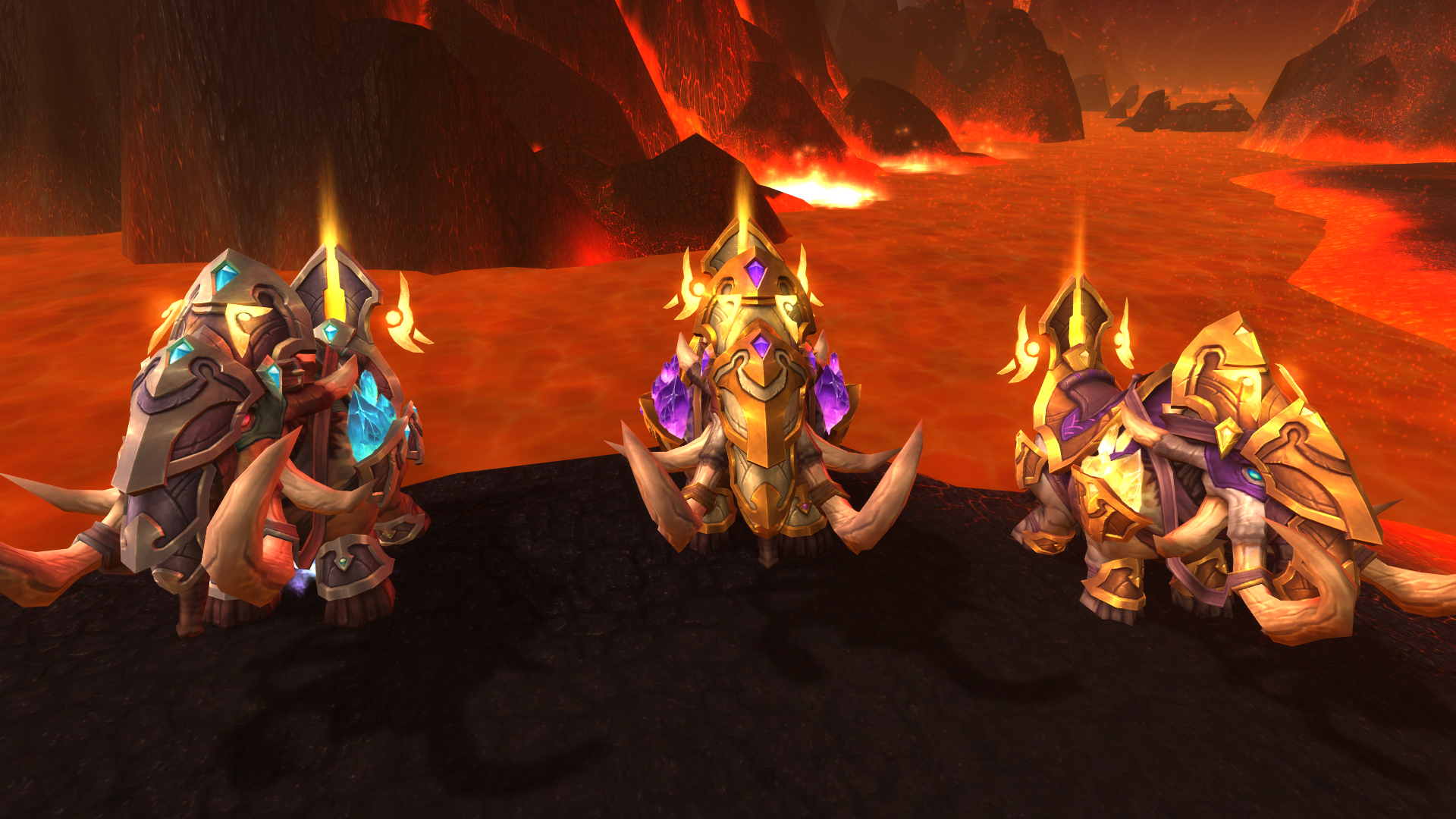 Toraan the Revered is Argussian Reach's Quartermaster. You can find him aboard the Vindicaar at 68, 56. All items cost gold and require a certain reputation standing. Faction discounts apply.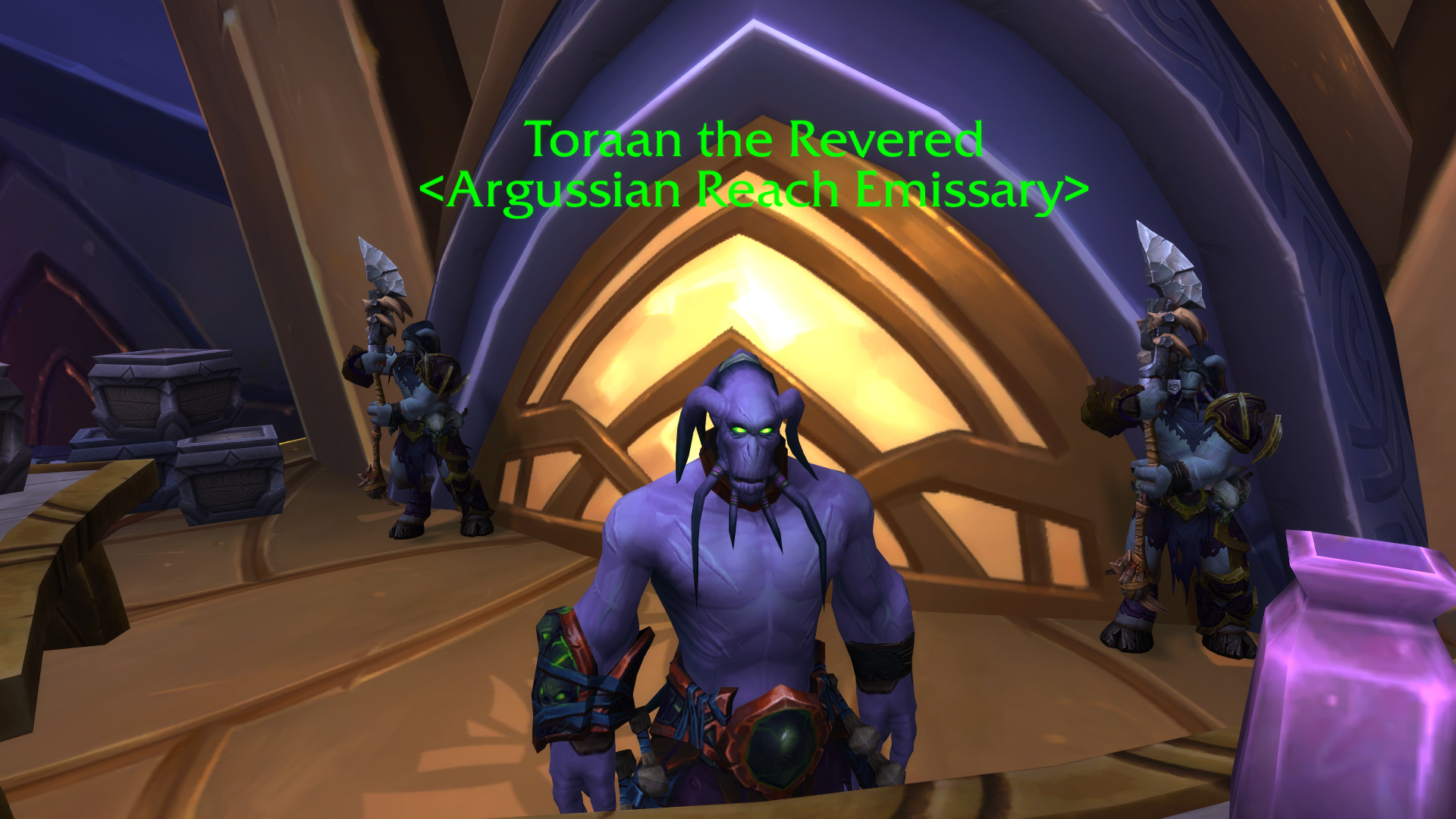 At Friendly, Enchanters can purchase

Formula: Chaos Shatter, which allows them to shatter 1

Chaos Crystal into 2

Leylight Shard.
Scribes can get

Technique: Mass Mill Astral Glory, allowing them to mill multiple

Astral Glory at once. Both recipes cost 17 Gold.
At Honored, Miners can purchase

Krokul Mining Pick for 200 Gold to mine faster. The item also works on the Broken Isles.

Crystalline Campfire can be bought for 75 Gold and the item's used for cooking.
The last item is the

Orphaned Marsuul battle pet for 500 Gold.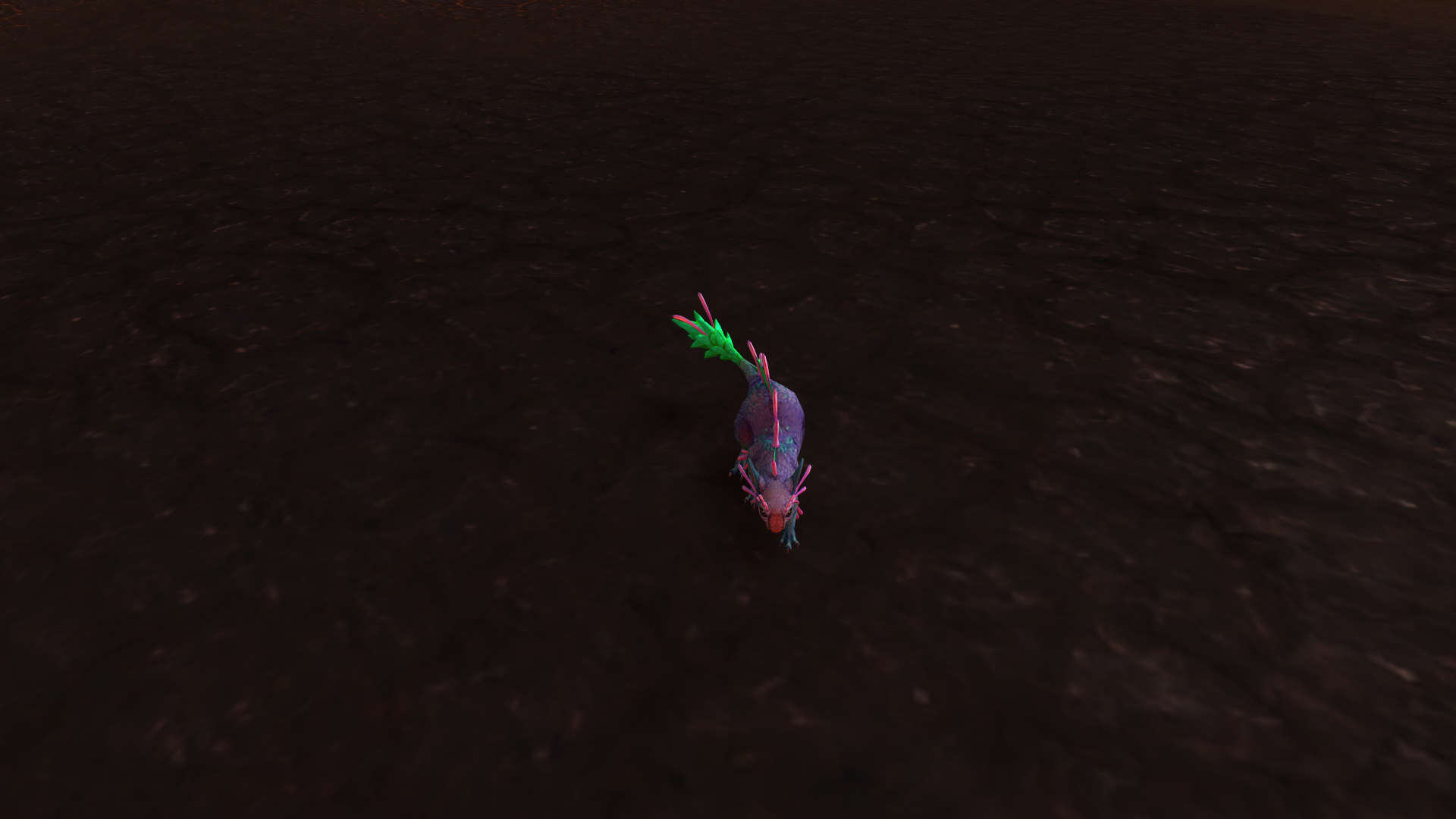 At Revered you can buy

Krokul Flute that costs 500 Gold. The item will upgrade your

Flight Master's Whistle to work on Argus, allowing you to teleport to the nearest Lightforged Beacon.

Recipe: Astral Alchemist Stone is a Rank 2 Alchemy recipe that becomes available for 2,000 Gold.

Boon of the Steadfast is a shoulder enchant for 200 Gold and with it, you will occasionally loot

Argunite Cluster from enemy corpses. The bags contain

Veiled Argunite used to purchase new Relinquished gear.
Thaumaturge Vashreen can be found aboard the Vindicaar at 46, 71 (go downstairs and turn right at the Netherlight Crucible). He has moved from the Broken Shore to Argus and now sells new Relinquished Items for a new currency from world quests called

Veiled Argunite.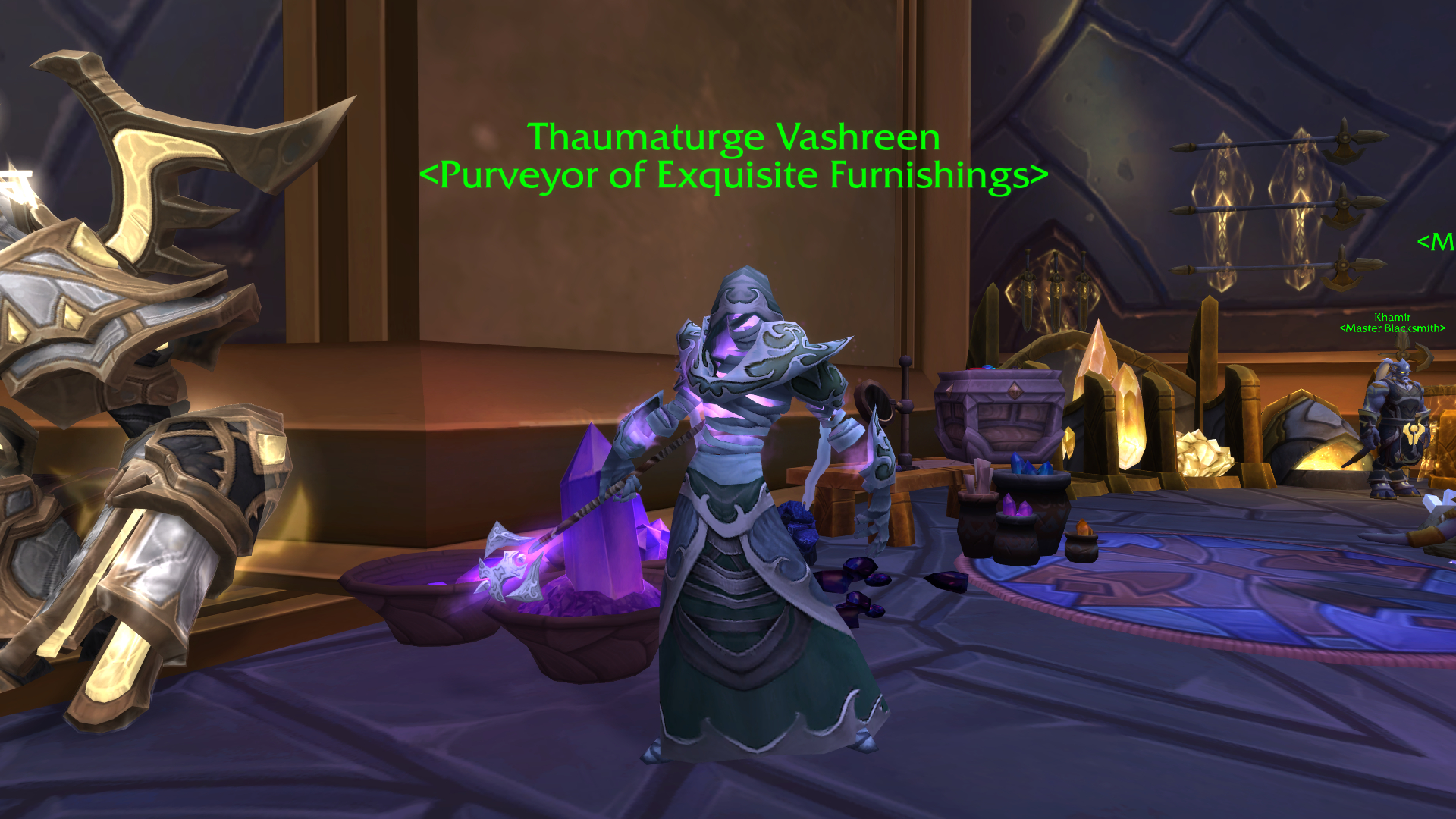 The base item level of Relinquished gear in Patch 7.3 is 910 and each item costs 650

Veiled Argunite. With the arrival of the Netherlight Crucible, you can now purchase tokens and target specific Relic types.
Blizzard confirmed that 7.3 Relinquished tokens can create Legendary items and Tomb of Sargeras gear.
Below is a list of all items sold by Thaumaturge Vashreen.
When you reach Exalted, you can buy 6 Argussian Talbuk mounts, Alchemy Rank 3 recipes, and the faction tabard.
Each Talbuk mount costs 10,000 Gold.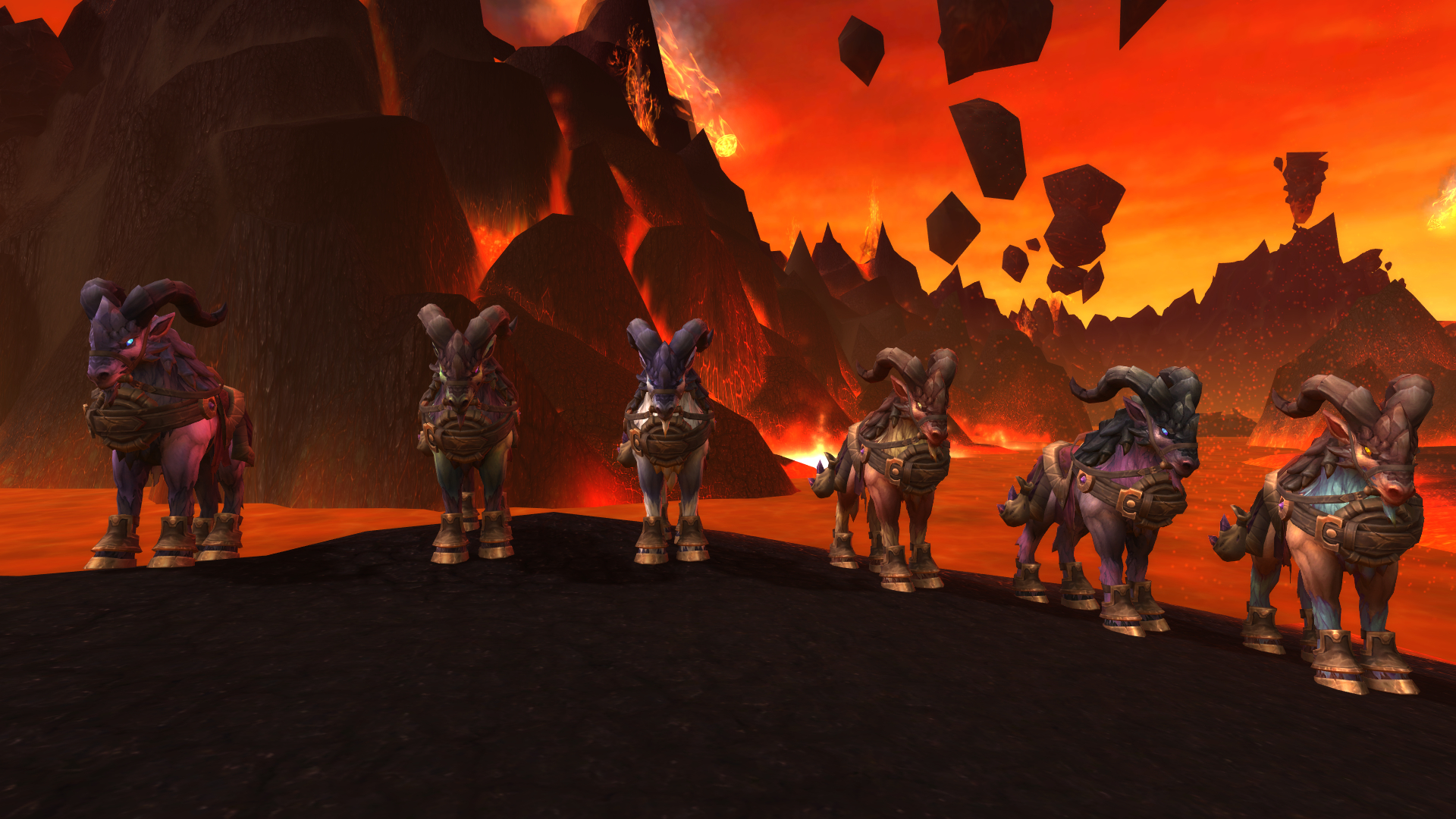 The following Rank 3 Alchemy recipes are purchasable for 3,000 Gold each:
The tabard you can purchase is

Argussian Reach Tabard.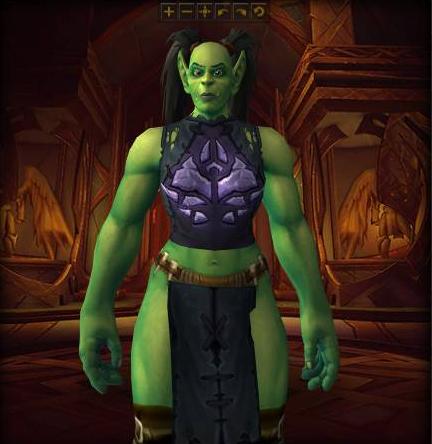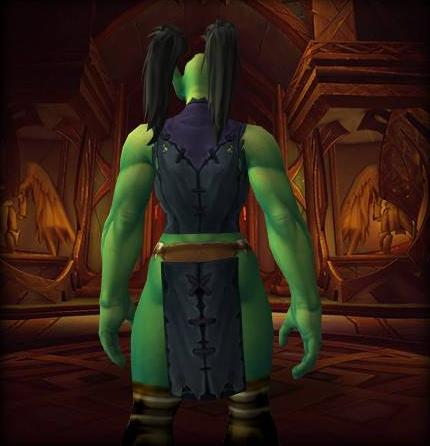 Here is a list of all items sold by the Argussian Reach Quartermaster, sorted by reputation standing. Item prices at Neutral with Argussian Reach are as follows:

Protector of the Argussian Reach is rewarded once you reach Exalted status with Argussian Reach. The achievement is mandatory for

Paragon of Argus, which will earn you the Lightbringer title.
09 Sep. 2017: Added sources of reputation catch-up items.
30 Aug. 2017: Removed Grimoire of Lost Knowledge from Vashreen. Added more information about Relinquished tokens.
27 Aug. 2017: Added World Quests Group Finder to recommendations. Added more details about reputation insignias.
22 Aug. 2017: Removed Rebellious Imp from Reputation Paragon rewards.
15 Aug. 2017: Guide added.
+ show all entries
- show only first 2 entries