Naxxramas Crafting Guide: How to Unlock Tier 3 Crafting in World of Warcraft (10.1.5)
Ancient Naxxramas Crafting is a new feature available in Patch 10.1.5 that lets you craft long-forgotten recipes from Naxxramas including Tier 3 sets.
The following guide is primarily based on Patch 10.1.5 datamining. As such, it may contain inconsistencies, incomplete our outdated information. The community has yet to uncover how to unlock Naxxramas Crafting. We will be updating this guide when new information become available.
2.
What We Know About Naxxramas Crafting So Far
Players will unlock Naxxramas Crafting by empowering an Argent Dawn Commission, as indicated in the

Wards of the Dread Citadel achievement. Some steps may even lead us to Scholomance (

Memory of Scholomance), where we must perform a ritual using

Eva's Journal.
Upon unlocking Naxxramas Crafting, you gain access to old Naxxramas profession paterns and plans, as well as crafting Tier 3 sets.
We have datamined multiple items that randomly teach you random Ancient recipes:
Slime-Covered Scroll

— Reeal a random Ancient Recipe from Naxxramas.

Archived Crafting Techniques

— Reveal a random Ancient Recipe from Lordaeron and its nearby regions.
You will find a full list of available patterns and ancient recipes on WoWDB.
While the entire process behind crafting Tier 3 sets in Patch 10.1.5 remains shrouded in mystery, we have uncovered two main crafting reagents tied to Naxxramas —

Phylacterweave and

Wartorn Scrap. Both are used to craft Naxxramas armor and weapons.
We have also datamined crafting spells tied to Tier 3 set armor pieces:
The spells above are learned by discovery and are used to restore Tier 3 armor set pieces to their former glory:
Lamented Crusader's Gauntlets

;

Lamented Crusader's Belt

;

Lamented Crusader's Helmet

;

Lamented Crusader's Bracers

;

Lamented Crusader's Spaulders

;

Lamented Crusader's Boots

;

Lamented Crusader's Leggings

;

Lamented Crusader's Chestpiece

.
The resulting item will become Bind-to-Account.
5.
Moving Around Within Naxxramas

Makeshift Grappling Hook is most likely tied to moving around in Naxxramas. The item gives you the ability to grapple onto specific points within the raid and unlocks for all characters on your account. We currently do not know how to get it.
6.
Valiance Mount from Naxxramas

Reins of Valiance is a new skeletal horse mount available from Naxxramas. We do not know how to get it right now.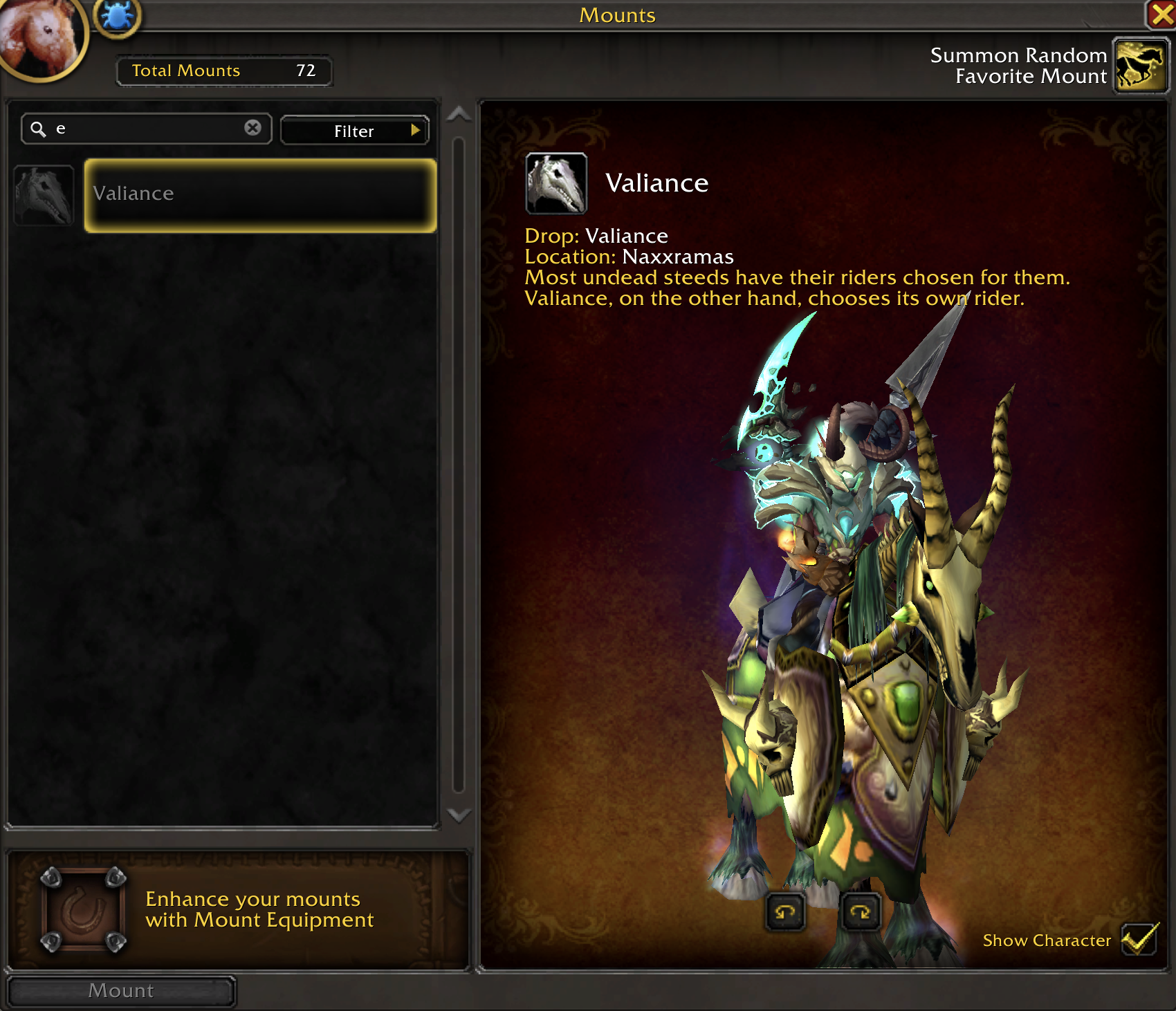 7.
Naxxramas Crafting and Gold Making
The return of previously removed items from Naxxramas has immense gold-making potential because all the crafted items are BoE and can be sold on the Auction House.
Please note you cannot sell Tier 3 sets.
10 Jul. 2023: Guide added.
Show more
Show less