Zskera Vaults Guide for Dragonflight
Zskera Vaults are a mysterious treasury unearthed by the Dragonscale Expedition. Learn more about how to unlock the outdoor feature, where to find it, and the rewards you can get.
TABLE OF CONTENTS OF THIS PAGE
In Patch 10.1.5, a catch-up for Zskera Vault Keys has been added. You can buy them from Renown Envoys in Morqut Village for 50

Dragon Isles Supplies each.
2.
What are Zskera Vaults?
Zskera Vaults is a new type of outdoor content in the Forbidden Reach, available to max-level players in Patch 10.0.7. You need to visit them at least a couple of times to obtain the Onyx Annulet ring and Primordial Stones, as well as the ability to break down and remove Primordial Stones.
3.
How to Unlock Zskera Vaults?
You must complete the Forbidden Reach intro questline, which starts in Valdrakken by talking to Kazra at the Seat of the Aspects. You must fly to the Forbidden Reach and complete all quests up to Exploring Our Past.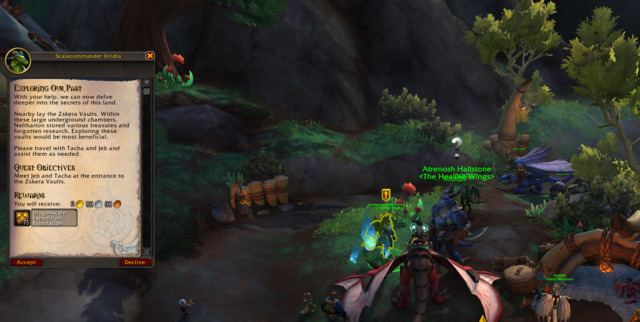 The follow-up quest Zskera Vault: Az requires you to explore the vault for the very first time.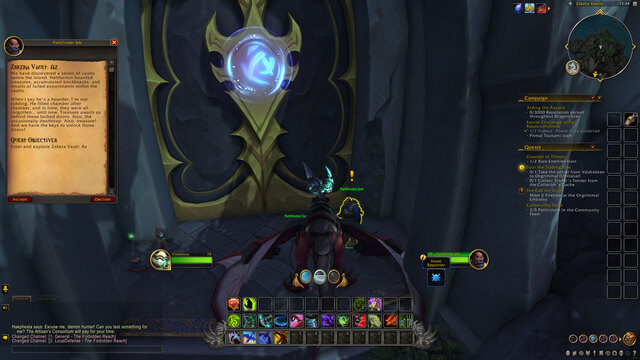 4.
How to Enter Zskera Vaults?
The entrance to Zskera Vaults is located on Morqut Islet at 29, 53. The exact location is highlighted with an icon on the map below.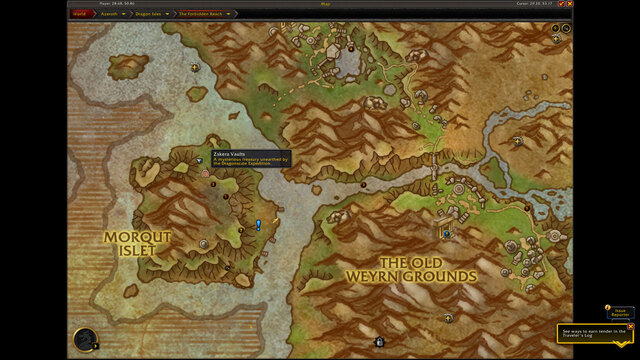 Talk to Pathfinder Jeb at any time to enter Zskera Vaults. You can enter Zskera Vaults an unlimited number of times per week.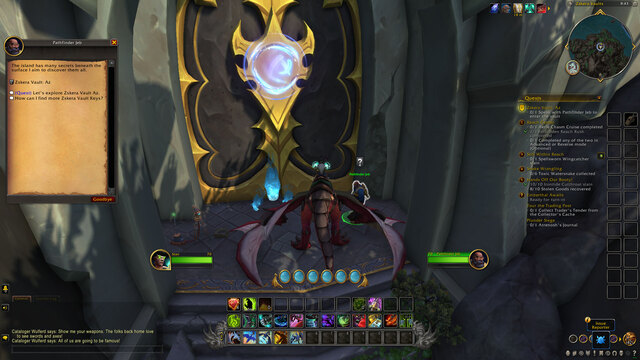 Zskera Vaults are on a weekly, character-specific lockout, which resets every Tuesday in North America and Wednesday in Europe. The lockout is not account-wide, which means every character on your account will have a unique lockout generated.

Zskera Vault Key are needed to open doors in Zskera Vaults. Pathfinder Tacha will have a quest for you at the entrance and provide you with your first free 6

Zskera Vault Keys.
7.
How Do You Obtain More Zskera Vault Keys?
In Patch 10.1.5, you can simply buy

Zskera Vault Keys from Renown Envoys in Morqut Village for 50

Dragon Isles Supplies each. You do not need to spend time completing Forbidden Reach content.
8.
Are Zskera Vault Keys Account-Wide?
Yes,

Zskera Vault Keys are account-wide, and if you have many alts at Level 70, you can use them to funnel keys to your main.
When you enter a Zskera Vault, you will go downstairs and must secure the vault by defeating the enemy in the center.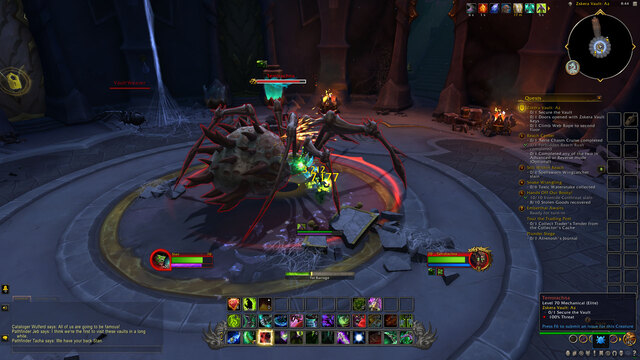 You will receive

Onyx Annulet upon first exploring the Zskera Vaults.
On the ground during your first run, you will find an Unusual Ring, which starts a quest for the

Onyx Annulet.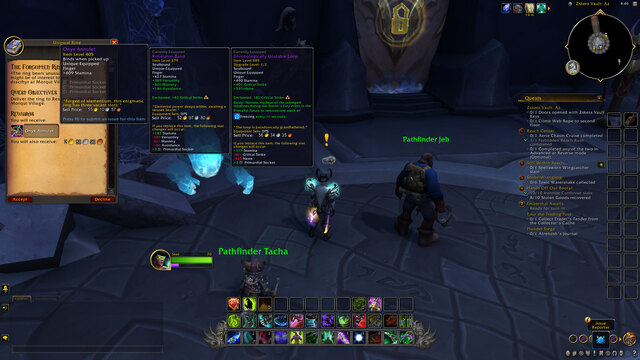 For more information, check out our Onyx Annulet guide.
Each vault is comprised of 30 doors. Each door requires 1

Zskera Vault Key to open, you will need 30 keys to open all doors during the weekly lockout.
The ground floor consists of 6 doors.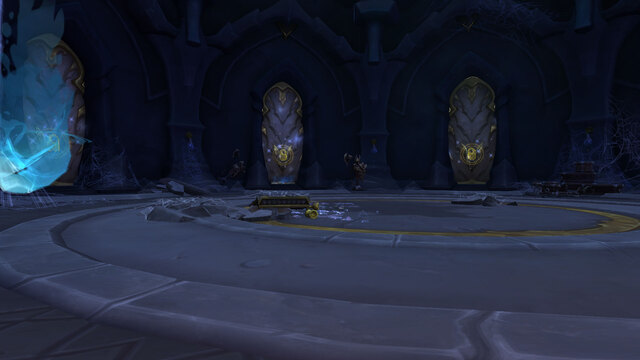 Doors on the ground floor usually contain an NPC you must kill for a chest and piles of gold to spawn. The chest can contain Primordial Stones, cosmetics, and gold.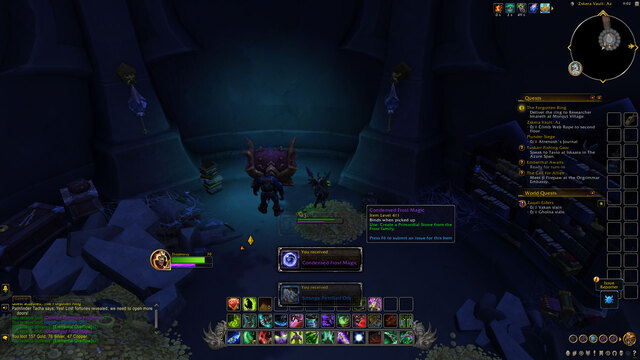 There are 3 more floors with 8 doors each, containing progressively harder puzzles that must be solved. Solutions to puzzles can be found behind different doors on different floors.
You can reach the first upper floor by using spider web on the ground.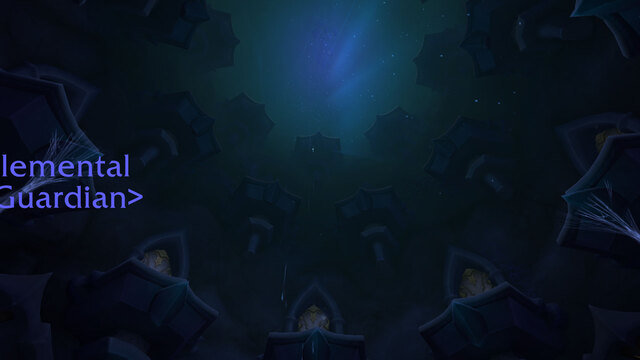 Here is an example of an upper-floor puzzle room. You must throw the fish back into the aquarium. Still, you also need a reagent behind a different door to complete the puzzle.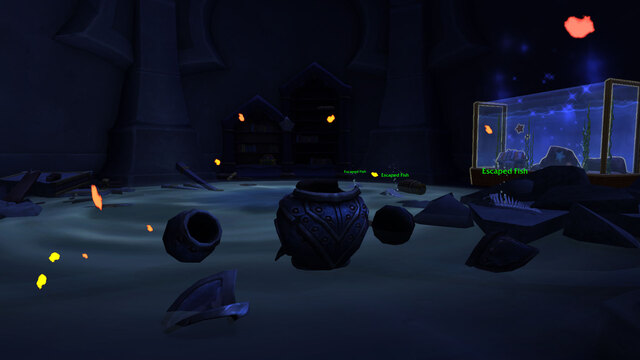 Your main reward is the Onyx Annulet and Primordial Stones.
Furthermore, you can unlock a bunch of toys from the chests, including:
Holoviewer: The Lady of Dreams

— Create a holographic tribute of Ysera.

Holoviewer: The Scarlet Queen

— Create a holographic tribute of Alexstrasza.

Holoviewer: The Timeless One

— Create a holographic tribute of Nozdormu.
You can also unlock the following pets —

Brightfeather,

Bunbo,

Emmah and

Gilded Mechafrog.
11.
Zskera Vaults Achievements
Two achievements are tied to Zskera Vaults in Patch 10.0.7:
Door To Door

— Unlock 50 doors within the Zskera Vaults using Zskera Vault Keys.

Every Door, Everywhere, All At Once

— Unlock every door in a single Zskera Vault within one week. The achievement is required for

You Know How to Reach Me

, the Forbidden Reach meta-achievement, which grants you The Forbidden title.
23 Jul. 2023: Updated with Zskera Vault Keys catch-up.
22 May 2023: Bunbo added.
22 Mar. 2023: First post-launch update.
18 Mar. 2023: Guide added.
Show more
Show less