Arms Warrior DPS Simulations — Battle for Azeroth (BfA) 8.1.5
General Information
On this page, you will find a number of useful simulation results for your Arms Warriors in World of Warcraft — Battle for Azeroth (BfA) 8.1.5.
1. Disclaimer Page
With the advent of tools such as Raidbots, simulating your character has now become accessible enough that we can recommend even the average player sim their own characters. It is through advanced simulations that many of the recommendations in this guide are found, and by doing your own you can easily figure out what talents you should be using with your particular gearing combination, what gear to equip, what Azerite traits to use and more. Below there is a video guiding you on how to sim your character. Underneath that, you will find some generic simulations that apply to most people.
2. Arms Warrior Talent Comparisons




3. Arms Warrior Racial Bonus Simulations
Loading...
4. Arms Warrior Stat Weights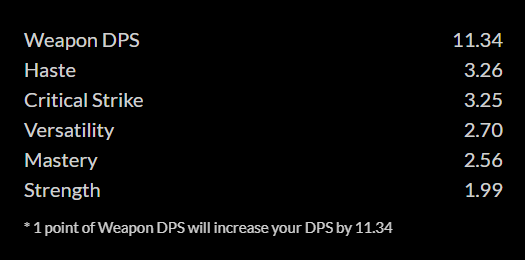 5. Arms Warrior Azerite Simulations
5.1. Outer Ring Single-Target
Loading...
5.2. Outer Ring Multi-Target (Mythic+, etc)
Loading...
5.3. Middle Ring Single-Target
Loading...
5.4. Middle Ring Multi-Target (Mythic+, etc)
Loading...
6. Changelog
15 Apr. 2019: This page has been reviewed and no changes are necessary for the release of the Crucible of Storms raid.
18 Jan. 2019: Added Bloodmallet Racial comparisons. Updated for Season 2.
10 Dec. 2018: Reviewed and up to date for Patch 8.1.
28 Aug. 2018: Integrated Bloodmallet charts.
18 Aug. 2018: Updated stat weight and Azerite simulations to account for Mastery hotfix.
13 Aug. 2018: Updated for Battle for Azeroth launch.
20 Jul. 2018: Updated racial bonus comparisons.
Show more
Show less
Guides from Other Classes