Guide to Leveling Engineering and Making Gold in Shadowlands
This page covers everything you need to know about leveling Engineering in the Shadowlands expansion from 1-115, as well as how to make gold with the profession.
TABLE OF CONTENTS OF THIS PAGE
1.
Engineering in Shadowlands
As usual, Engineering is all about explosives, fun toys and ways to interact with the world in...creative ways (that might backfire, of course)! You will be able to add unique abilities to your belt, such as

Belt Modification: Dimensional Shifter, resurrect allies in combat with

Disposable Spectrophasic Reanimator and even teleport at will around Shadowlands with

Wormhole Generator: Shadowlands as shown in this clip!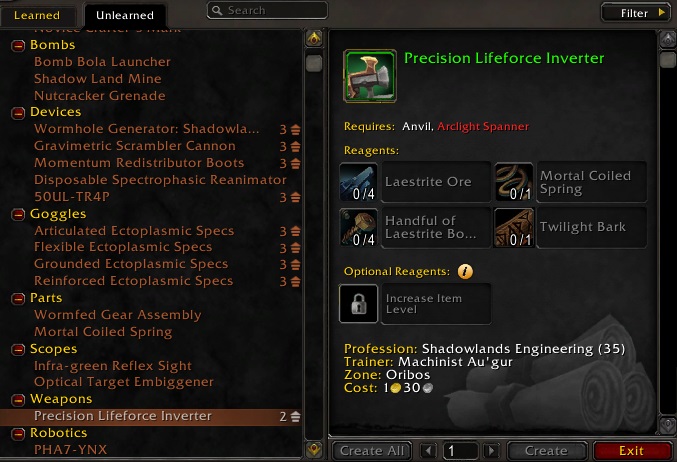 You can add swimming movement speed and increase your primary stats after completing world quests through the new Engineering optional reagents, and will also be able to create scope enchants for ranged weapons and an unique pet,

PHA7-YNX

Finally, unique Engineering goggles are back and you can use them to zoom in to target locations around you, similar to how

Eagle Eye works. They also increase your skill in Shadowlands Engineering, which is required in order to craft

PHA7-YNX if you are not a Gnome.
2.
Leveling Engineering from 1-100 in Shadowlands
Reaching 100 skill in Shadowlands Engineering is quick, especially if you can pick up the materials before you start leveling. Because it might be hard to sell your crafts for a profit due to the profession's niche nature, we will focus on low-cost leveling.
Feel free to craft the toys and belt enchants at any point while leveling. They are expensive but well worth it, depending on your playstyle.
The trainer can be found in Oribos, in the southeastern part of the Hall of Shapes: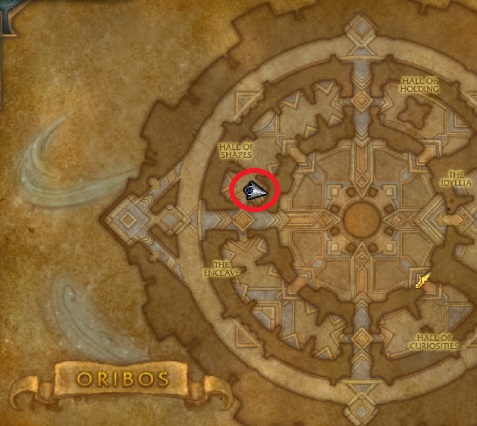 2.1.
1-75 Shadowlands Engineering
Note: you will need vanilla engineering crafted tools such as

Gyromatic Micro-Adjustor and

Arclight Spanner to create some Shadowlands items. These can be very expensive in the auction house, so we would recommend just buying a cheap

Gnomish Army Knife instead, which also saves you a lot of bag space!

Ultimate Gnomish Army Knife also works, so just buy whichever tools are cheapest in your server.
Craft

Handful of Laestrite Bolts or

Porous Polishing Abrasive until Level 25 and your choice of

Mortal Coiled Spring (cheaper, but less useful for later recipes) or

Wormfed Gear Assembly until Level 75.
These are the baseline engineering crafted materials you will need for the best crafts later, so you might as well level with them, to save money later.
Total Materials for 25

Handful of Laestrite Bolts and 50

Wormfed Gear Assembly: 175

Laestrite Ore, 200

Handful of Laestrite Bolts, 250

Porous Polishing Abrasive and 50

Machinist's Oil.
2.2.
75-100 Shadowlands Engineering
Craft

Infra-green Reflex Sight or

Optical Target Embiggener to level 91 and your choice of

Grounded Ectoplasmic Specs,

Articulated Ectoplasmic Specs,

Reinforced Ectoplasmic Specs or

Flexible Ectoplasmic Specs to 100.
You will finally be able to make gold by selling or using the scopes you craft here. While crafting goggles is not ideal gold-wise because they are bind on pickup, they are by far the most reliable way to get to 100.
Total Materials for 16

Optical Target Embiggener and 3

Articulated Ectoplasmic Specs: 25

Wormfed Gear Assembly, 95

Handful of Laestrite Bolts, 19

Angerseye, 16

Oriblase, 3

Umbryl, 15

Desolate Leather and 15

Pallid Bone.
3.
Making Gold with Engineering in Shadowlands
Gold making with engineering is mostly about selling

Disposable Spectrophasic Reanimators (as they are consumed on use) and

Wormhole Generator: Shadowlands (which are bothersome to craft). Scopes, the crafted gun and the pet,

PHA7-YNX can also be good, depending on your server's prices.
Goggles, the belt enchants and the bind on pickup toys are also great reasons to roll this profession, but do not make any gold.
Because there are so many people leveling Engineering due to its unique tools, crafting and selling basic reagents such as

Porous Polishing Abrasive,

Handful of Laestrite Bolts,

Wormfed Gear Assembly and

Mortal Coiled Spring is usually quite worth it!
There could be a market for

Nutcracker Grenade and its companion explosives, but dealing only damage, rather than having a powerful incapacitate attached like their WoW Vanilla counterpart,

Iron Grenade, diminishes their potency, as does their 5-minute cooldown.
Engineering is special compared to other professions in that it can do a number of very valuable old world crafts that still sell for very high amounts. The most notable of these is the

Sky Golem, which is still the only mount that allows non-Druid players to harvest herbs without dismounting. There are other mounts to sell, but will generally sell slower since they are cosmetic-only.
You can also craft

Goblin Glider Kit which are widely used while leveling and questing in the world. You can check this Reddit thread, by Kurraga for more details on old crafts you can sell.
As ever, we recommend using The Undermine Journal to track prices for both raw materials and the crafts you want to sell in your server. Try to buy the raw materials in the days they tend to sell for low amounts, and sell your crafts in the days they sell for more, usually in the typical raid days of Wednesday, Sunday and Tuesday.
3.1.
Crafter's Marks (Item Level Upgrades)
Like all professions, engineers can craft item upgrade optional reagents such as

Crafter's Mark II These are optional reagents that increase the item level of crafted gear when used while crafting. In Patch 9.2, there are two new ranks, for a total of six:

3.2.
9.2 Engineering Optional Reagents
Progressing through Zereth Mortis will allow you to unlock two new optional reagents besides the crafter's marks:

Erratic Genesis Matrix and

Pure-Air Sail Extensions. These are cheap to create and add some quality of life features.
In the example below we use a Jewelcrafting-crafted optional reagent on an Alchemy gear craft to make it more powerful without any downsides.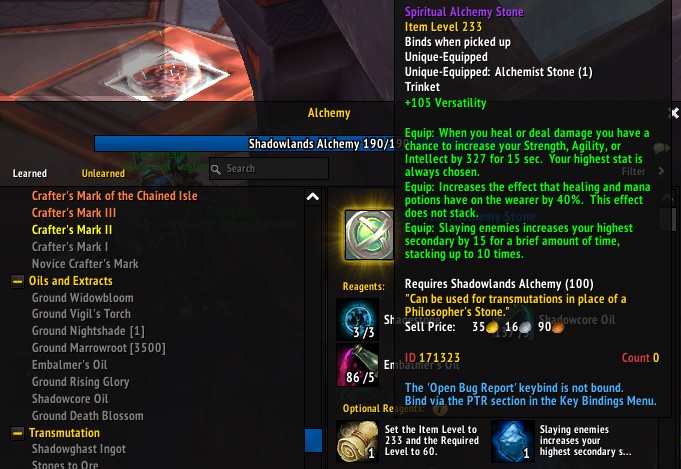 You can unlock these optional reagents through a random drop in Zereth Mortis, the

Unformed Essence, which can come from any enemy in the zone. This will allow you to start a short quest that unlocks the usage of optional reagents in your crafts.

17 Feb. 2022: Updated for Patch 9.2.
26 Jun. 2021: Updated for Patch 9.1.
09 Mar. 2021: Removed journal mention.
01 Jan. 2020: Added information on the Engineering Battle Resurrection item, leveling tools and more gold making strategies based on live testing.
30 Nov. 2020: Added a small clip showcasing the usefulness of the Wormhole Generator.
28 Nov. 2020: Added a note on how Engineering is one of the few professions that can make a lot of gold with old world content.
25 Nov. 2020: Guide added.
Show more
Show less