The Mothergloop Dungeon Run Guide
The Mothergloop is one of the Rare Bosses that can appear on level 7 of the Kobolds and Catacombs Dungeon Run.
TABLE OF CONTENTS OF THIS PAGE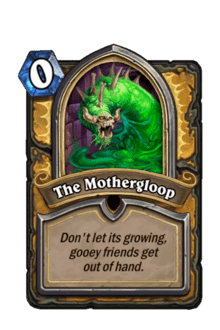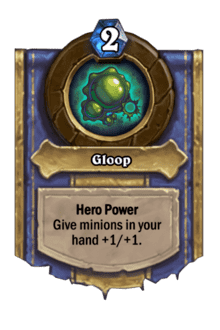 The Mothergloop uses a range of minions that have powerful effects that greatly benefit from Handbuff effects. From turn 2 onward, the boss will cast Gloop each turn to provide a buffing effect the same as Smuggler's Run to all minions in hand. Because of the overall strength of this effect, the fight becomes a race to defeat the boss before it can completely overwhelm the board with heavily buffed minions.
The boss starts the fight slowly due to prioritising the Gloop, so you should try to capitalize on this and develop a strong board and start attacking the boss as soon as possible. Once the boss starts playing minions, you should take any value trades available but your main focus should be on attacking the boss. At some point, the boss will play Sergeant Sally as a powerful board clear, and at this point is best to try and allow Sergeant Sally to survive and keep attacking the boss.
Most of the time, you will be able to kill the boss before it plays too many big threats, however if you do lose control of the board, then all hope is not lost, as the boss will eventually play Shroomsayer to allow you to reset the board and begin developing the board once again.
13 Dec. 2017: Guide added.
Show more
Show less