The Mushhuckster Max Dungeon Run Guide
Mushhuckster Max is a boss that can appear on level 4 and 5 of the Kobolds and Catacombs Dungeon Run.
TABLE OF CONTENTS OF THIS PAGE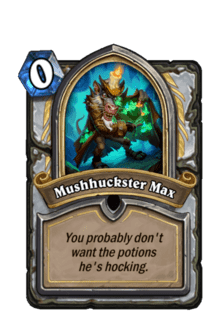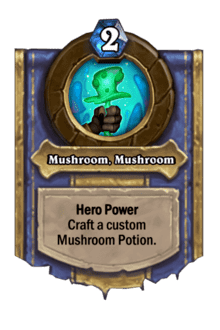 Mushhuckster Max will automatically use the Mushroom, Mushroom ability at the start of each turn to create a card equal to a 1-Cost Kazakus Potion. The boss uses a deck themed around potions and mushrooms that also includes some Priest class cards such as Shadow Word: Death and Shadow Word: Pain.
The boss will always use Mushroom, Mushroom at the beginning of the turn from Turn 2 onward. This gives a huge tempo as the Mana wasted on the Hero Power will greatly hinder the ability for the boss to develop the board. The boss will primarily play the potions created from its Hero Power, so it is important to note the most influential effects, which are deal 2 damage to all minions and deal 3 damage.
As long as you try to play a solid curve of minions, the fight is relatively straightforward due to the boss wasting 2 Mana per turn to Hero Power. However, if you do happen to lose board control the boss also plays Shroomsayer in its deck, allowing you to fully clear the board if necessary.
15 Dec. 2017: Guide added.
Show more
Show less