Thaddock the Thief Dungeon Run Guide
Thaddock the Thief is one of the bosses that can appear on levels 4 and 5 of the Kobolds and Catacombs Dungeon Run.
TABLE OF CONTENTS OF THIS PAGE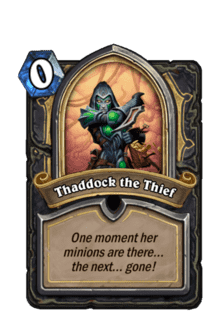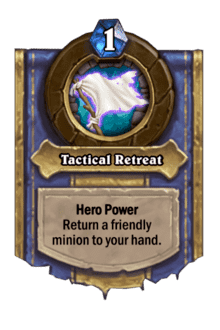 Thaddock the Thief plays a typical Quest Rogue deck that plays cheap minions such as Fire Fly and Glacial Shard in addition to many methods of returning minions to hand. The Tactical Retreat Hero Power provides an additional easy method to return minions to hand, making it incredibly easy for the boss to complete The Caverns Below.
The boss applies very little pressure during the fight and instead will put heavy emphasis on completing The Caverns Below Quest. To counter this, you should try and kill any cheap minions the boss leaves on the board to delay the Quest as much as possible. The boss will eventually complete the Quest, making this a time-sensitive fight, so it is important to try and deal damage to the boss as quickly as possible while keeping the board clear.
13 Dec. 2017: Guide added.
Show more
Show less