The Voodoomaster Vex Dungeon Run Guide
The Voodoomaster Vex is a Boss that can appear on level 6 and 7 of the Kobolds and Catacombs Dungeon Run.
TABLE OF CONTENTS OF THIS PAGE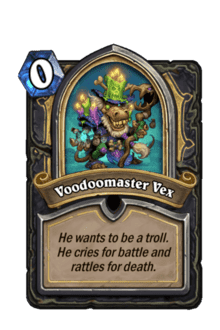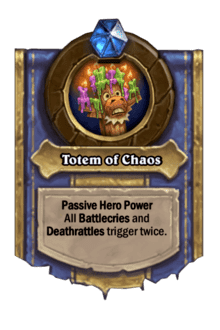 Voodoomaster Vex combines the Hero Powers of previous bosses into a single Totem of Chaos that doubles all Deathrattle and Battlecry effects. The boss uses a deck that features a huge mount of Deathrattle and Battlecry minions and in some cases minions that feature both.
This encounter is often less about strategy and more about sheer chaos, as the boss uses many minions that will clear both players boards such as Abomination, Explosive Sheep, and Ticking Abomination. With this in mind, the key to the fight is simply out-valuing the boss by letting it overcommit into board clears.
If your deck contains many Battlecry or Deathrattle minions, such as Jade Golems then you may choose to out-pace the boss with superior cards.
13 Dec. 2017: Guide added.
Show more
Show less