The Battlecrier Jin'zo Dungeon Run Guide
Battlecrier Jin'zo is a boss that can appear on level 4 and 5 of the Kobolds and Catacombs Dungeon Run.
TABLE OF CONTENTS OF THIS PAGE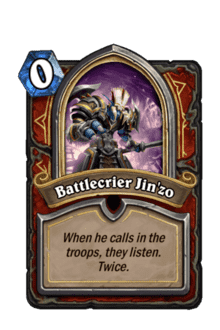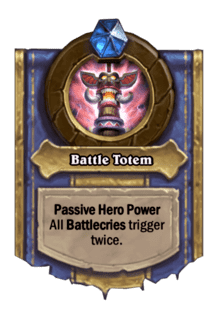 Battlecrier Jin'zo uses the Battle Totem Treasure as a Hero Power and it benefits both players. The boss uses a deck comprised of powerful Battlecry minions capable of a range of effects such as Novice Engineer, Ravaging Ghoul, Refreshment Vendor, and Bomb Lobber.
Battlecrier Jin'zo has a deck of strong Battlecry minions that can make the encounter difficult. However, the boss will use most of the Battlecries very suboptimally, leaving behind minions with fairly poor stats on the board. You should aim to take full advantage of Battle Totem and get maximum value out of your own Battlecry minions, which will make the fight significantly easier.
The boss is capable of healing and clearing boards with Battlecry minions, so should try to play very conservatively to try account for this. Your aim should be to play enough minions that you can deal enough damage to be able to kill the boss in a few turns, while holding back enough to repopulate the board if it does get cleared.
15 Dec. 2017: Guide added.
Show more
Show less