Guide to Leveling Cooking and Making Gold in Shadowlands
This page covers everything you need to know about leveling Cooking in the Shadowlands expansion from 1-75, as well as how to make gold with the profession.
Patch 9.2 comes with one new recipe for cooking in the form of

Recipe: Empty Kettle of Stone Soup. This recipe requires a new

Empty Kettle item bought from vendors in Oribos and Zereth Mortis. Once crafted, setting out the

Empty Kettle of Stone Soup does not make something edible for your party or raid to enjoy, but rather the base of a soup that everyone can work together to create!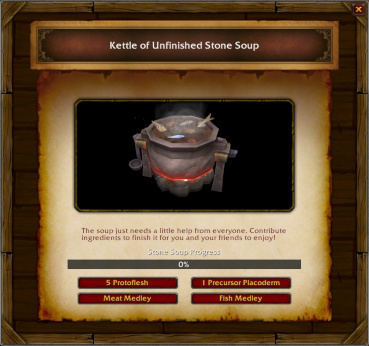 Clicking on the Kettle of Unfinished Stone Soup will bring up a menu window allowing you to donate various meat and fish, even if they are in your reagent bank, to help finish the soup. Each option will count for 10% of the total progress on the soup and, once finished, can be enjoyed by your party or raid members. The finished soup functions identically to a

Feast of Gluttonous Hedonism, granting you +20 to your primary stat of Strength/Agility/Intellect.
Patch 9.1 brings with it extremely minor changes for Cooking in the form of three new recipes, all of which are essentially useless. The recipes and their sources are listed below, but keep in mind that none of these offer any meaningful value or buffs.
3.
Leveling Cooking from 1-75 in Shadowlands
Cooking is a profession that lends itself hugely to varied routes that depend entirely on the supply of materials on your realm. Due to the large number of possible reagents, certain recipes can essentially be the perfect target for some players, but incredibly expensive for others, due to population and supply differences.
The most important things to note are:
Keep all of the Cooking reagents you find while leveling; you will find a decent number of them from killing beasts on your leveling path and these can be used for recipes.
If you choose to level Fishing at the same time as Cooking, it will be slower than buying the materials from the Auction House, but you will save a huge amount of gold.
For the leveling path we recommend below, assuming that you do not have any materials whatsoever from gathering yourself, you will need:
Vendor Products
Meat Products
Fish Products
If you make the swap at level 30 to making

Banana Beef Pudding, your reagents list will instead look like this:
Vendor Products
Meat Products
Fish Products
For these levels, you should make the

Pickled Meat Smoothie. It is a very cheap recipe to craft and there is no reason to craft anything else until it goes green, due to the use of

Aethereal Meat.
The materials required for this section are:
Craft the

Cinnamon Bonefish Stew for these levels, but note that you can swap to

Banana Beef Pudding at skill level 30 if your realm does not have enough fish and the stew becomes too expensive to craft.
For leveling this section with

Cinnamon Bonefish Stew, you will need:
If you swap to the

Banana Beef Pudding at skill level 30, you will need:
For this part of the leveling, you should make

Steak a la Mode. This, once again, features meat rather than fish, but specifically uses

Raw Seraphic Wing, which should be available in large amounts, due to them dropping from mobs that are required for quests in the early stages of Bastion.
For leveling this section with

Steak a la Mode, you will need:
For the final stretch, you will be making

Seraph Tenders, another recipe which makes use of

Raw Seraphic Wing once again.
For leveling this section with

Seraph Tenders, you will need:
4.
Leveling Cooking with Fishing in Shadowlands
If you want to level both of the professions at the same time, you can do so very effectively, saving yourself a decent chunk of gold, but it is more time consuming, due to having to farm the fish yourself.
In the leveling path below, we assume that you have no meat available for use and wish to only use vendor materials and the fish you have found via leveling your Fishing.
THIS IS NOT THE MOST EFFICIENT LEVELING ROUTE. THIS ROUTE IS DEFINITELY MORE EXPENSIVE THAN THE ONE LISTED ABOVE IN TERMS OF TOTAL VALUE LOST. IT IS ONLY WORTH DOING IF YOU ARE COLLECTING ALL OF THE FISH YOURSELF AND NEED FISHING LEVELS.
For this section, you will want to make the fish counterpart of the first recipes,

Biscuits and Caviar.
For leveling this section with

Biscuits and Caviar, you will need:
Craft the

Cinnamon Bonefish Stew for these levels. While you have the alternative of swapping to a meat-based craft at 30 with the other path, this leveling route exclusively uses fish.
For leveling this section with

Cinnamon Bonefish Stew, you will need:
Craft

Candied Amberjack Cakes until you reach skill level 50. You will need:
For the final stretch, you can craft

Spinefin Souffle and Fries, but note that it does go green for the final few levels. If you would prefer to craft only at yellow crafting difficulties, which means a higher chance of leveling up after each craft, then you can craft

Fried Bonefish from 70, but it is slightly more expensive to make.
If you only craft

Spinefin Souffle and Fries, you will need the following approximate ingredients. Note that, due to the final crafts being green, you may require more or less than we list.
5.
Making Gold with Cooking in Shadowlands
Making gold with Cooking is almost exactly the same every expansion, with extremely heavy dependencies on the number of people raiding at that point in the patch.
Your only source of income from Shadowlands recipes, for almost every situation, will be from selling food to raiders.
We will update this section with more information on which foods are used by the highest number of specialisations, as well as give a breakdown of the usefulness of each food. Due to certain stats being favoured, it is unlikely that you will make much profit crafting a food that only one specialisation wants, for example.
18 Feb. 2022: Updated for Patch 9.2.
30 Jun. 2021: Updated for Patch 9.1.
17 Nov. 2020: Guide added.
Show more
Show less