Beast Mastery Hunter DPS Artifact Talents/Traits and Relics (Legion 7.3.5)
Table of Contents
General Information
This page shows you how to level up the Artifact and how to choose the right Relics for your Beast Mastery Hunters. It is updated for World of Warcraft Legion 7.3.5.
The other pages of our Beast Mastery Hunter guide can be accessed from the table of contents on the right.
About Our Author
This guide has been written by Azortharion, the main theorycrafter of the spec. He is also an accomplished player who raids in Solaris. You can also watch his stream on Twitch.
1. Artifact Progression for Beast Mastery Hunter
The Titanstrike Artifact leaves you with a number of directions you can head in once you branch out from the base traits. The one we present on this page is recommended for any kind of raiding.
1.1. Early Artifact Progression for Beast Mastery Hunter
The goal of the path is to reach

Master of Beasts as soon as possible, following this path to the other golden traits as well.
Whilst this path does skip on some single-target traits like

Spitting Cobras at first, the pursuit of the golden traits as quickly as possible makes this worth it.
1.2. Patch 7.2 Artifact Progression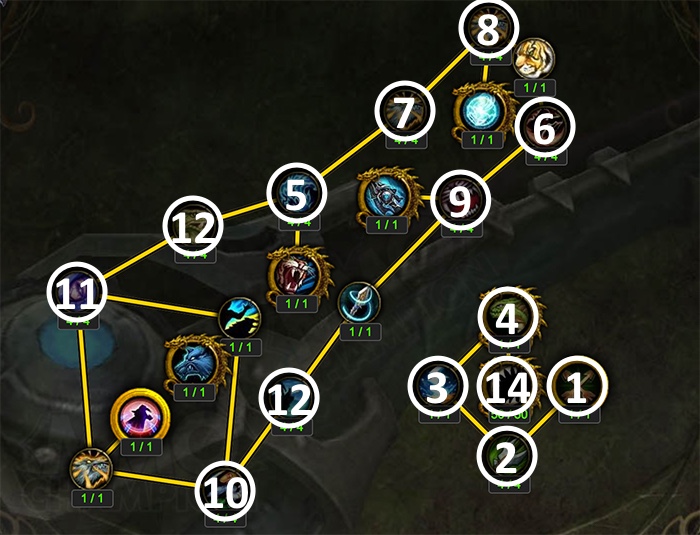 Bond of the Unseen Path (new in 7.2)
Slithering Serpents (new in 7.2)
Thunderslash (new in 7.2)
Cobra Commander (new in 7.2)
Fourth rank of Jaws of Thunder
Fourth rank of Pack Leader
Fourth rank of Furious Swipes
Fourth rank of Unleash the Beast
Fourth rank of Wilderness Expert
Fourth rank of Spitting Cobras
Fourth rank of Focus of the Titans
Fill out the utility trait ranks as you see fit from here.
Concordance of the Legionfall (new in 7.2)
2. Beast Mastery Hunter Artifact Ability
The Beast Mastery Artifact opens with the passive ability,

Hati's Bond. This causes an additional pet in the form of Hati, a lightning wolf, to fight alongside you and your main pet. It will use auto attacks and Basic Attacks alongside your pet, and several mechanics of the Artifact tree build onto Hati as well.
3. Stomp (Killer Cobra) - Weapon Item Level Value of Beast Mastery Hunter Relic Traits
4. Stomp (Aspect of the Beast) Build — Tier 3 — Weapon Item Level Values for Each Beast Mastery Hunter Trait
5. Dire Frenzy Build — Tier 3 — Weapon Item Level Values for Each Beast Mastery Hunter Trait
6. ChangeLog
07 Feb. 2018: Added Dire Frenzy trait values.
07 Jan. 2018: Added Artifact/NLC Trait Values for Aspect of the Beast.
31 Dec. 2017: Updated trait values to be based on a Killer Cobra-based build (instead of AoTB), as this more accurately reflects what most people are playing after looking at talent usage data now that the tier is well underway.
05 Dec. 2017: Updated all trait values.
01 Oct. 2017: Removed obsolete Relic Choice paragraph.
20 Sep. 2017: Slightly updated Stomp/AoTB Build relic priority.
13 Sep. 2017: Updated the traits' weapon item level values. Added the values for Stomp builds with Aspect of the Beast.
22 Jun. 2017: Removed mention that implied Pack Leader and Jaws of Thunder being equal. They no longer are.
18 Jun. 2017: Updated relic/iLvl table to fix Pack Leader's value being too high compared to Jaws.
15 Jun. 2017: Resorted the order of relic traits in the relic/iLvl chart.
13 Jun. 2017: Updated relic/iLvl chart.
17 Apr. 2017: Checked today and deemed updated.
27 Mar. 2017: Artifact path updated for 7.2, and traits vs iLvl chart added.
28 Jan. 2017: Expanded slightly on Relic choice.
09 Jan. 2017: Checked and confirmed for Patch 7.1.5.
29 Aug. 2016: Added.
+ show all entries
- show only 10 entries