Shadowlands Mythic+ Season 4 Overview (9.2.5)
Season 4 is the final season of Shadowlands Mythic+, and acts as something of an experiment compared to traditional content seasons before it. Although it features its own share of collectible mounts, titles, and achievements along with a bump in gear item levels, it features a selection of dungeons that also includes some from previous expansions!
TABLE OF CONTENTS OF THIS PAGE
1.
Shadowlands Mythic+ Season 4 Start and End Dates
Shadowlands Season 4 starts on August 2, 2022. It is expected to end with the prepatch for the upcoming Dragonflight expansion, due out by the end of 2022.
2.
Shadowlands Mythic+ Season 4 Changes
Dungeon item level rewards are increased by 26, including loot from Normal, Heroic, Mythic, and Mythic+. This also applies to rewards chosen from the weekly Great Vault;
A new Mythic+ seasonal affix — Shrouded;
No Valor cap from the start of the season;
A refresh of the Mythic+ dungeon pool, featuring 8 total dungeons from the Shadowlands, Battle for Azeroth, Legion, and Warlords of Draenor expansions;
As there are only 8 dungeons in the Mythic+ pool compared to 10 in Shadowlands Mythic+ Season 3, the score requirements for various achievements are reduced:
A new variant of the Deathwalker mount is available ( Restoration Deathwalker) to be earned.
A new title — "Shrouded Hero" — is up for grabs for the elite few players who will earn Shrouded Hero: Shadowlands Season 4 at the end of the season.
The Vessel of Profound Possibilities no longer requires any extra achievements to be purchased on a character, instead requiring 10,000 Cosmic Flux.
The Great Vault in Shadowlands requires you to clear a certain number of Mythic+ dungeons per week to receive items in the Dungeons category. You can find more details about the Great Vault and the requirements in our separate guide.
4.
Mythic Dungeon Rewards in Shadowlands Season 4
Difficulty Level
End-of-Run
Item Level
Great Vault
Item Level
Mythic
262
0
Mythic +2
262
278
Mythic +3
265
278
Mythic +4
268
278
Mythic +5
272
281
Mythic +6
275
281
Mythic +7
275
285
Mythic +8
278
288
Mythic +9
278
288
Mythic +10
281
291
Mythic +11
281
294
Mythic +12
285
298
Mythic +13
285
298
Mythic +14
288
301
Mythic +15
288
304
5.
New Seasonal Affix — Shrouded
The new Mythic Affix that will be active in all +10 or higher runs in Season 4 is called

Shrouded — Nathrezim infiltrators have disguised themselves among enemies throughout the dungeon. Cartel Ta will reward you handsomely for assisting in their capture.
For a detailed guide on Mythic+ Affixes and what they do, please refer to our Mythic+ Affix Guide.
6.
Upgrading Mythic+ Gear with Valor in Shadowlands Season 3

Valor will again be reset to 0 with the beginning of Season 4, with you once again being able to upgrade Mythic Dungeon Gear with Valor. However, compared to previous seasons, in Season 4 there is no weekly cap to Valor, allowing you to obtain as much as you want right from the start!
You will find more information about Valor in our separate guide linked below.
7.
Keystone Re-rolling and Depletion
Ta'hsup in the Hall of Holding in Oribos can offer a Keystone to players who do not have one, as long as they have completed at least 1 Shadowlands dungeon on Mythic+ difficulty.
Ta'hsup will also spawn at the end of Mythic+ dungeons that are completed before the time limit is reached. He will offer a one-time Keystone exchange to any player whose current Keystone is at or below the level of the dungeon that was recently completed on time. Keystones that are higher level than the dungeon that was recently completed on time cannot be traded, including the Keystone that was used to start the run.
Additionally, Ta'hsup in Oribos will also deplete your Keystone as many times as you would like, so you do not need to continuously leave and reset instances to deplete your Keystone.
8.
Mythic+ Rating in Shadowlands
Patch 9.1 introduced a way for players to gauge their success and preparation to take on the challenges found in Mythic+ dungeons — the Mythic Scoring System.
You can view your personal Mythic+ Rating within the Group Finder (I) UI under the Mythic Dungeons tab. Hovering your mouse over the center Dungeon rating will bring up a tooltip that explains more about your rating and how to improve it.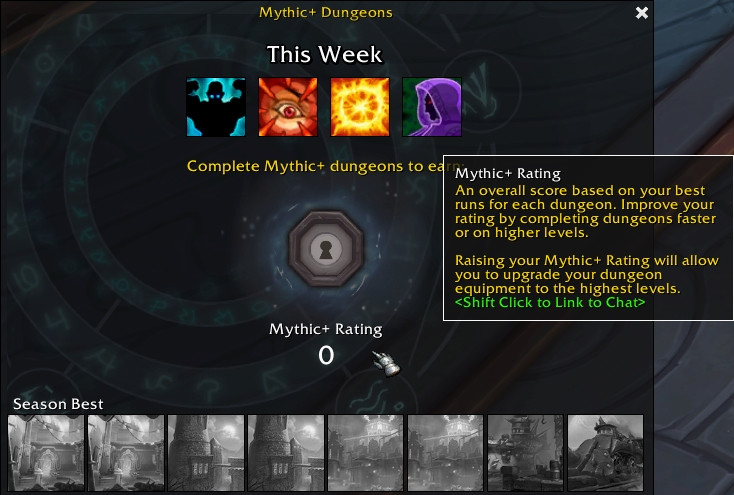 Your rating increases each time you run a dungeon you have not completed before or when you beat your own best time in a dungeon you have already completed. Completing a key provides a rating based on two main factors — the level of the key and the run's time compared to the dungeon's timer. With each Season, Mythic+ Ratings are reset in the display.
You can find more information about the Mythic scoring system in our dedicated guide.
9.
Mythic+ Season 4 Achievements and Rewards

Shadowlands Keystone Conqueror: Season Four requires you to attain a Mythic+ Rating of at least 1,500 during Season 4 and rewards the Shrouded title.
To earn

Shadowlands Keystone Master: Season Four, and receive the

Restoration Deathwalker, you must attain a Mythic+ Rating of at least 2,000 during Shadowlands Season 4. The mount is a final recolor of the Deathwalker mount.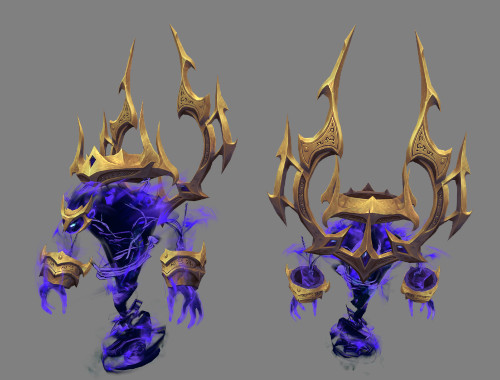 Completing Season 4 dungeons at Mythic Level 20 or higher within the time limit also rewards dungeon teleports in Season 4.
10.
Shadowlands Season 4 Mythic+ Guides
If you would like to improve your Mythic+ expertise in Season 4, we have a few guides that we would like to recommend to you for further reading.
28 Jul. 2022: Updated with new information from recent clarifications by Blizzard.
18 Jul. 2022: Guide added.
Show more
Show less