What's Coming in Shadowlands Patch 9.1 (Chains of Domination)
The following hub covers everything we currently know about Chains of Domination, the first major content patch of Shadowlands.
TABLE OF CONTENTS OF THIS PAGE
1.
When Will Patch 9.1 Release?
The official release date of Patch 9.1 has not been revealed yet. The patch testing is still ongoing on the Public Test Realms.
2.
What to Expect in Patch 9.1?
A bunch of class changes, a new area called Korthia, a new 10-boss Sanctum of Domination raid, an 8-boss Mega-Dungeon called Tazavesh, flying, new cosmetic armor sets, mounts, Torghast updates, all mounts usable in The Maw, and more.
2.1.
Patch 9.1 Class Changes
Multiple classes received Patch 9.1 class changes in Chains of Domination. You will find them compiled on separate pages.
2.2.
New Maw Domain: Korthia, City of Secrets
Korthia is an extension of The Maw rather than a completely new zone.
The Jailer is searching for the key to fulfill his twisted vision for the afterlives, and he has pulled a fragment of a long-lost domain into the Maw itself to find it. Dragged from the hidden byways of the In-Between, this landmass has its own strange creatures and brims with mysteries the likes of which the Shadowlands has never seen. It is these obscurities that the Jailer is truly after, the secrets of an enigmatic group known as the First Ones.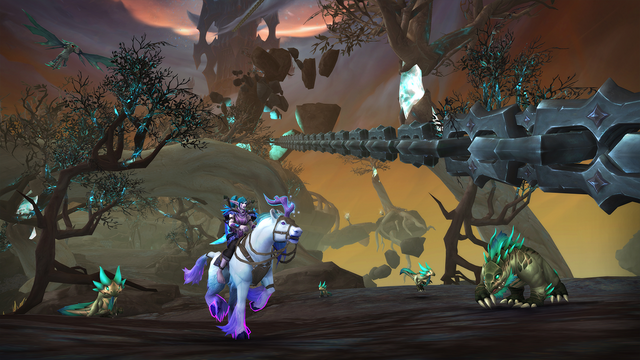 In Korthia, you will be able to earn new rewards including a spectral steed bound in spiked barding and a severed hand mount that will fearlessly crawl wherever you command.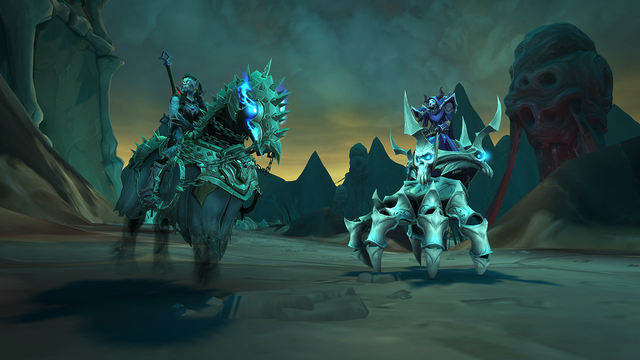 You will find more information about Korthia on our dedicated page of the new area.
2.3.
New Raid: Sanctum of Domination
Found beyond the labyrinthine halls of Torghast, the Sanctum of Domination is a new 10-boss raid. Encounter the true Eye of the Jailer, turn the tide against the Tarragrue, square off against Kel'Thuzad, and come face-to-face with the Banshee Queen herself in a fateful confrontation.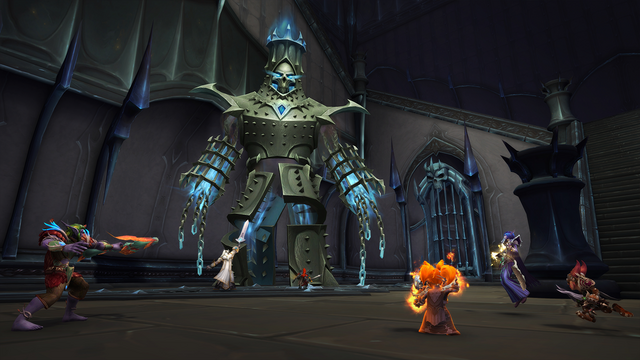 2.4.
New Mega-Dungeon: Tazavesh, The Veiled Market
A new Broker Meda-Dungeon awaits in Chains of Domination. It comes with hard modes and will be split into two dungeons with Heroic difficulty added in Patch 9.2.
Gather your party and discover exotic wares and strange creatures in the new eight-boss Mythic mega-dungeon; Tazavesh: the Veiled Market. Set in a bazaar of the mysterious brokers, you will face off against dastardly assassins, four-armed broker guards, an infinite pirate dragon, and other enemies as you chase down a wayward broker before she can unleash the might of a stolen artifact to realize her own designs.
This Mythic-only instance can reward players with loot coveted by broker society—including a dazzling assortment of weaponry, otherworldly pets, and a mount.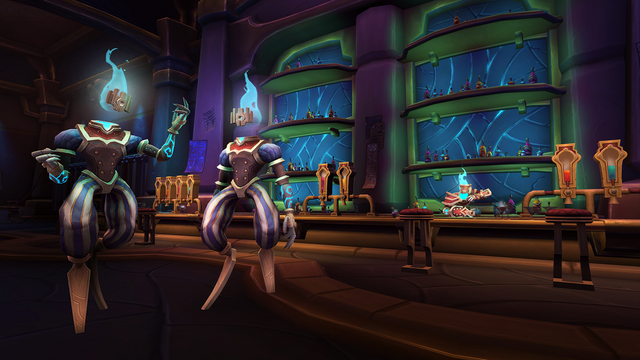 2.5.
New Torghast Content
New Torghast layers and a wing will be added in Chains of Domination. Blizzard is also replacing the death counter / Tarragrue mechanic in Patch 9.1 with a score, meaning you will no longer be able to fail a run.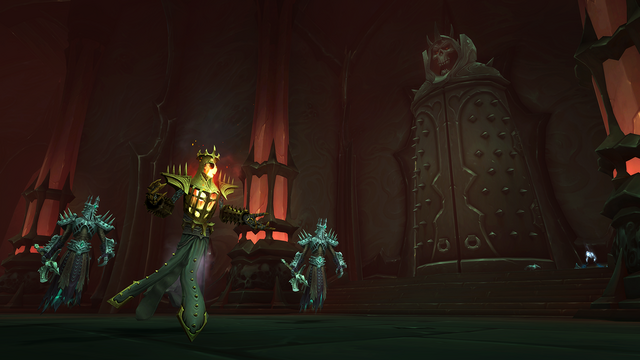 2.6.
Unlock Flying: Shadowlands Pathfinder
Completing the Covenant Campaign is the only requirement to unlocking flying in Shadowlands. Your character will also gain Covenant-themed mounts when you unlock the Shadowlands Pathfinder. You can find more about flying in Shadowlands in our separate guide.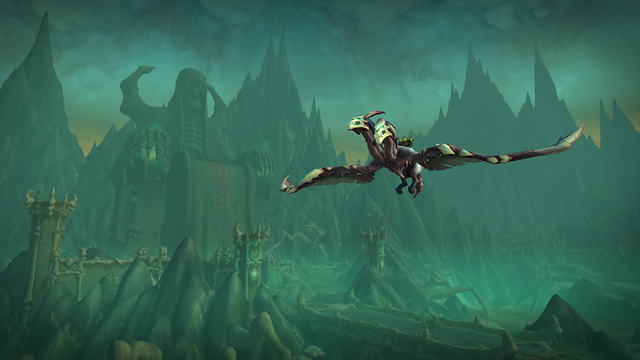 2.7.
All Mounts Will Work in the Maw
Return to the Maw with the restored strength of the Kyrian, Night Fae, Necrolords, and Venthyr and together fight back to reclaim the Shadowlands from the Jailer's sinister encroachment. As you unravel the Jailer's dark designs, you will be able to fight back with newfound inner-strength, even allowing your mounts to once again be rideable in this ominous realm.
2.8.
New Covenant Cosmetic Armor Sets
40 Renown levels await in Patch 9.1 and your character will unlock new cosmetic armor sets in four different colors. The sets can be worn by any armor type — cloth, leather, mail, and plate. Each armr set's tints can be mix and matched with the others to provide a variety of different looks to suit your desired appearance.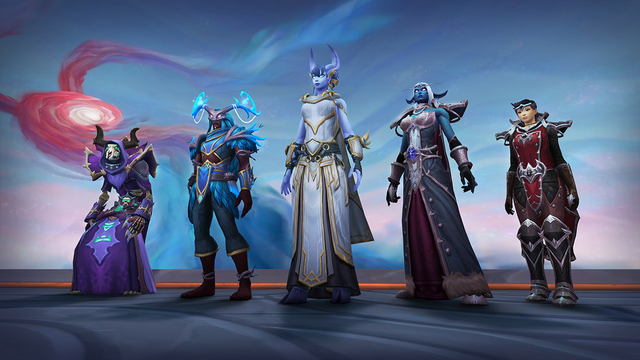 2.9.
Shadowlands Season 2 Rewards
Shadowlands Season 2 begins in Chains of Domination. We will see a new domination-themed affix in Mythic Keystone Dungeons. PvP Honor Talents will be reworked. New Seasonal rewards for PvP include new colorations of Gladiator and Mythic keystone mounts, and new Vicious mounts — Alliance and Horde-themed Gorms.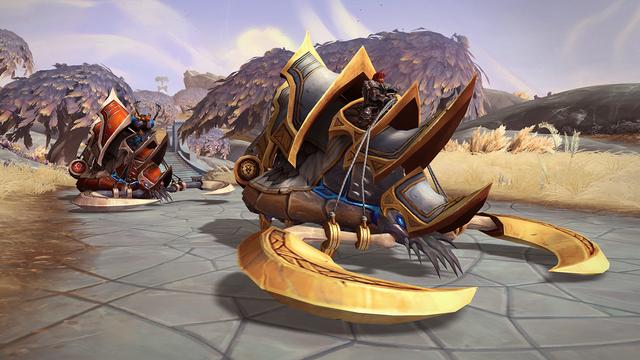 22 May 2021: Updated with class changes.
03 Mar. 2021: Page added.
Show more
Show less