Arms Warrior DPS Azerite Traits/Powers and Armor in Battle for Azeroth (BfA) 8.0.1
Table of Contents
General Information
Pick up the Azerite gear with the best traits for your Arms Warrior and learn about the Heart of Azeroth. This page is updated for World of Warcraft Battle for Azeroth 8.0.1.
For more information about the

Heart of Azeroth, please read our Hearth of Azeroth guide.
The other pages of our Arms Warrior guide can be accessed from the table of contents on the right.
About Our Author
This guide has been written by Archimtiros, the Warrior class theorycrafter, and one of the best DPS Warriors in the world, who raids in Infinity. You can follow him on Twitter and you can watch his stream on Twitch.
1. Disclaimer
Many Azerite Traits have yet to be implemented in simulation tools properly. There are also kinks that need to be worked out with regards to the baseline profile used for simulations.
2. Azerite Traits for Arms Warrior
Azerite Traits are special effects present on Helm, Shoulder, and Chest slots in Battle For Azeroth. Each Azerite item has either 2 or 3 tiers of Azerite Traits to choose from (items below item level 340 only have 2 tiers, while items above that have 3). In addition to this, every Azerite item also has a +5 item level bonus (

Azerite Empowered). Each tier, as well as this item level bonus, become unlocked as you gain certain amounts of Azerite Power.
The first tier of Azerite Traits is split between a class-specific choice and a generic choice. Generic choices can be zone-related or content-related (such as PvP traits which are only found on PvP gear but work in PvE content).
The second tier has a multitude of options varying from interesting stat procs to static stat gains. This is the tier that is missing on items lower than item level 340.
The third tier can either be a defensive or healing option.
Azerite gear has fixed traits and stats. Each piece has predetermined Azerite Traits, item level, and can not roll either tertiary stats or sockets. While tuning is always in flux, we will try to list the currently best traits for raiding first. Keep in mind many of these are very raid / dungeon / world / PvP-oriented and do not work well in other types of content.
2.1. Outer Ring Traits
The first ring of Azerite Traits are special effects that can be activated through Azerite Armor found in Battle for Azeroth. There are always four options, one for each specialization and another universal trait, themed by the location the piece of gear is obtained from.
The Arms-specific traits are as follows:
These universal traits are found on gear from quests and dungeons:
These universal traits are found on gear from the Uldir raid. If either of these traits are active while inside Uldir, it will also grant the

Reorigination Array effect, increasing your highest secondary stat.
Archive of the Titans is an Uldir-specific trait. It gives you a small primary stat buff every 5 seconds which stacks up to 20 times. Stacks only decay when out of combat. It also gives the Reorigination Array buff, which you should always aim to have active while raiding in Uldir.
Laser Matrix causes your spells to have a chance to unleash a barrage of lasers which deal damage and heal injured allies for a small amount which is further split among them. It also gives the Reorigination Array buff, which you should always aim to have active while raiding in Uldir.
These universal traits are found on PvP gear, including Warfronts:
These universal traits are only found on engineering crafted helmets:
2.2. Middle Ring Traits for Arms Warrior
This ring is only found on Epic 340 item level gear and above. For Warriors, it always contains two DPS and one Tank option, but for simplicities sake, only the DPS options will be listed here.
2.3. Inner Ring Traits for Arms Warrior
This ring provides a variety of survival and movement tools, including defensive benefits, healing effects, and absorption shields. There are also two Warrior specific and two engineering helmet only options.
3. Azerite Trait Ranking for Arms Warrior
Both of these simulations are based on Best-in-Slot pre-raid gear, with a good distribution of stats for the spec. As always, treat these simulations as a guideline, not a rule, and always sim your own character to be sure.
We are not including different item levels of Azerite pieces, because in most situations you are going to want the highest item level piece regardless. Again, you should always sim your own character's traits with RaidBots to find what is best based on the gear you have available.
3.1. Outer Ring Single-Target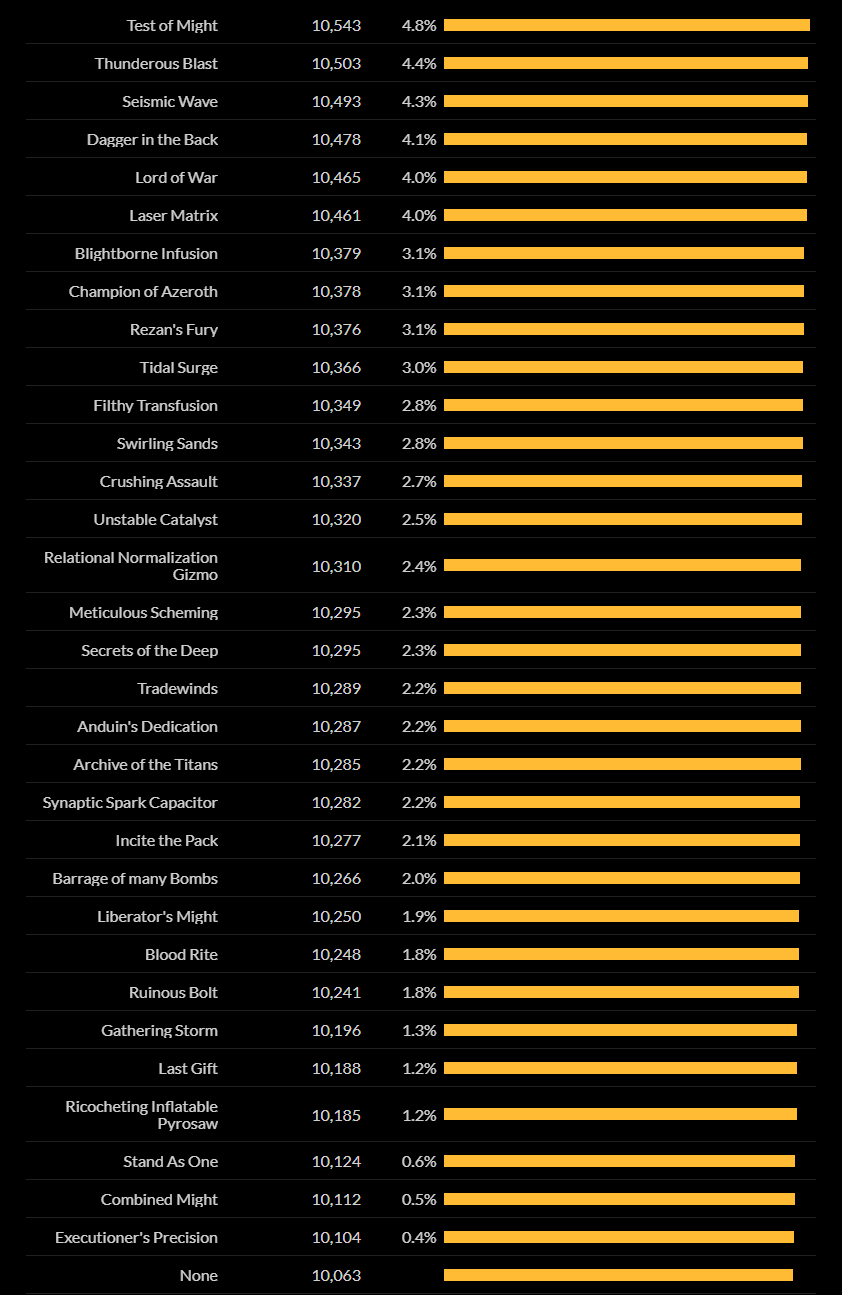 3.2. Outer Ring Multi-Target (Mythic+, etc)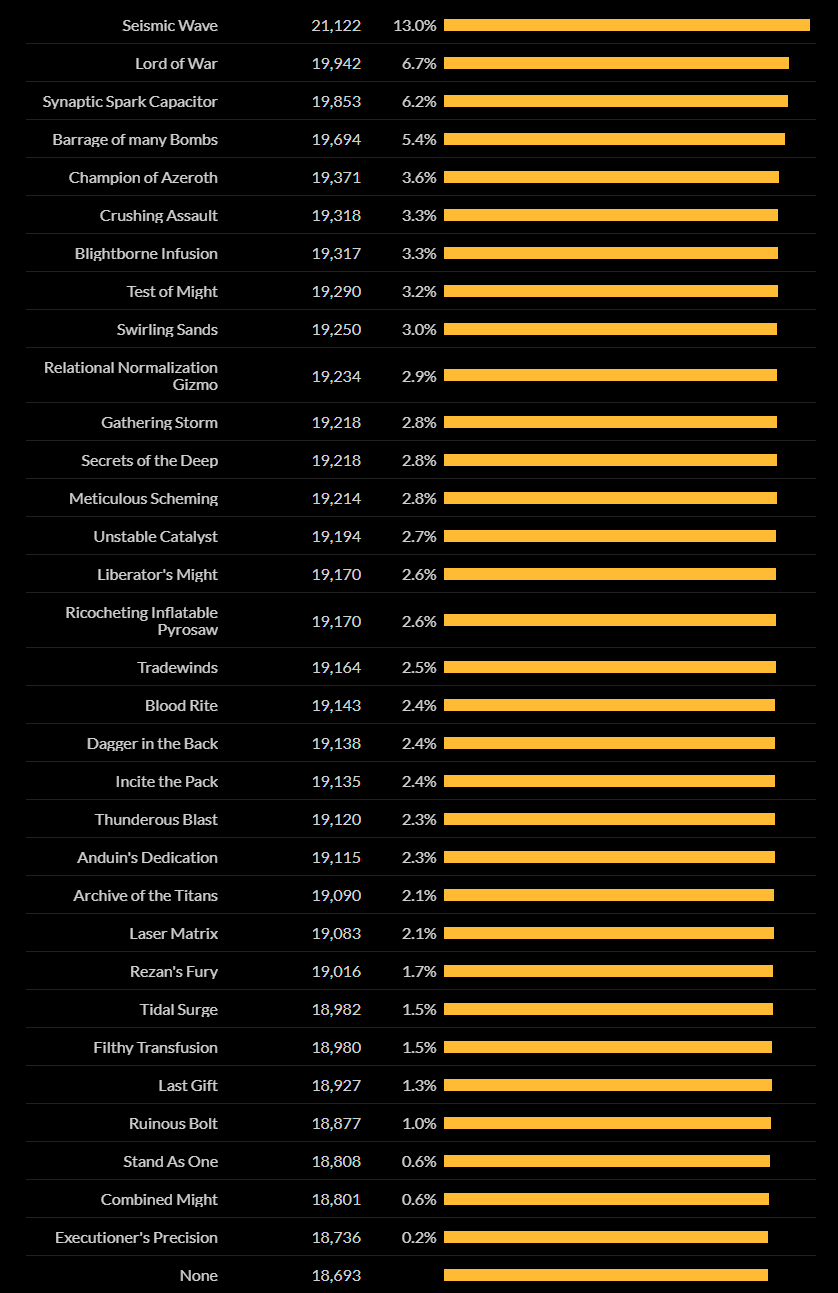 3.3. Middle Ring Single-Target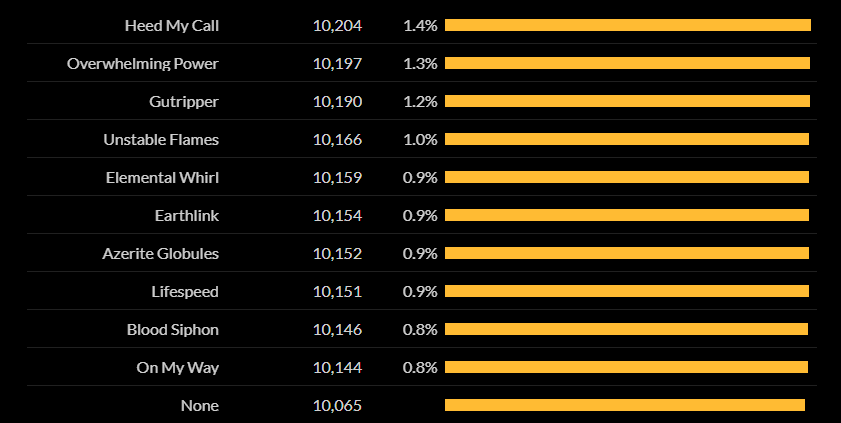 3.4. Middle Ring Multi-Target (Mythic+, etc)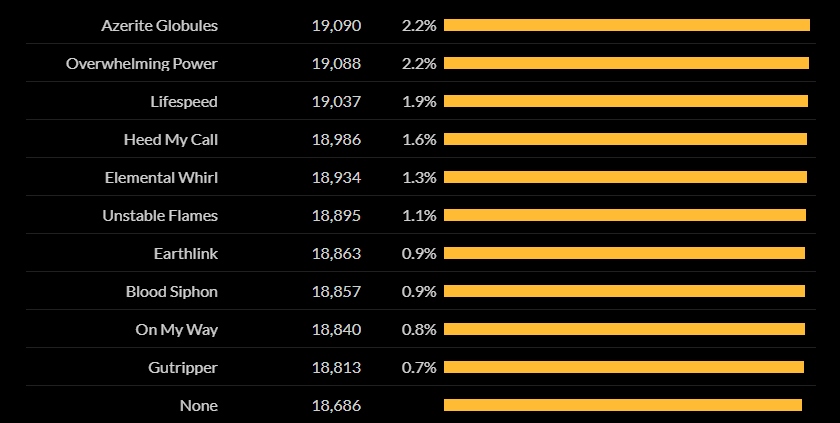 If a trait is missing from this list, then it is likely because it is not properly implemented in SimulationCraft yet.
4. Find Azerite Armor By Trait/Power
In the table below, you can see all of the Azerite gear available to your Arms Warrior. By using the + button located next to each item, you can expand the list of Azerite powers that this item possesses (to collapse the list, simply click the - button).
If you want to filter items according to the powers that they offer, you can use the filters below.
| Head Items | Shoulders Items | Chest Items |
| --- | --- | --- |
| | | |
5. ChangeLog
18 Aug. 2018: Updated simulations to account for Mastery hotfix.
13 Aug. 2018: Page added for Battle for Azeroth launch.
+ show all entries
- show only 10 entries