Balance Druid DPS Gear and Best in Slot — Battle for Azeroth (BfA) 8.3
General Information
On this page, you will find the best gear and best in slot items for your Balance Druid in World of Warcraft Battle for Azeroth (BfA) 8.3.
If you were looking for WoW Classic content, please refer to our Classic Balance DPS Druid gear and best in slot.
TABLE OF CONTENTS OF THIS PAGE
1.
Gearing in Battle for Azeroth
It is important to keep in mind the large amount of variance still within the game in Battle for Azeroth. The reason we will not be providing a Best in Slot list is the fact that Corruption gearing can vastly skew each individuals gearing process. You will be limited to certain Corruption budgets or be stuck using certain "sub-par" pieces due to the insane benefit attached to the piece.
That being said, Azerite gear is something you can easily focus on and chase.

Darkheart Robe from Vexiona is the best chest available in the raid. N'Zoth drops

Pauldrons of the Great Convergence and

Stygian Guise from Maut are all Best in Slot.
Mythic+ chest and base rewards now scale up to a +15 key level up from a +10. Chest rewards can offer 475 gear at max completion and the end of a key can reward up to 465 gear. In season 4, this gear can also corrupt for additional effects.
World Quest rewards will continue to scale up with your item level. This also includes the daily faction rewards.
Mechagon Mythic+ will be dropping along with the Ny'alotha release. This opens up additional Azerite from the vendor and the ability to get some of the special slots from the raid. Mechagon rings will now be able to scale up to 465, making them better than almost all non-corrupted rings.

Logic Loop of Division only procs the second ring's effect when behind the target. The second is

Logic Loop of Recursion, which requires three different spells to be cast to proc the effect. This works similarly to

Streaking Stars, as most spells are considered on impact, except

Solar Wrath.

The Nature damage proc is limited to melee range, so we do not advise using that ring over the Haste effect.
We recommend Leatherworking and Engineering. Engineering allows access up to an Azerite helm which provides a

Streaking Stars trait as well as the

Relational Normalization Gizmo. While it is not the best trait, it is easily accessible before you can pick up your best piece, as well as allowing you to trade subpar Azerite to others.
Engineering also offers one of the only tangible PvE performance boosts in the form of the belt shield. A small little shield which can at times save your life. While generally not impactful, it is still the only profession which pays off in a raid.
Leatherworking lets you craft up to 470 item level legs and boots, which now contain sockets.
Below is the list of all dungeon and Raid trinkets ordered by strength. Most trinkets are extremely close in value to each other at the same item levels. Each trinket shown is simmed at 475 with the exception of Manifesto of Madness.
In Patch 8.2, trinkets with on-hit effects received a sizeable buff which is taken into account in the simulation below.
1.5.1.
Single-Target Trinkets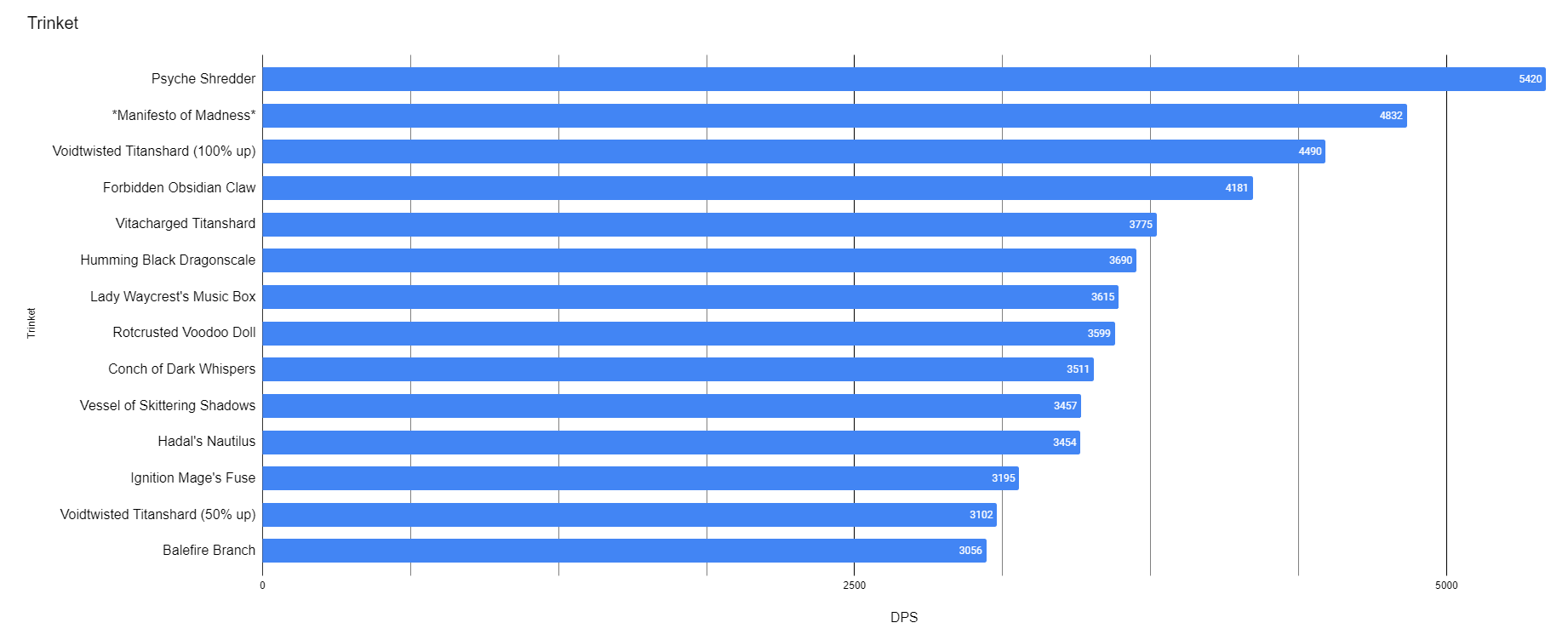 20 Apr. 2020: Updated trinket section.
17 Feb. 2020: Updated Corruption simulations.
06 Feb. 2020: Updated trinket simulations.
20 Jan. 2020: Updated simulations.
14 Jan. 2020: Updated for Patch 8.3.
06 Nov. 2019: Updated trinket simulations and added trinket mentions.
29 Jul. 2019: Updated some incorrect mentions on Mechagon rings.
20 Jul. 2019: Updated trinket sims and added Best in Slot Azerite.
16 Jul. 2019: Changes to Operation: Mechagon section.
10 Jul. 2019: Updated for Mechagon Ring nerfs.
08 Jul. 2019: Reformatted and added Mechagon Ring sims.
07 Jul. 2019: Updated for The Eternal Palace.
24 Jun. 2019: Updated Trinket List for Patch 8.2
15 May 2019: Moved the best Azerite setup to gearing page.
25 Apr. 2019: Updated trinket list.
16 Apr. 2019: Updated for Crucible of Storms.
21 Jan. 2019: Updated for Battle of Dazar'alor.
10 Dec. 2018: Updated for Patch 8.1.
12 Oct. 2018: Updated references and added Warfronts.
09 Sep. 2018: Updated Trinket list.
29 Aug. 2018: Updated Trinket list and How to Gear section.
27 Aug. 2018: Added Raidbots Trinket sims and updated Weapon sims.
22 Aug. 2018: Darkmoon Deck: Squalls updated.
21 Aug. 2018: Updated trinket list.
13 Aug. 2018: Updated for Battle for Azeroth launch.
21 Jul. 2018: Fixed some legendary rankings.
20 Jul. 2018: Added a "Notable Trinkets" section.
Show more
Show less
Guides from Other Classes
Patch 8.3 Profession Changes