Retribution Paladin DPS Artifact Talents/Traits and Relics (Legion 7.3.5)
Table of Contents
General Information
This page shows you how to level up the Artifact and how to choose the right Relics for your Retribution Paladins. It is updated for World of Warcraft Legion 7.3.5.
The other pages of our Retribution Paladin guide can be accessed from the table of contents on the right.
About Our Reviewers
This guide has been reviewed and approved by Fardion, a top Retribution Paladin. You can follow him on Twitter, and you can also reach him on the official Paladin Discord channel if you have any questions about the spec.
1. Artifact Progression for Retribution Paladins
For the first 35 Artifact points you will spend, we currently recommend a straightforward Artifact progression path that will lead you to the

Ashes to Ashes trait (which is very important).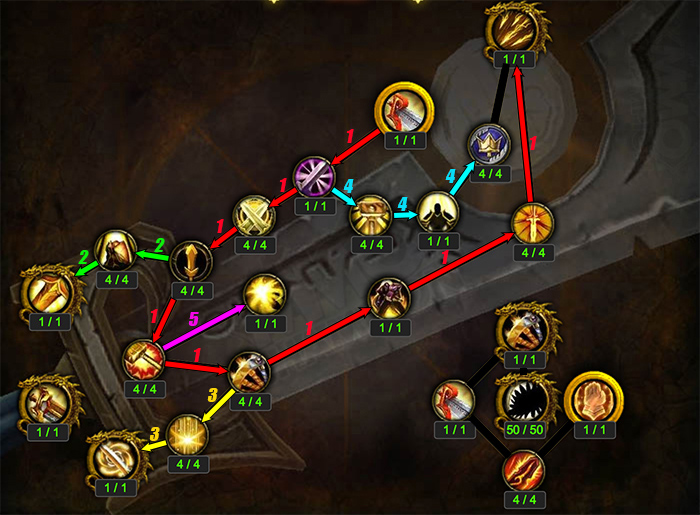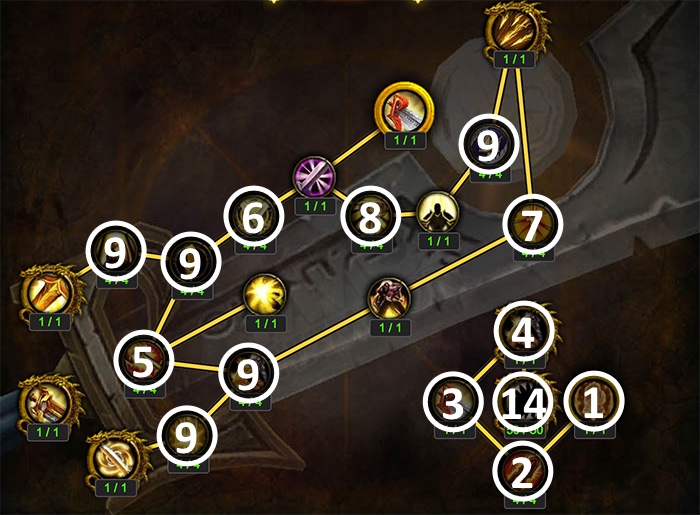 After this, you should take the remaining traits in the following order.
2. Relic Choice for Retribution Paladins
When choosing which Relics to use, you need to look not only at the item level of the relic, but also at its effect. You can consider that the effect of the relic is worth a certain number of item levels (in addition to the item level of the relic itself).
Below, we list the relics in descending order of power, assuming equal item levels, and next to each relic we also list how many item levels its effect is worth. Therefore, when comparing two relics, look at the combined item level each one has after adding its effect's worth to the relic's item level.
The above priority was provided by Urthearso, a Retribution theorycrafter on the Retribution Paladin Discord.
3. ChangeLog
28 Nov. 2017: Updated relic priority.
12 Sep. 2017: Updated relic priority.
12 Jun. 2017: Updated relic priority.
11 May 2017: Updated relic priority.
27 Mar. 2017: Added path for the Artifact traits added in Patch 7.2.
17 Jan. 2017: Updated the introduction to the Relic priority to mention that Relics that improve Wrath of the Ashbringer are preferable even if they provide a lower item level.
13 Jan. 2017: Removed a mention of how different Relic item level bonuses can influence your choice (particularly with regards to Wrath of the Ashbringer).
10 Jan. 2017: Updated the Relic priority.
14 Nov. 2016: Removed the Artifact path that suggested resetting your Artifact, as it is no longer relevant.
31 Oct. 2016: Added a mention of the value of the Wrath of the Ashbringer-enhancing Relics.
20 Sep. 2016: Updated the amount of Artifact Power you should save up before resetting to 64,000 (down from 67,000).
29 Aug. 2016: Added.
+ show all entries
- show only 10 entries