Holy Priest Healing NetherLight Crucible Relic Paths (Legion 7.3.5)
Table of Contents
General Information
This page will help you choose the right paths on your Netherlight Crucible as a a Holy Priests. It is updated for World of Warcraft Legion 7.3.5. For more information, please read our Guide to the Netherlight Crucible.
The other pages of our Holy Priest guide can be accessed from the table of contents on the right.
About Our Reviewer
This guide has been reviewed and approved Niphyr, a generally knowledgeable, long-time healing Priest and theorycrafter. You can follow him on Twitter.
1. General Optimization Advice for Holy Priests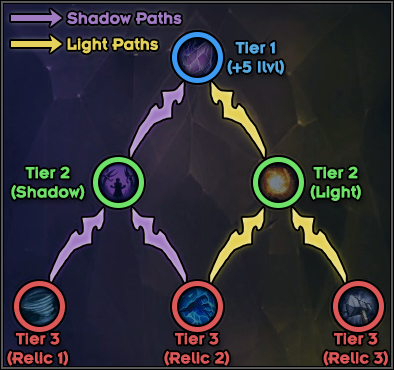 When deciding exactly which path to take, your most important consideration is obtaining the

Say Your Prayers artifact trait in Tier 3. The only exception is taking a Worst Tier 2 trait in order to reach Say Your Prayers, which is something you should avoid doing. Aside from this, the other Tier 3 traits are ranked in between the Good and Bad Tier 2 traits.
You can check out this calculator for a more precise solution.
2. Tier 2 Upgrade Priority for Holy Priests
3. Tier 3 Upgrade Priority for Holy Priests
The Tier 3 upgrades are identical to the relic priority found in our Artifact Traits and Relics page, however, they have been relisted here for your convenience.
Say Your Prayers (+3 item levels)
Words of Healing, Power of the Naaru, Holy Guidance, and Hallowed Ground (+1 item level)
Holy Hands, Reverence, Caress of the Naaru, and Serenity Now (+0).
4. ChangeLog
12 Sep. 2017: Added Netherlight Crucible page for Holy Priest.
+ show all entries
- show only 10 entries