Vengeance Demon Hunter Tank NetherLight Crucible Relic Paths (Legion 7.3.5)
Table of Contents
General Information
This page will help you choose the right paths on your Netherlight Crucible as a a Vengeance Demon Hunters. It is updated for World of Warcraft Legion 7.3.5. For more information, please read our Guide to the Netherlight Crucible.
The other pages of our Vengeance Demon Hunter guide can be accessed from the table of contents on the right.
About Our Reviewer
This guide has been reviewed and approved by Greensprîng, one of the best Vengeance Demon Hunters in the world, who raids in untitled spreadsheet.
1. General Optimization Advice for Vengeance Demon Hunters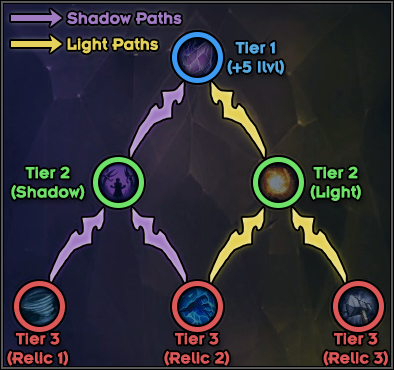 It is of utmost importance to have

Fiery Demise on every relic, either as the relic itself or as the Tier 3 Netherlight Crucible trait. This is so important that if the Tier 3 trait is Fiery Demise, you can take any path necessary to reach it (even if this means taking a weak Tier 2 trait, although you should of course try to take the best you can).
If

Fiery Demise is not a tier 3 option, then choose the best combination of tier 2 and 3 traits possible from the lists below, taking into account your preferences and your playstyle.
2. Tier 2 Upgrade Priority for Vengeance Demon Hunters
2.1. Survivability Priority
2.2. DPS Priority
3. Tier 3 Upgrade Priority for Vengeance Demon Hunters
3.1. Survivability
3.2. DPS
Aura of Pain
Infernal Force
Honed Warblades
4. ChangeLog
16 Sep. 2017: Updated tier 2 priorities.
12 Sep. 2017: Added Netherlight Crucible page for Vengeance Demon Hunter.
+ show all entries
- show only 10 entries