Retribution Paladin DPS NetherLight Crucible Relic Paths (Legion 7.3.5)
Table of Contents
General Information
This page will help you choose the right paths on your Netherlight Crucible as a a Retribution Paladins. It is updated for World of Warcraft Legion 7.3.5. For more information, please read our Guide to the Netherlight Crucible.
The other pages of our Retribution Paladin guide can be accessed from the table of contents on the right.
About Our Reviewers
This guide has been reviewed and approved by Fardion, a top Retribution Paladin. You can follow him on Twitter, and you can also reach him on the official Paladin Discord channel if you have any questions about the spec.
1. General Optimization Advice for Retribution Paladins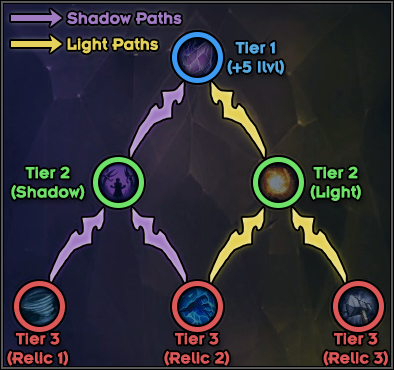 Optimizing through the Netherlight Crucible is straightforward; you are offered 2 initial paths, Shadow and Holy, and you should determine your path contingent on the following suggestions.
When deciding which path to take, compare the sum of the item level values of the tier 2 traits and the relics (listed in the sections below) to determine which the optimal path is.
Credit goes to Skeletor and Urthearso, Retribution theorycrafters on the Retribution Paladin Discord.
2. Tier 2 Upgrade Priority for Retribution Paladins
3. Tier 3 Upgrade Priority for Retribution Paladins
The Tier 3 upgrades are identical to the relic priority found in our Artifact Traits and Relics page, however, they have been relisted here for your convenience.
4. ChangeLog
28 Nov. 2017: Updated trait rankings.
12 Sep. 2017: Added Netherlight Crucible page for Retribution Paladin.
+ show all entries
- show only 10 entries