Shadow Priest DPS NetherLight Crucible Relic Paths (Legion 7.3.5)
Table of Contents
General Information
This page will help you choose the right paths on your Netherlight Crucible as a a Shadow Priests. It is updated for World of Warcraft Legion 7.3.5. For more information, please read our Guide to the Netherlight Crucible.
The other pages of our Shadow Priest guide can be accessed from the table of contents on the right.
About Our Author and Reviewer
This guide has been written by Furty, who has an illustrious history in the World of Warcraft raiding scene and race for World First. He has been a member of guilds such as Serenity, Midwinter, and many more, and is currently raiding in Future. He plays most classes at the highest level. You can follow him on Twitter and watch him play on Twitch.
This guide has been reviewed by Atroxe, a Shadow Priest who plays in Encore, and by DjRiff, a theorycrafter at HowToPriest. You can watch Atroxe play on YouTube and Twitch, and you can watch DjRiff stream on Twitch.
1. General Optimization Advice for Shadow Priest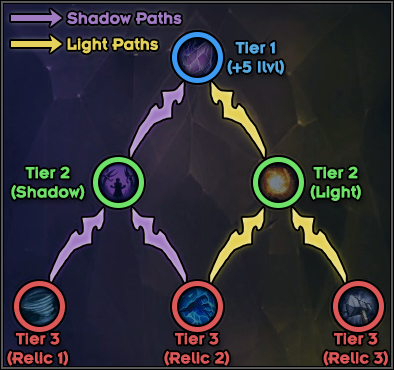 Optimizing through the Netherlight Crucible is straightforward; you are offered 2 initial paths, Shadow and Holy, and you should determine your path contingent on which leads to your best trait. If the 2 available paths are equal or very close in ranking it is usually best to adhere to the fork that leads to the highest value Tier 3 trait, as this often results in the largest DPS increase. If the best available Tier 3 trait is in the middle, you should always default to the highest ranked Tier 2 upgrade, as you are able to reach it from either path.
Be aware that the theorycraft for the Tier 2 upgrades available through the Netherlight Crucible is still in a primordial state, and therefore the ordering of upgrades detailed below is not entirely definite. This will be continually updated leading up to and following the release of the Crucible as things become more clear. This priority was determined using SimCraft.
2. Tier 2 Upgrade Priority for Shadow Priest
3. Tier 3 Upgrade Priority for Shadow Priest
The Tier 3 upgrades are identical to the relic priority found in our Artifact Traits and Relics page, however, they have been relisted here for your convenience.
If you are unlucky enough to roll all defensive low value traits for your Tier 3 upgrades, you should be aiming for the best Tier 2 option available in the Crucible, or whichever defensive/niche trait you prefer to focus on, as they have minimal DPS gains.
4. ChangeLog
12 Jan. 2018: Updated Tier 3 hierarchy to match the changes made to the artifact page.
30 Nov. 2017: Updated Tier 2 and Tier 3 hierarchy.
13 Oct. 2017: Moved Dark Sorrows up in the hierarchy based on recent buffs.
13 Sep. 2017: Updated to match recent rebalancing; updated Tier 2 results based on new data from SimCraft.
12 Sep. 2017: Added Netherlight Crucible page for Shadow Priest.
+ show all entries
- show only 10 entries