Survival Hunter DPS Artifact Talents/Traits and Relics (Legion 7.3.5)
Table of Contents
General Information
This page shows you how to level up the Artifact and how to choose the right Relics for your Survival Hunters. It is updated for World of Warcraft Legion 7.3.5.
The other pages of our Survival Hunter guide can be accessed from the table of contents on the right.
About Our Author
This guide has been written by Azortharion, the main theorycrafter of the spec. He is also an accomplished player who raids in Solaris. You can also watch his stream on Twitch.
1. Artifact Progression for Survival Hunter
The Talonclaw Artifact is essentially mirrored when it comes to its architecture. For obvious reasons, we simply pick the side that gives the best DPS traits early on by moving clockwise.
1.1. Early Progression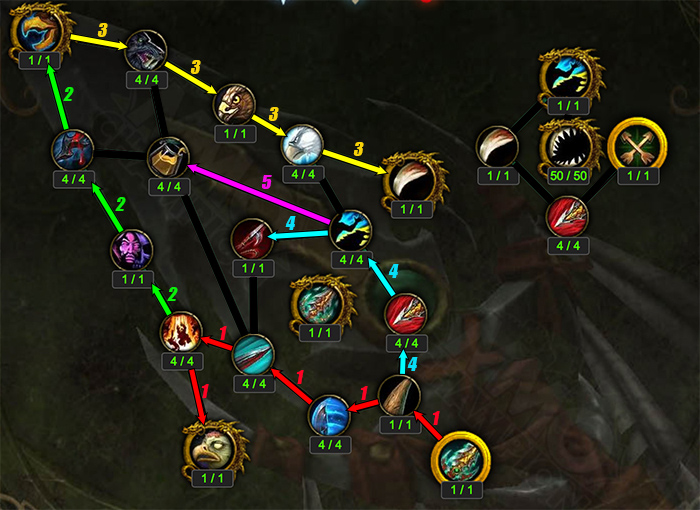 The goal of the path is to reach

Aspect of the Skylord as soon as possible, following this clockwise path to the other golden traits as well.
Whilst this path does initially skip on some single-target traits like

Sharpened Fang at first, the pursuit of the powerful golden traits as quickly as possible makes this worth it.
1.2. Patch 7.2 Progression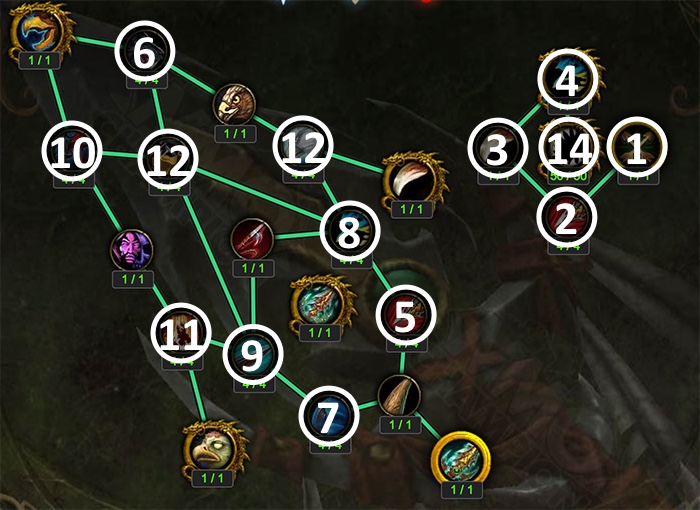 Ferocity of the Unseen Path (new in 7.2)
Jaws of the Mongoose (new in 7.2)
Talon Bond (new in 7.2)
Echoes of Ohn'ara (new in 7.2)
Fourth rank of Sharpened Fang
Fourth rank of Fluffy, Go
Fourth rank of Hellcarver
Fourth rank of My Beloved Monster
Fourth rank of Raptor's Cry
Fourth rank of Lacerating Talons
Fourth rank of Explosive Force
Fill out the utility trait ranks as you see fit from here.
Concordance of the Legionfall (new in 7.2)
2. Survival Hunter Artifact Ability
The Survival Artifact opens with the active ability,

Fury of the Eagle. It is a 4-second, channeled frontal cone attack on a 45-second cooldown. It has no cost, and the damage it deals is based on how many stacks of

Mongoose Fury that you have active. It also adds its own cast time (4 seconds before Haste) to the remaining duration of

Mongoose Fury.
3. Weapon Item Level Value of Survival Hunter Relic Traits
4. ChangeLog
05 Dec. 2017: Updated all trait values.
01 Oct. 2017: Removed obsolete Relic Choice paragraph.
13 Sep. 2017: Updated the traits' weapon item level values.
13 Jun. 2017: Updated relic/iLvl chart.
17 Apr. 2017: Checked today and deemed updated.
27 Mar. 2017: Artifact path updated for 7.2 and traits vs iLvl chart added.
28 Jan. 2017: Expanded slightly on Relic choice.
11 Jan. 2017: Updated best AoE Relic to Hellcarver.
09 Jan. 2017: Checked and confirmed for Patch 7.1.5.
29 Aug. 2016: Added.
+ show all entries
- show only 10 entries