Balance Druid DPS Artifact Talents/Traits and Relics (Legion 7.3.5)
Table of Contents
General Information
This page shows you how to level up the Artifact and how to choose the right Relics for your Balance Druids. It is updated for World of Warcraft Legion 7.3.5.
The other pages of our Balance Druid guide can be accessed from the table of contents on the right.
About Our Reviewer
This guide has been reviewed and approved by Bora, an up-and-coming Balance Druid theorycrafter who is active on the Druid Discord.
1. Artifact Progression for Balance Druids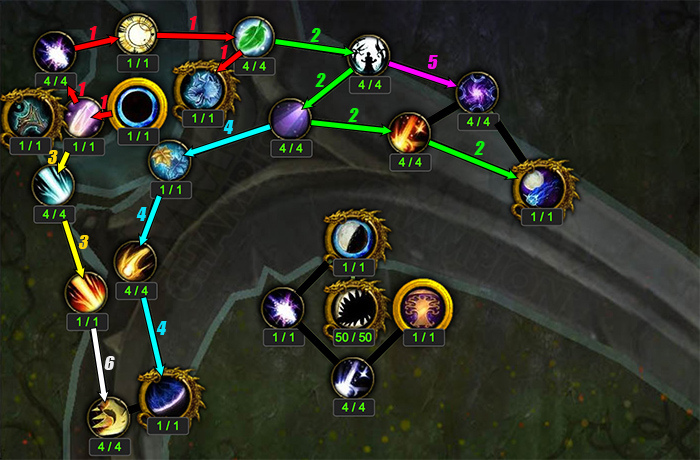 For the first 35 Artifact points, the Balance Druid progression path is very straightforward.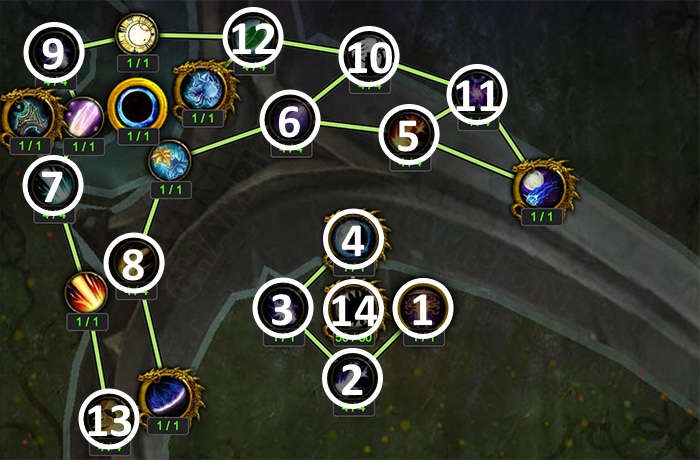 After this, we recommend that you distribute future points as follows.
2. Relic Choice for Balance Druids
When choosing between relics, it is important to consider that some traits are worth up to 4 weapon item levels. The below priority lists include relic comparisons to show how many weapon item levels they are roughly worth (denoted as the number in brackets). Often, a decision to swap relics will include a change in weapon item level as well, so you should consider the net change of the trait swap.
For example, imagine you are replacing a

Scythe of the Stars relic (worth 4 item levels) with a

Dark Side of the Moon (worth 2 item levels) and a 3 item level increase. This is a good swap, because in total you are gaining 2+3-4 = 1 item level in damage on your artifact weapon.
2.1. Single Target
2.2. Multiple Target
3. ChangeLog
23 Jan. 2018: Updated relic priority slightly.
18 Dec. 2017: Removed an irrelevant mention about the value of Scythe of the Stars.
02 Dec. 2017: Updated multiple target relic priority slightly.
12 Sep. 2017: Updated relic priority slightly.
13 Jul. 2017: Made a small fix to the multiple target relic priority.
11 Jul. 2017: Revamped the relic priorities.
12 Jun. 2017: Page reviewed and deemed updated for 7.2.5.
28 Mar. 2017: Made a small update to the 7.2 Artifact trait order.
27 Mar. 2017: Added path for the Artifact traits added in Patch 7.2.
22 Jan. 2017: Fixed an error in a recommended multiple target Relic (now correctly advising Falling Star).
19 Jan. 2017: Added a separate Relic priority for multiple target situations.
25 Nov. 2016: Updated the Relic priority.
02 Oct. 2016: Refined advice for choosing Relics.
29 Aug. 2016: Added.
+ show all entries
- show only 10 entries