Frost Death Knight DPS Azerite Traits/Powers and Armor in Battle for Azeroth (BfA) 8.0.1
Table of Contents
General Information
Pick up the Azerite gear with the best traits for your Frost Death Knight and learn about the Heart of Azeroth. This page is updated for World of Warcraft Battle for Azeroth 8.0.1.
For more information about the

Heart of Azeroth, please read our Hearth of Azeroth guide.
The other pages of our Frost Death Knight guide can be accessed from the table of contents on the right.
About Our Author
This guide has been written by Abyssalwave, a top level Death Knight player. He is a former US #2 hardcore raider who currently raids with Club Camel. You can also check out his YouTube channel.
1. Disclaimer
This is an early draft of the final page. It reflects the current state of theorycrafting on Azerite traits and is currently missing gear information. These rankings will definitely change over the coming weeks as more information becomes available through logs and after additional tuning.
2. Azerite Traits for Frost Death Knight
Azerite Traits are special effects present on Helm, Shoulder, and Chest slots in Battle For Azeroth. Each Azerite item has either 2 or 3 tiers of Azerite Traits to choose from (items below item level 340 only have 2 tiers, while items above that have 3). In addition to this, every Azerite item also has a +5 item level bonus (

Azerite Empowered). Each tier, as well as this item level bonus, become unlocked as you gain certain amounts of Azerite Power.
The first tier of Azerite Traits is split between a class-specific choice and a generic choice. Generic choices can be zone-related or content-related (such as PvP traits which are only found on PvP gear but work in PvE content).
The second tier has a multitude of options varying from interesting stat procs to static stat gains. This is the tier that is missing on items lower than item level 340.
The third tier can either be a defensive or healing option.
Azerite gear has fixed traits and stats. Each piece has predetermined Azerite Traits, item level, and can not roll either tertiary stats or sockets. While tuning is always in flux, we will try to list the currently best traits for raiding first. Keep in mind many of these are very raid / dungeon / world / PvP-oriented and do not work well in other types of content.
3. Recommended Traits
This section will discuss the recommended Azerite traits for both dungeons and raids. While these are currently recommended, any balance changes to traits will likely change our recommendations.
3.1. Dungeons, Mythic+, and Raids
Frozen Tempest causes your Remorseless Winter to deal additional damage, and the first time Remorseless Winter deals damage to 3 different enemies, you gain a Rime proc. This is an incredibly powerful trait and is currently one of our strongest, especially in fights where you can reliably gain the Rime effect.
Echoing Howl causes your Rime-empowered Howling Blast to surround you with an icy wind that deals Frost damage to all nearby enemies. This is another very powerful AoE talent and is currently our best trait for AoE situations.
Latent Chill causes your Frost Strike to deal additional damage if you have at least 3 empty runes. This is not nearly as strong as the other 2 traits however it is the next best option if you do not have access to those traits.
4. Recommended Dungeon Azerite Gear
5. Azerite Traits Rotation Changes and Details for Frost Death Knight
Some of your Azerite Traits in Battle For Azeroth can have a small effect on your rotation. They generally do not change the fundamentals, but they allow you to use their effects to squeeze just a little bit more damage out than your competition.
Since Killer Frost makes it so your Frost Strike can grant a Killing Machine proc, you want to make sure that you do not cast Frost Strike if you have a Killing Machine proc unless you would overcap Runic Power.
6. Relative Strength of Azerite Traits for Frost Death Knight
Below we have listed the relative strength of the most relevant Azerite Traits, as far as they are implemented in our simulation tools at the moment.
Because you can have the same trait multiple times, and because some traits can change the rotation if you stack it multiple times, we have listed the relative strength of the traits depending on how many of them you have.
We are not including different item levels of Azerite pieces, because in most situations you are going to want the highest item level piece regardless. As with any rule, there are exceptions and you should always sim your own character's traits with RaidBots to be sure.
7. Azerite Trait Ranking for Frost Death Knight
Both of these simulations are based on Best-in-Slot preraid gear with a good distribution of stats for the spec. As always, treat these simulations as a guideline, not a rule, and always sim your own character to be sure.
7.1. Single-Target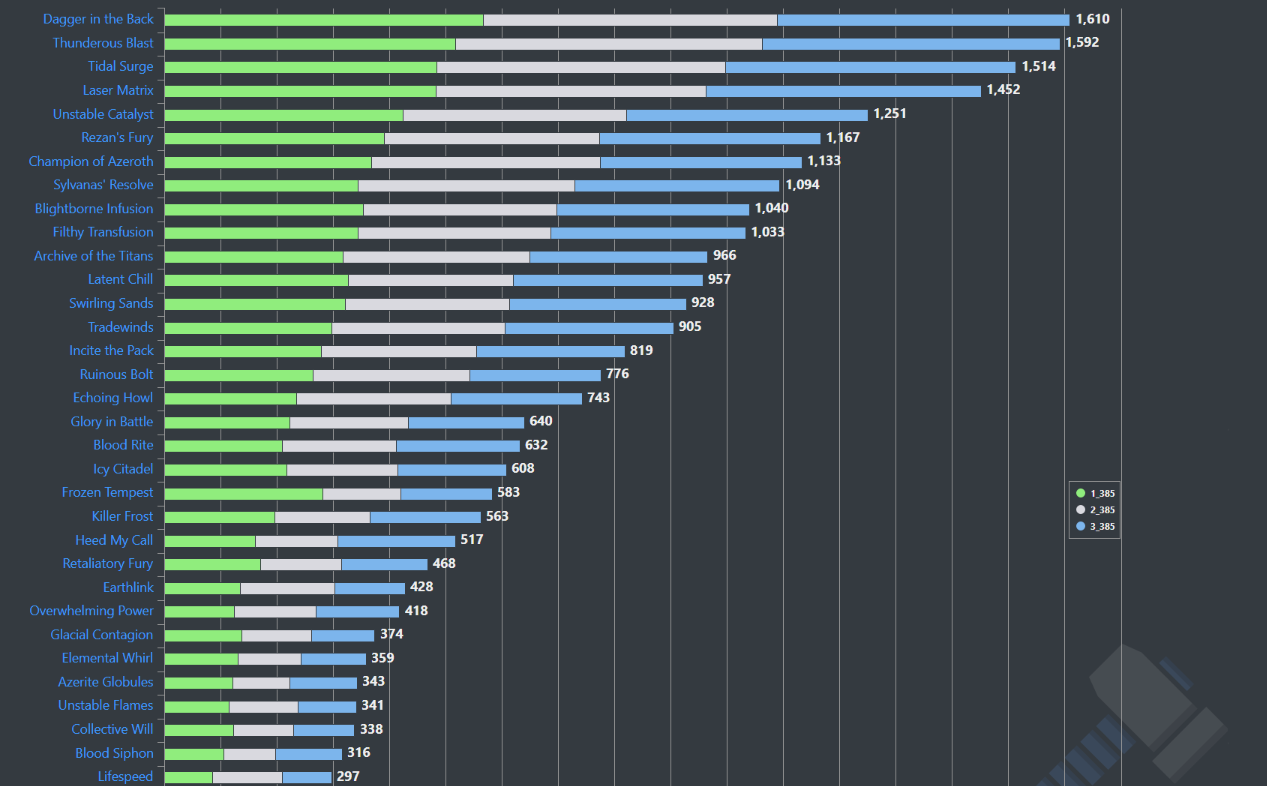 7.2. 3 Targets (Mythic+, etc)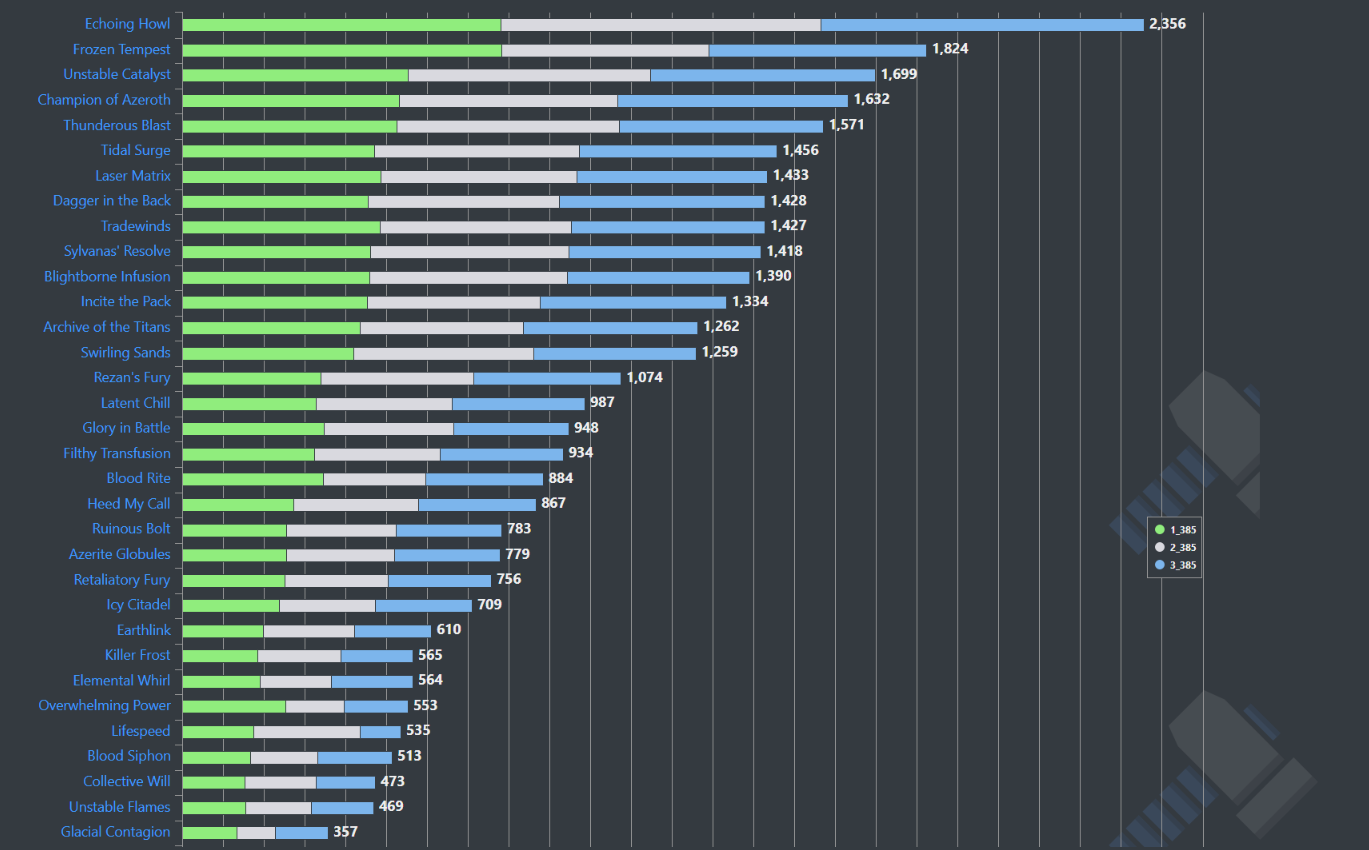 Thank you to Bloodmallet for providing the data for these Azerite traits.
8. Find Azerite Armor By Trait/Power
In the table below, you can see all of the Azerite gear available to your Frost Death Knight. By using the + button located next to each item, you can expand the list of Azerite powers that this item possesses (to collapse the list, simply click the - button).
If you want to filter items according to the powers that they offer, you can use the filters below.
| Head Items | Shoulders Items | Chest Items |
| --- | --- | --- |
| | | |
9. ChangeLog
12 Aug. 2018: Updated for Battle for Azeroth Launch.
11 Aug. 2018: Page added.
+ show all entries
- show only 10 entries