Havoc Demon Hunter DPS NetherLight Crucible Relic Paths and Weights (Legion 7.3.5)
Table of Contents
General Information
This page will help you choose the right paths on your Netherlight Crucible as a a Havoc Demon Hunters. It is updated for World of Warcraft Legion 7.3.5. For more information, please read our Guide to the Netherlight Crucible.
The other pages of our Havoc Demon Hunter guide can be accessed from the table of contents on the right.
About Our Author
This guide has been reviewed and approved by Kib, a lead theorycrafter for Havoc Demon Hunters, alongside playing in Strawberry Puppy Kisses in the world top 40. You can watch his stream on Twitch or follow him on Twitter.
1. General Optimization Advice for Havoc Demon Hunter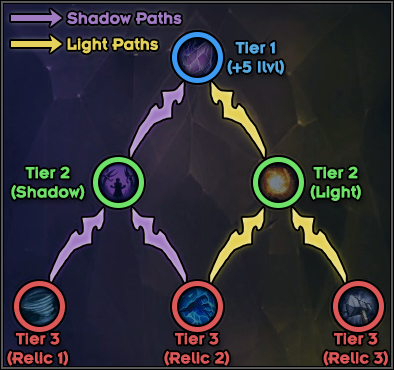 Optimizing around the Netherlight Crucible for Havoc is decided based on the current traits that your weapon Relic already has on it. The priority is to aim to get

Critical Chaos on all 3 Relics, either through your Tier 3 option at the bottom of the tree, or on the Relic itself. This always takes precedence, and so if you need to unlock this via the crucible, your Tier 2 option will be decided by whichever is the best choice that eventually leads to it.
If your relic has Critical Chaos on it, then choose your Tier 2 and Tier 3 options based on the advice in the sections that follow.
If your relic does not have Critical Chaos on it, but has it on its Tier 3 line, then select the path that leads to Critical Chaos.
If your relic does not have Critical Chaos at all, then you should ideally be looking to replace it, but it can be optimized based on the values below.
2. Light/Shadow Tier 2 Options for Havoc Demon Hunters
If your relic does not have

Critical Chaos on its third line (Tier 3), then your path is dictated by the best choice of Light/Shadow powers on the Tier 2. These powers are broken down into the brackets below. Values next to each trait show their exact value for comparison.
2.1. Best
2.2. Good
2.3. Average
2.4. Bad
Note that anything with defensive added next to it has additional benefit from through the defensive bonuses they also grant. This has no value for dealing damage, but some players may want to focus on this depending on the content they participate in.
3. Tier 3 Options for Havoc Demon Hunters
The trait you choose at the bottom of the Crucible should be taken from the following list (excluding

Critical Chaos due to it altering your path as explained earlier). The values next to each trait is the amount of equivalent item level each trait is worth (Note that these have been calculated using the T21 set and a Demonic build):

Unleashed Demons is hard to quantify currently due to the traits fluctuating value depending on if it gains you an extra

Metamorphosis cast or not, but if it does so is a solid pick.
The traits not listed here (

Illidari Knowledge,

Deceiver's Fury,

Overwhelming Power, and

Sharpened Glaives) are very low value traits that are either defensively oriented or provide little to no benefit, and should be avoided wherever possible.
4. ChangeLog
28 Nov. 2017: Updated for Antorus release.
10 Sep. 2017: Improved on the original version.
08 Sep. 2017: Added initial introduction to the Netherlight Crucible in 7.3.
+ show all entries
- show only 10 entries