Outlaw Rogue DPS Artifact Talents/Traits and Relics (Legion 7.3.5)
Table of Contents
General Information
This page shows you how to level up the Artifact and how to choose the right Relics for your Outlaw Rogues. It is updated for World of Warcraft Legion 7.3.5.
The other pages of our Outlaw Rogue guide can be accessed from the table of contents on the right.
About Our Author and Reviewer
This guide has been written by Furty, who has an illustrious history in the World of Warcraft raiding scene and race for World First. He has been a member of guilds such as Serenity, Midwinter, and many more, and is currently raiding in Future. He plays most classes at the highest level. You can follow him on Twitter and watch him play on Twitch.
This guide has been reviewed and approved by Perfecto, an Outlaw/Assassination Rogue who raids in Method.
1. Artifact Progression — First 35 Points
1.1. Early Point Investment
After acquiring the initial point in

Cursed Edges, swing up through

Fate's Thirst and into

Fatebringer and

Ghostly Shell. Grab your first Golden Trait,

Greed, which is a noticeably boost to both your single and multitarget. Overall this will give the most benefit by a landslide and is huge for early combat power in dungeons and raids.
1.2. Second Golden Trait
Before acquiring your second Golden Trait, you will want to acquire

Hidden Blade,

Blade Dancer, and

Fortune Strikes. This results in a lot of extra resource generation and conservation, which is very important to your overall damage.
On the top side of the tree, go through

Gunslinger to

Deception, which adds bolsters your

Sprint with some defensive utility.

Fortune's Strike is a great passive boost and leads into your second Golden Trait,

Blunderbuss.
1.3. Final Point Investment

Black Powder leads into your final Golden Trait,

Blurred Time, which is a small boost but a nice way to round out the tree. Finally, snag

Blademaster to add some DPS utility to your

Riposte.

Fortune's Boon should be your culminating points to complete your Dreadblades.
After your Dreadblades are fully fleshed out, you can safely start investing Artifact Power in

Cursed Steel, or focus on one of the other specs.
2. Patch 7.2: 35+ Trait Path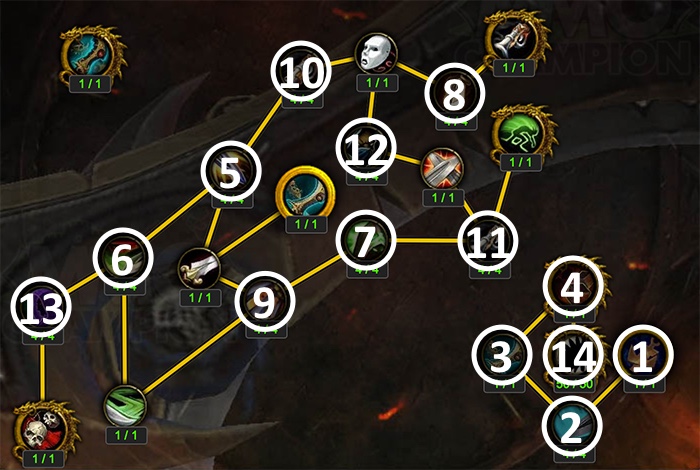 Patch 7.2 has replaced the 35-54 Paragon system with several additional new traits becoming available upon acquisition of the 35th point. All of the previous Relic traits will also unlock a 4th rank, along with a new Paragon system becoming available after all traits have been filled (via

Concordance of the Legionfall) which all additional Artifact Power will be spent on.
Detailed below is our suggested maxing order after 35 traits:
3. Relic Choice
3.1. With Greenskin's Waterlogged Wristcuffs and Mantle of the Master Assassin
It is worth noting that in this priority

Fate's Thirst has significantly higher value on AoE than

Fortune Strikes and

Fatebringer.

Blade Dancer is more valuable if you play Outlaw exclusively in Mythic+ dungeons, or only on cleave fights.
4. ChangeLog
+ show all entries
- show only 10 entries
03 Sep. 2017: Updated Mantle/Greenskin's relic priority.
29 Jun. 2017: Updated relic priority; added priority for BiS legendary combo.
12 Jun. 2017: Updated relic priority for Patch 7.2.5.
27 Mar. 2017: Added a path for the new 7.2 traits.
09 Jan. 2017: Checked and confirmed for Patch 7.1.5.
02 Oct. 2016: Relic section updated.
29 Aug. 2016: Added.