Shadowlands Mythic+ Season 2 Guide
In this hub, you will find everything related to Mythic Season 2 in Shadowlands, including dungeon/affix changes, new affixes, rewards, and more.
TABLE OF CONTENTS OF THIS PAGE
1.
When Will Shadowlands Mythic Season 2 Start?
Shadowlands Season 2 begins on July 6, 2021.
2.
What Can We Expect in Mythic Season 2?
Mythic and Mythic+ enemies auto-attack damage reduced by 10%.
Item levels of rewards from level 60 Normal, Heroic, and Mythic dungeons will be increased by 26.
Baseline rewards are now item-level 184 from Normal, 197 from Heroic, and 210 from Mythic dungeons.
Mythic+ dungeon rewards have had their maximum item level increased by 26 item levels, and some interim Keystone level rewards have their item level rewards adjusted.
Great Vault rewards have been increased by 26 item levels.
Heroic dungeon's enemy damage has been increased by 6% and enemy health increased by 16%.
Mythic dungeon's enemy damage and health increased by 26%.
Mythic+ dungeon's enemy damage has been increased by 35% and health by 39%.
Players who complete a Mythic Level 20 or higher dungeon within the time limit will be granted dungeon teleports in Patch 9.1.
Ta'hsup, who offers Keystone re-rolling and depletion in Season 2.
3.
Mythic Affix Changes in Season 2
Bolstering

—

Bolster

now increases maximum health by 15% (was 20%) and damage done by 20% per stack. In addition, as of Patch 9.1.5 this buff now only lasts for 20 seconds on the enemy.

Necrotic

— Level 61 enemies now apply

Necrotic Wound

on every other auto attack (was every auto attack). It now also only lasts for 6 seconds rather than 9 as of Patch 9.1.5.

Raging

— As of Patch 9.1.5

Enrage

now increases damage done by 50% (was 75%).

Storming

— Storming whirlwinds now always move in the same direction and its movement speed was reduced by 30%. Storming whirlwinds now dissipate once a target is hit.
4.
Mythic Season 2 Dungeon Changes
Blizzard has adjusted multiple dungeons and bosses in Season 2. Check out our Dungeon Changes page for more details.
5.
Upgrading Mythic+ Gear with Valor
Valor will reset to 0 with the beginning of Season 2, and you will once again be able to upgrade Mythic Dungeon Gear with Valor.
6.
Mythic Dungeon Rewards
During the first week of Mythic Keystone dungeons, there is a cap of end-of-run loot. That loot will stop increasing at Mythic Keystone +10 for this week, which is Item Level 229. Great Vault will be uncapped the following week, and loot from the Great Vault (on July 13) will reflect successful completions achieved during the week of July 6.
The End-of-Run rewards are capped below Heroic difficulty Sanctum of Domination loot at Item Level 226. The weekly chest loot is capped at Item Level 252 and you must complete a Mythic +15 run to claim Item Level 252 loot the following week. In Season 1, a Mythic +14 run was enough.
| Difficulty Level | End-of-Run Item Level | Weekly Reward Item Level |
| --- | --- | --- |
| Mythic +1 | 210 | 0 |
| Mythic +2 | 210 | 226 |
| Mythic +3 | 213 | 226 |
| Mythic +4 | 216 | 226 |
| Mythic +5 | 220 | 229 |
| Mythic +6 | 223 | 229 |
| Mythic +7 | 223 | 233 |
| Mythic +8 | 226 | 236 |
| Mythic +9 | 226 | 236 |
| Mythic +10 | 229 | 239 |
| Mythic +11 | 229 | 242 |
| Mythic +12 | 233 | 246 |
| Mythic +13 | 233 | 246 |
| Mythic +14 | 236 | 249 |
| Mythic +15 | 236 | 252 |
The Shadowlands Weekly Chest requires you to clear a certain number of Mythic dungeons per week to receive items in the Dungeons category. You can find more details about the Great Vault and the requirements in our separate guide.
You can check out our Mythic+ dungeon difficulty rankings, as well as the recommended MDT routes for this week in the guides linked below.
8.
New Seasonal Affix — Tormented
The new Mythic Affix that will be active in all +10 runs in Season 2 is called

Tormented — Servants of the Jailer can be found throughout the dungeon and grant powerful boons when defeated. If a servant is not dealt with, they empower the final boss.
For a detailed guide on Mythic+ Affixes and what they do, please refer to our Mythic+ Affix Guide.
9.
Covenant Bonuses in Mythic Dungeons
Depending on the Mythic dungeon, each Covenant in Shadowlands can provide specific buffs and bonuses to the party, and making use of these is essential for progressing. You can find out all about that on our dedicated page.
Completing Shadowlands dungeons at Mythic Level 20 or higher, within the time limit, rewards dungeon teleports in Season 2.
11.
Keystone Re-rolling and Depletion
Ta'hsup in the Hall of Holding in Oribos will now offer a Keystone to players who do not have one, as long as they have completed at least 1 Shadowlands dungeon on Mythic+ difficulty.
Ta'hsup will also spawn at the end of Mythic+ dungeons that are completed before the time limit is reached. He will offer a one-time Keystone exchange to any player whose current Keystone is at or below the level of the dungeon that was recently completed on time. Keystones that are higher level than the dungeon that was recently completed on time cannot be traded, including the Keystone that was used to start the run.
Additionally, Ta'hsup in Oribos will also deplete your Keystone as many times as you would like, so you no longer need to continuously leave and reset instances to deplete your Keystone.
Patch 9.1 introduces a way for players to clearly gauge their success and preparation to take on the challenges found in Mythic+ dungeons — a new Mythic Scoring System!
You can now view your personal Mythic+ rating within the Group Finder (I) UI under the Mythic Dungeons tab. Hovering your mouse over the center Dungeon rating will bring up a tooltip that explains more about your rating and how to improve it.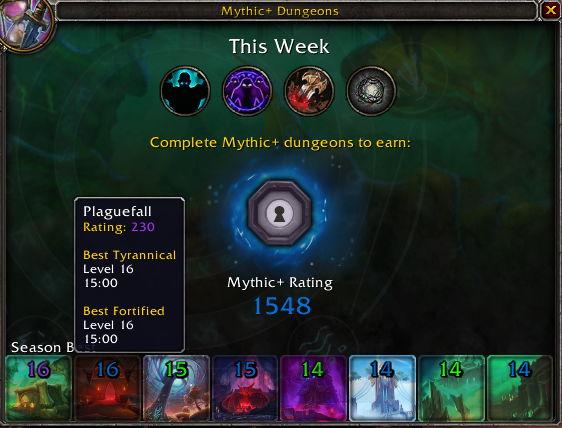 Your rating increases each time you run a dungeon you have not completed before or when you beat your own best time in a dungeon you have already completed. Completing a key provides a rating based on three factors — the level of the key, the Affixes in the key, and the run's time compared to the dungeon's timer. With each Season, Mythic+ ratings are reset in the display.
You can find more information about the new Mythic scoring system in our dedicated guide.
13.
Mythic Season 2 Achievements and Rewards

Shadowlands Keystone Conqueror: Season Two requires you to attain a Mythic+ Rating of at least 1,500 during Season 2 and rewards The Tormented title.
Ending Shadowlands Mythic+ Season 2 with a Mythic+ Rating in the top 0.1% for your faction and region grants you the Tormented Hero title and the

Tormented Hero: Shadowlands Season 2 achievement.
To earn

Shadowlands Keystone Master: Season Two, and receive

Soultwisted Deathwalker, you must attain Mythic+ Rating of at least 2,000 during Shadowlands Season 2. The mount is a recolor of the Season 1 mount mount.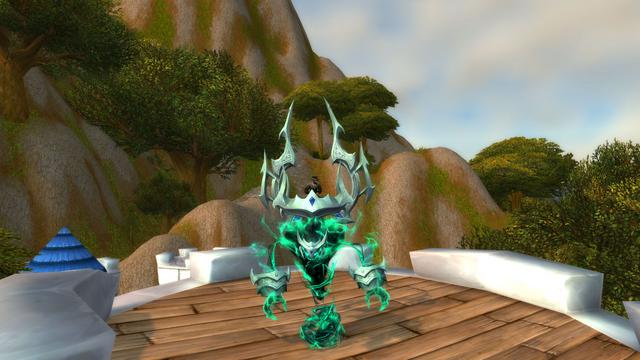 This mount is just one of 45 new mounts also added in Patch 9.1. If you would like to learn more about the other mounts available to you from dungeons, raids, and pvp, consult our mount guide below.
If you would like to improve your Mythic+ expertise in Season 2, we have a few new guides that we would like to highlight.
28 Oct. 2021: Tormented Hero achievement added.
09 Jul. 2021: Fixed the item level of weekly rewards.
29 Jun. 2021: Guide added.
Show more
Show less