Marksmanship Hunter DPS Artifact Talents/Traits and Relics (Legion 7.3.5)
Table of Contents
General Information
This page shows you how to level up the Artifact and how to choose the right Relics for your Marksmanship Hunters. It is updated for World of Warcraft Legion 7.3.5.
The other pages of our Marksmanship Hunter guide can be accessed from the table of contents on the right.
About Our Author
This guide has been written by Azortharion, the main theorycrafter of the spec. He is also an accomplished player who raids in Solaris. You can also watch his stream on Twitch.
1. Artifact Progression for Marksmanship Hunter
The Thas'dorah Artifact leaves you with a number of directions you can head in once you branch out from the base traits. The one we present on this page is recommended for any kind of raiding.
1.1. Early Progression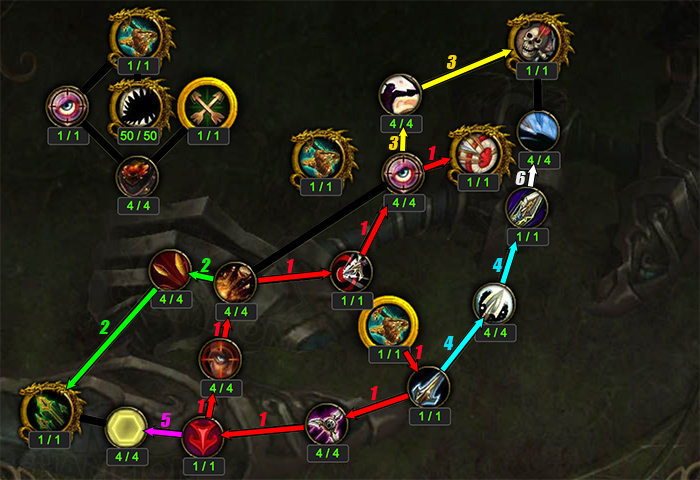 The goal of the path is to reach

Rapid Killing and

Bullseye as soon as possible, as those tie together to make your

Trueshot cooldown extremely powerful.
1.2. Patch 7.2 Artifact Progression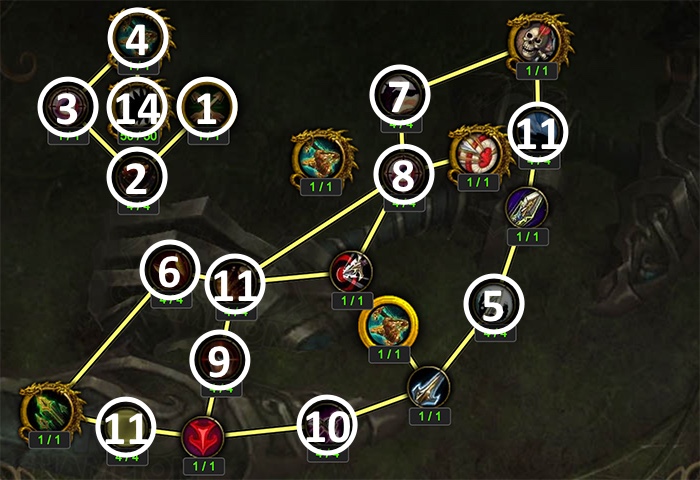 Acuity of the Unseen Path (new in 7.2)
Unerring Arrows (new in 7.2)
Feet of Wind (new in 7.2)
Cyclonic Burst (new in 7.2)
Fourth rank of Quick Shot
Fourth rank of Windrunner's Guidance
Fourth rank of Precision
Fourth rank of Marked for Death
Fourth rank of Deadly Aim
Fourth rank of Called Shot
Fill out the utility trait ranks as you see fit from here.
Concordance of the Legionfall (new in 7.2)
2. Marksmanship Hunter Artifact Ability
The Marksmanship Artifact opens with the active ability,

Windburst. It deals moderate damage on a 20-second cooldown, costs 15 Focus, and has a base cast time of 1.5 seconds. With the

Mark of the Windrunner trait that you unlock early by following our path, it applies

Vulnerable to the target.
3. Weapon Item Level Value of Marksmanship Hunter Relic Traits
*Note that Quick Shot, due to its cooldown reduction value, can both have immense value, and no value at all. With this value we attempt to strike the middle for a decent guideline as to its value, but your mileage may vary with this trait.
4. ChangeLog
05 Dec. 2017: Updated all trait values.
01 Oct. 2017: Removed obsolete Relic Choice paragraph.
13 Sep. 2017: Updated the traits' weapon item level values.
05 Aug. 2017: Updated relic/item level sim chart's AoE section to use Trick Shot rather than meme build.
13 Jul. 2017: Removed obsolete mentions of the Nighthold.
30 Jun. 2017: Removed reference to the simulation page as the relic sims have been removed from there.
13 Jun. 2017: Updated the written section on BiS relics, Quick Shot is no longer as attractive.
07 May 2017: Updated BiS single-target relic. Updated the relic item level value chart.
04 May 2017: Added note that you cannot get Unerring Arrows relics yet.
17 Apr. 2017: Checked today and deemed updated.
27 Mar. 2017: Updates BiS single target Relic and Artifact Progression path for Patch 7.2.
28 Jan. 2017: Expanded Relic talk, added BiS meme build Relic.
09 Jan. 2017: Checked and confirmed for Patch 7.1.5.
08 Dec. 2016: Added second-best in slot Relic.
17 Oct. 2016: Quick Shot is the best in slot Relic - explanation.
18 Sep. 2016: Talk about Precision and Quick Shot.
29 Aug. 2016: Added.
+ show all entries
- show only 10 entries