Weekly and Daily To-Do List for Shadowlands
The following guide acts as a to-do list and covers your daily and weekly goals that you should complete to be efficient in Patch 9.1.
It can be difficult to prioritize your goal whenever a new patch releases, so we compiled a list of goals that you should focus on after Patch 9.1 goes live. You can find a summary of all the content that awaits you in Patch 9.1 guide.
2.
Patch 9.1 Week Two Goals (Week of July 6)
This section covers what you should focus on during the second week of Patch 9.1.
The following section tells you what to focus on each week.
3.1.
Cap Out Anima and Renown
After choosing a Covenant, it is important to start building your trust with them, capping out Renown, and advancing aspects of your Sanctum by collecting Anima. You can learn more about Renown and the quests that increase your Renown level and cap it in our separate Renown guide.
Clearing dungeons is important, especially when the item level of rewards goes up by 26 on July 6.
Shadowlands comes with 8 dungeons, and you will find more details about them and the encounters in our Dungeons Hub.
4.
Clear the Sanctum of Domination Raid
Sanctum of Domination is the second raid of the expansion. It opens on July 6 on Normal and Heroic difficulty. Mythic difficulty opens one week later on July 13 along with the first Raid Finder wing. Do not forget that defeating bosses in the raid results in more item choices in Great Vault.
5.
Defeat World Boss Mor'geth
A new world boss is available in Patch 9.1. Mor'geth, Tormentor of the Damned, spawns on July 6. Do not forget to kill him for Item Level 233 loot and Conduits.
You can find more information about other world bosses in our separate world boss hub.
5.1.
Complete Daily Quests / Events in Korthia
Korthia, the City of Secrets, is a new extension of The Maw added in Patch 9.1, where you will complete daily quests to unlock rewards. Completing Tormentors of Torghast rewards Soul Cinders, a currency used to upgrade Runecarving armor in Patch 9.1.
5.2.
Complete The Maw Content
Focus on completing Covenant Assaults in The Maw for Soul Cinders.
5.3.
Complete Bonus Event World Quests
Check out the in-game calendar by typing /calendar in the chat window. Find out when Timewalking and the Shadowlands dungeons bonus event will be up. Then:
Complete the Timewalking weekly bonus event quest for 1 piece of Normal difficulty Sanctum of Domination loot.
Complete the Shadowlands dungeons bonus event quest for 1 piece of Heroic difficulty Sanctum of Domination loot.
5.4.
Complete Weekly Dungeon and PvP Quests
In Oribos seek out Ta'lan the Antiquary located at The Broken Den (51, 44). The NPC will offer you two dungeon quests that rewards 500 reputation with all the new factions, and

Cartel Exchange Vessel, an item that infuses 35 stored Anima into your covenant's Reservoir.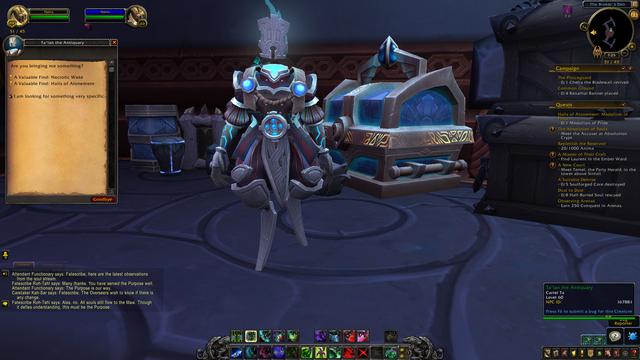 Three weekly PvP quests can be picked up in Oribos' Enclave area.
The first requires you to earn 1,000 Honor in Arena Skirmishes and rewards 350 Honor and

Multi-Modal Anima Container

.
The second quest requires you to earn 250 Conquest in Arenas and rewards 2

Multi-Modal Anima Container

s and 500 Honor.
Zo'sorg in Oribos offers a new PvP quest in Patch 9.1 and reward those who turn on War Mode and kill 20 players in Korthia with an Item Level 220 PvP item.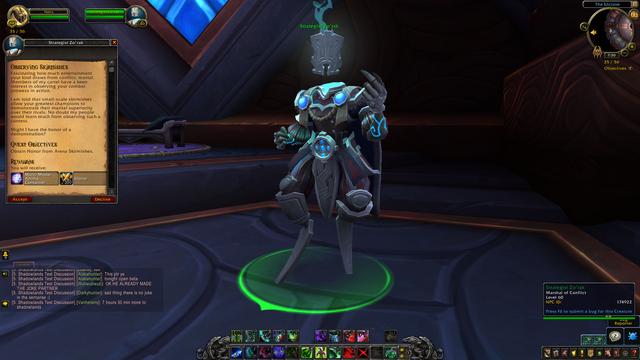 The replacement of Emissaries in the Shadowlands are Covenant Callings. They become available each day and you can find them by clicking the Covenant UI on the minimap. They require you to complete Covenant-themed World Quests in one of the new zones.
You can get an Item Level 184 item each week from Callings.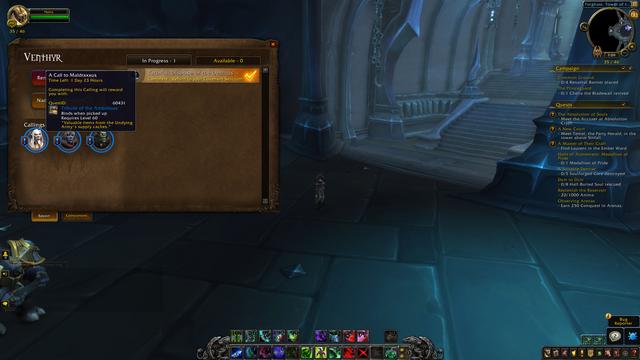 Clear the 2 Torghast wings each week to farm Soul Ash and Soul Cinders, required for crafting and upgrading Legendary items.
You can find a list of wings that are currently available on The Maw map.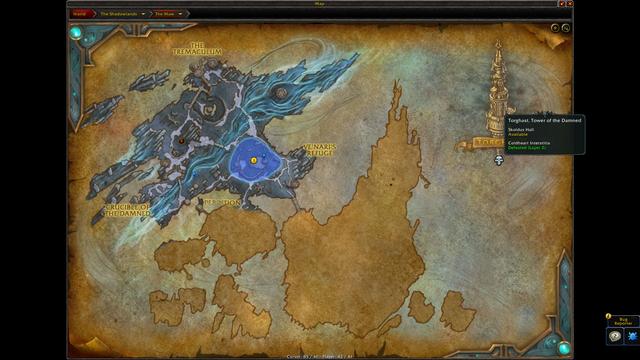 5.7.
Unlock Great Vault Item Choices
Try to clear as many Mythic+ dungeons and kill raid bosses for more choices in the Great Vault weekly chest. The same applies to killing raid bosses in Castle Nathria and earning Honor Points in Rated PvP.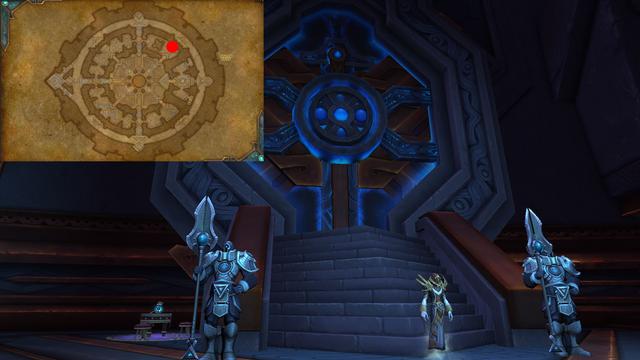 Complete Covenant Adventures for more rewards.
6.
Shadowlands Mythic+ Dungeons Season 2
The second Mythic Season of Shadowlands starts the week of July 6. Participate in completing Mythic Keystone dungeons for more item options in Great Vault. Item levels of rewards have been increased by 26 this season. You will find more information in our Mythic Season 2 Hub linked below.
6.1.
Shadowlands PvP Season 2
The first PvP Season has started and you can accrue Honor and Conquest to buy gear from PvP vendors and upgrade PvP Armor in Oribos.
06 Jul. 2021: Updated for the second week of Patch 9.1.
29 Jun. 2021: Updated for Patch 9.1.
16 Dec. 2020: Routine weekly update.
11 Dec. 2020: Updated for Season 1.
01 Dec. 2020: Updated for the week of December 1.
29 Nov. 2020: Added Soul Ash from Missions and Wrath of the Jailer to weekly events.
27 Nov. 2020: Clarified when Runecarving and Torghast unlock questline is available.
26 Nov. 2020: Added PvP Hub and Soul Ash information.
24 Nov. 2020: Updated with new information.
23 Nov. 2020: Guide added.
Show more
Show less