Weekly and Daily To-Do List for Shadowlands
The following guide acts as a to-do list and covers your daily and weekly goals that you should complete to be efficient in Shadowlands.
It can be difficult to prioritize your goal whenever a new expansion releases, so we compiled a list of goals that you should complete after Shadowlands goes live. You can find a summary of all the content that awaits you in Shadowlands in our hub.
2.
Goals Before Reaching Level 60
In the following sections, we cover the things to do before hitting maximum level.
2.1.
Complete the Shadowlands Intro Scenario
You must first complete the Shadowlands Intro Questline after logging into the game at Shadowlands launch.
2.2.
Level Up Your Character to Max Level
With the release of Shadowlands, you should focus on leveling up your main character to 60 in a linear fashion, as the zones have a fixed order.
3.
Goals Shortly After Hitting Level 60
Choose a Covenant and prioritize content unlock questlines.
By the time you hit max level you will have tried out all Covenant Abilities, and must choose a Covenant. You can do that in Oribos by completing the "Choosing Your Purpose" quest. Check out our Covenant Abilities Hub for more information on the abilities that become available for your class.
3.2.
Unlocking Runecarving and Torghast
Complete the first chapter of the Covenant campaign and you will receive "The Highlord Calls" introductory questline that you can pick up in Oribos that unlocks access to Runecarving and Torghast.
3.3.
Unlocking Soulbinds and Conduits
Continue the questline to unlock your first Soulbind, and enhance your powers further through Conduits.
This section aims to explain what to do each day in Shadowlands.
Dungeons are important, especially so early for gearing up. Queue up for Heroic dungeons and clear them for Item Level 171 loot. Clear Mythic dungeons when they become available for Item level 184 loot. Dungeon bosses also drop Legendary power recipes and Conduits that you can permanently add to your collection!
Shadowlands comes with 8 dungeons, and you will find more details about them and the encounters in our Dungeons Hub.
4.2.
Cap Out Anima and Renown
After choosing a Covenant, it is important to start building your trust with them, capping out Renown, and advancing aspects of your Sanctum by collecting Anima. You can learn more about Renown and the quests that increase your Renown level and cap it in our separate Renown guide.
Clear all World Quests that pop up in the The Maw to cap Stygia and the reputation with Ve'nari from Day 1. New World Quests pop up in the zone on a daily basis. For more information check out our Maw endgame guide.
The replacement of Emissaries in the Shadowlands are Covenant Callings. They become available each day and you can find them by clicking the Covenant UI on the minimap. They require you to complete Covenant-themed World Quests in one of the new zones.
You can get an Item Level 184 item each week from Callings.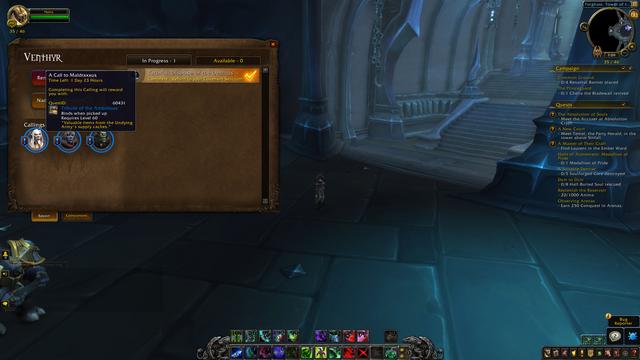 This section explains what to do on a weekly basis in Shadowlands.
Ve'nari in the Maw offers 2 weekly quests, each rewarding 425 Stygia and reputation. Complete the quests associated with Weekly Bonus Events for rewards. Of note are Timewalking weeklies.
In Oribos seek out Ta'lan the Antiquary located at The Broken Den (51, 44). The NPC will offer you two dungeon quests that rewards 500 reputation with all the new factions, and

Cartel Exchange Vessel, an item that infuses 35 stored Anima into your covenant's Reservoir.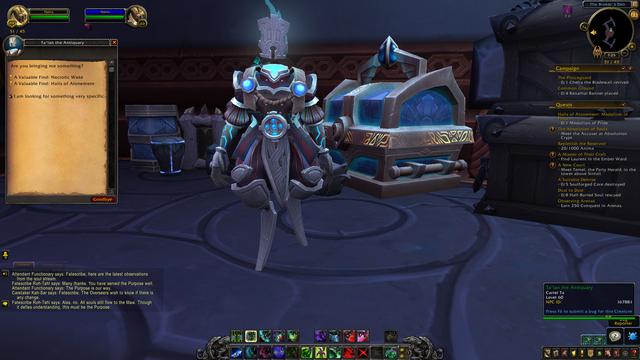 Two weekly PvP quests can be picked up in Oribos' Enclave area.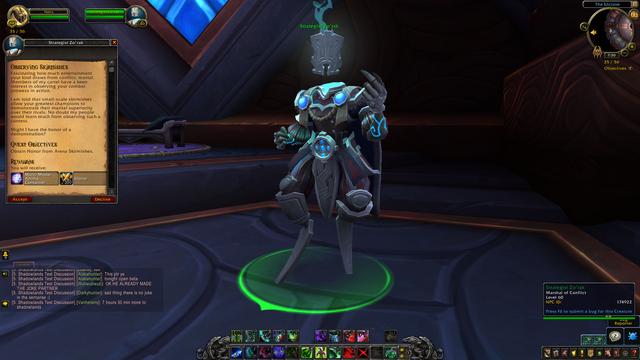 Try to clear as many Mythic+ dungeons for more choices in the Great Vault weekly chest. The same applies to killing raid bosses in Castle Nathria and earning Honor Points in Rated PvP.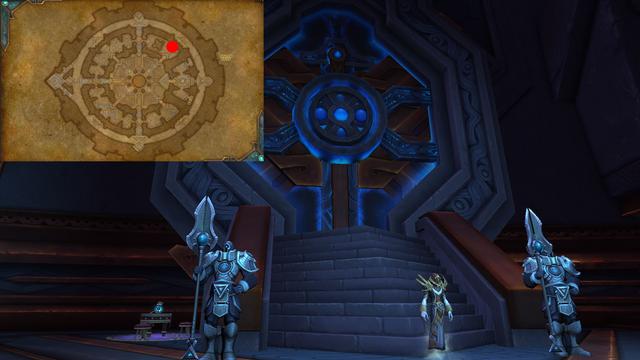 Clear the 2 Torghast wings each week to farm Soul Ash, required for crafting Legendary items.
You can find a list of wings that are currently available on The Maw map.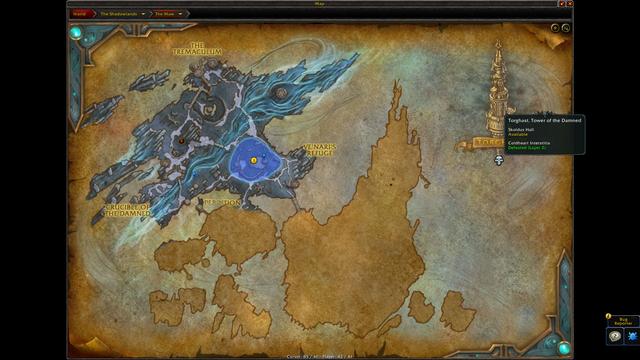 You can get a total of 1,140

Soul Ash from Torghast. More Soul Ash is available from Covenant Adventures.
You can get additional

Soul Ash from Covenant Adventures, but the missions are somewhat difficult to complete right now, so prioritize leveling up your Adventurers by completing XP missions first.
5.5.
Wrath of the Jailer Event
Complete the Wrath of the Jailer event in The Maw each week for an Item Level 183 item.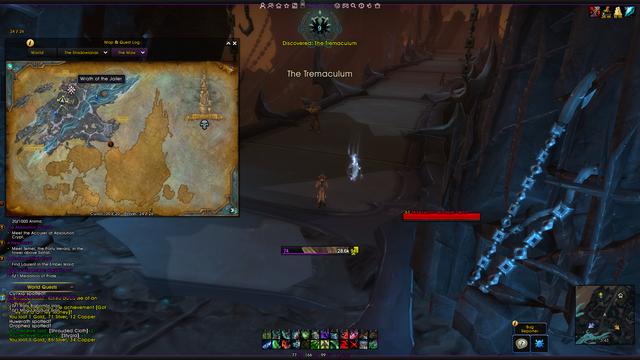 Castle Nathria is the first raid of the expansion. It opened December 8 on Normal and Heroic difficulty. Mythic difficulty opened one week later on December 15 along with the first Raid Finder wing. You can queue up for the raid for Item Level 187 loot. Do not forget that defeating bosses in the raid results in unlocking Legendary Powers and more item choices in Great Vault.
7.
Shadowlands Mythic+ Dungeons 1
The very first Mythic Season of Shadowlands started December 8. Participate in completing Mythic Keystone dungeons for more item options in Great Vault. You will find more information in our Mythic Season 1 Hub linked below.
Four new world bosses are rotating on a weekly schedule in Shadowlands. Do not forget to kill them for a chance at Item Level 207 loot, Conduits, and Legendary powers .
8.1.
Shadowlands PvP Season 1
The first PvP Season has started and you can accrue Honor and Conquest to buy gear from PvP vendors and upgrade PvP Armor in Oribos.
16 Dec. 2020: Routine weekly update.
11 Dec. 2020: Updated for Season 1.
01 Dec. 2020: Updated for the week of December 1.
29 Nov. 2020: Added Soul Ash from Missions and Wrath of the Jailer to weekly events.
27 Nov. 2020: Clarified when Runecarving and Torghast unlock questline is available.
26 Nov. 2020: Added PvP Hub and Soul Ash information.
24 Nov. 2020: Updated with new information.
23 Nov. 2020: Guide added.
Show more
Show less