Blood Death Knight Tank Artifact Talents/Traits and Relics (Legion 7.3.5)
Table of Contents
General Information
This page shows you how to level up the Artifact and how to choose the right Relics for your Blood Death Knights. It is updated for World of Warcraft Legion 7.3.5.
The other pages of our Blood Death Knight guide can be accessed from the table of contents on the right.
About Our Reviewer
This guide has been reviewed and approved by Volstatsz, a Blood Death Knight theorycrafter and moderator for the Acherus Death Knight community. You can follow him on Twitter.
1. Artifact Progression for Blood Death Knights
For the first 35 Artifact points, we currently recommend the following path, which along the way will pick up important survivability traits (such as

Rattling Bones and

Vampiric Fangs as quickly as possible.
The order of

Mouth of Hell and

Grim Perseverance+

Skeletal Shattering is up to personal preference. Mouth of Hell is a quality of life improvement for the pull rotation (with

Dancing Rune Weapon active, one

Marrowrend will give you a full set of 9-10 stacks of

Bone Shield, leaving 4 runes to build Runic Power). It also makes Dancing Rune Weapon a meaningful DPS cooldown, but choosing Mouth of Hell delays reaching all 3 golden traits, slightly.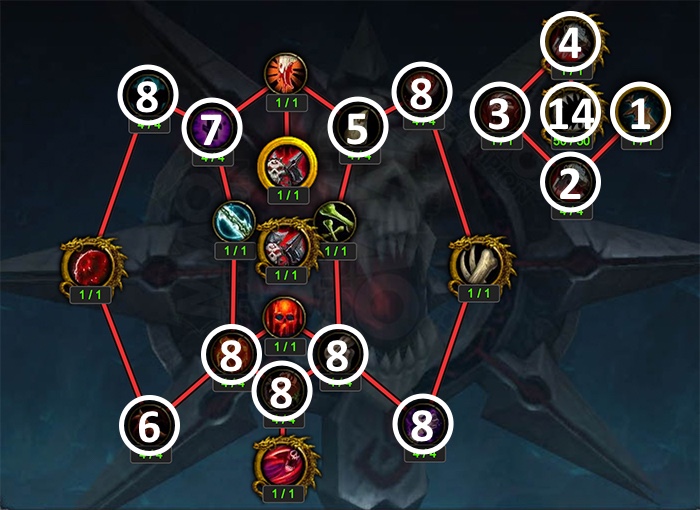 After the first 35 points have been placed, we recommend the following order.
2. Relic Choice for Blood Death Knights
When choosing which Relics to use, always take the one that grants you the highest item level, regardless of the benefit it offers. When having to choose between Relics that grant the same item level, prioritize those that improve

Carrion Feast,

Veinrender, or

Dance of Darkness.
3. ChangeLog
12 Jun. 2017: Updated relic recommendation.
23 May 2017: Updated relic recommendation.
28 Mar. 2017: Updated Relic recommendations.
27 Mar. 2017: Added path for the Artifact traits added in Patch 7.2.
09 Jan. 2017: Made a change in Relic recommendation for AoE situations.
04 Oct. 2016: Slightly redesigned the Artifact path, removed one of the two alternative paths, and updated Relic recommendations.
29 Aug. 2016: Added.
+ show all entries
- show only 10 entries