Windwalker Monk DPS Artifact Talents/Traits and Relics (Legion 7.3.5)
Table of Contents
General Information
This page shows you how to level up the Artifact and how to choose the right Relics for your Windwalker Monks. It is updated for World of Warcraft Legion 7.3.5.
The other pages of our Windwalker Monk guide can be accessed from the table of contents on the right.
About Our Reviewer
This guide has been reviewed and approved by Babylonius, a prominent Windwalker Monk theorycrafter who maintains the Windwalker sections of Peak of Serenity. You can follow him on Twitter: @BabyloniusMonk.
1. Artifact Progression for Windwalker Monks
For the first 35 Artifact points, we recommend the following progression path, as a Windwalker Monk.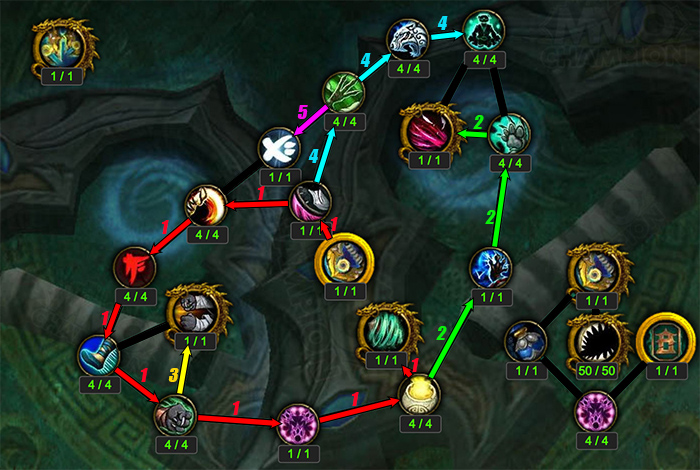 Essentially, you should take all your traits in a counter-clockwise fashion, skipping

Gale Burst until after you get

Crosswinds.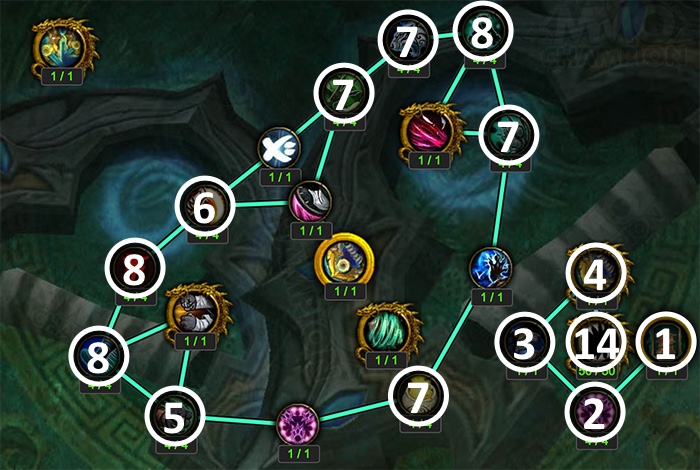 After this, the remaining points should be distributed as follows.
2. Relic Choice for Windwalker Monks
For Windwalker, both the item level and trait of the relic can have a huge impact on your choice. Each trait is worth a certain number of item levels in terms of raw DPS; below is a list of each trait and how much they are worth in terms of your weapon's item level. When comparing relics, you should compare the combined item level increase provided by the actual relic and the value in the list below, and then choose the relic with the higher combined value.
Rising Winds (+8 item levels)
Fists of the Wind and Split Personality (+7 item levels), and Strength of Xuen (+7 item levels, with the 4-piece Tier 21 Set Bonus)
Tiger Claws (+4 item levels)
Inner Peace (+3 item levels)
Strength of Xuen (+2 item levels, without the 4-piece Tier 21 Set Bonus)
Everything else (+0 item levels)

Power of a Thousand Cranes gains more and more power as the number of targets increase, as does

Fists of the Wind.

Split Personality is not on the list, as it depends entirely on whether it gives you an extra cast of

Storm, Earth, and Fire or

Serenity, based on the fight, mechanics, length, and your raid composition. If it does, then it is the best relic out there. If not, it is effectively worthless. Because relics cannot be switched in and out like trinkets, we have included a rough average of its worth.
3. ChangeLog
21 Feb. 2018: Updated the relic priority.
27 Nov. 2017: Updated the relic priority slightly.
31 Aug. 2017: Updated relic priority.
12 Jun. 2017: Page reviewed and deemed updated for 7.2.5.
28 Apr. 2017: Updated the Patch 7.2 artifact path slightly and revamped the relic priority section.
27 Mar. 2017: Added path for the Artifact traits added in Patch 7.2.
12 Jan. 2017: Significantly improved the Relic recommendations.
10 Jan. 2017: Removed one of the Artifact paths (which no longer made sense this late into the expansion) and updated Relic recommendations.
29 Aug. 2016: Added.
+ show all entries
- show only 10 entries