Guardian Druid Tank NetherLight Crucible Relic Paths (Legion 7.3.5)
Table of Contents
General Information
This page will help you choose the right paths on your Netherlight Crucible as a a Guardian Druids. It is updated for World of Warcraft Legion 7.3.5. For more information, please read our Guide to the Netherlight Crucible.
The other pages of our Guardian Druid guide can be accessed from the table of contents on the right.
About Our Reviewer
This guide has been reviewed and approved by Treckie, who has been a long-time leading tank who has competed for world first kills for 5 years. He is one of the casters for both last year's and this year's upcoming Mythic Dungeon invitational. You can watch his stream on Twitch and you can follow him on Twitter.
1. General Optimization Advice for Guardian Druids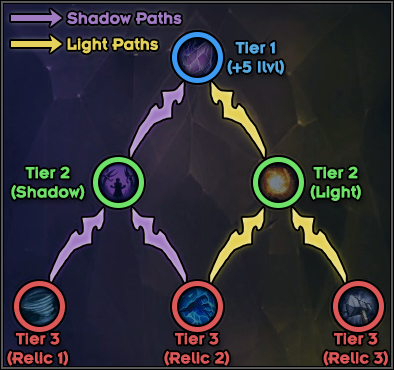 Optimizing through the Netherlight Crucible is straightforward; you are offered 2 initial paths, Shadow and Holy, and you should determine your path contingent on the following suggestions.
When deciding which path to take, compare the sum of the item level values of the tier 2 traits and the relics (listed in the section below) to determine which the optimal path is.
2. Tier 2 Upgrade Priority for Guardian Druids
You might sometimes get forced into picking certain Holy/Shadow crucible traits to get to whatever artifact trait you choose to go for, but when you have the ability to choose, you can follow the suggestions below.

Infusion of Light and

Secure in the Light have a shared RPPM between their heal and damage, meaning that they do not really do either job great, but rather they do both jobs poorly instead.
2.1. Survivability
While defensively,

Master of Shadows and

Light Speed are technically much more reliable than

Shadowbind and

Chaotic Darkness, they are also sort of weak unless the avoidance from Master of Shadows is effective.
2.2. Damage Output
3. Tier 3 Upgrade Priority for Guardian Druids
The Tier 3 upgrades are identical to the relic priority found in our Artifact Traits and Relics page, however, they have been relisted here for your convenience.
3.1. Survivability
For survivability, the traits to look out for are, in rough order:
Keep in mind that these traits all work slightly differently, and obviously the

Ironfur relics have little impact against magic, while

Wildflesh gains strength the more you actively use

Frenzied Regeneration.
Both

Sharpened Instincts and

Perpetual Spring are very weak traits, as

Survival Instincts is generally way too strong already, so reducing damage taken during it further is overkill, and Perpetual Spring reduces the cooldown of

Barkskin by 3% per stack, which is less than 3 seconds per rank.
3.2. Damage Output
The best offensive traits are, in rough order:
Jagged Claws;
Vicious Bites;
Mauler.
While some of the defensive traits are fairly strong, the impact of

Jagged Claws is hard to ignore; it can be worth sacrificing up to 40 item levels on a relic just to get Jagged Claws. This trait has greater impact in Mythic+ than any of the defensive traits, and even for raiding it is very valuable.
4. ChangeLog
18 Mar. 2018: Revamped the page significantly.
12 Sep. 2017: Added Netherlight Crucible page for Guardian Druid.
+ show all entries
- show only 10 entries