Demonology Warlock DPS Artifact Talents/Traits and Relics (Legion 7.3.5)
Table of Contents
General Information
This page shows you how to level up the Artifact and how to choose the right Relics for your Demonology Warlocks. It is updated for World of Warcraft Legion 7.3.5.
The other pages of our Demonology Warlock guide can be accessed from the table of contents on the right.
About Our Author and Reviewer
This guide has been written by Furty, who has an illustrious history in the World of Warcraft raiding scene and race for World First. He has been a member of guilds such as Serenity, Midwinter, and many more, and is currently raiding in Future. He plays most classes at the highest level. You can follow him on Twitter and watch him play on Twitch.
This guide has been reviewed and approved by Not, one of the best Demonology Warlocks and a respected theorycrafter. He raids in Strawberry Puppy Kisses. You can watch him on Twitch or YouTube and you can follow him on Twitter. He is also the owner and editor of Lock One Stop Shop, a website dedicated to Warlocks.
1. Artifact Progression for Demonology Warlock — First 35 Points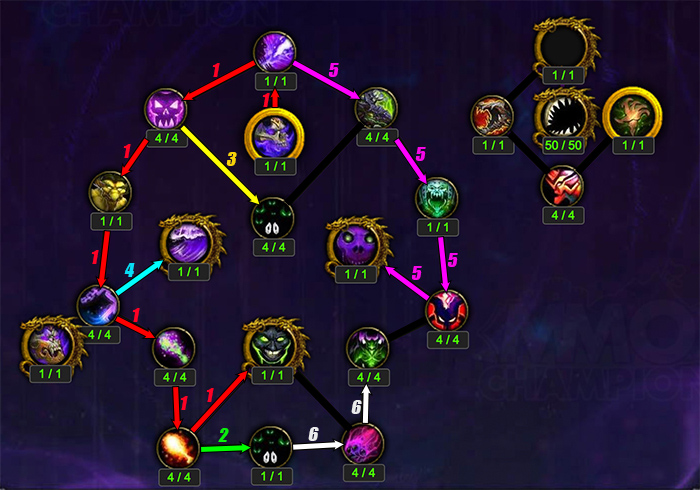 1.1. Early Point Investment
Take the left path into one of the most potent basic traits,

Summoner's Prowess, which is exceptional for increasing stable damage output as well as producing larger

Thal'kiel's Consumption casts. Do not be scared that

Imp-erator shares nomenclature with a terrible boss, because it is an amazing trait. 35% free Critical Strike for your Imps is a huge boost to your damage at the cost of only a single point.

Open Link is nothing special other than to add a little more defensive utility to your already invincible kit. Mosey down into

Infernal Furnace, another extraordinarily high value basic trait. Talent into your first Golden Trait,

The Expendables, which is a very strong trait overall for any situation.
1.2. Second Golden Trait
Before doing anything else, quickly snag

Doom, Doubled right below

The Expendables. This is a great trait and for only one point it is definitely worth acquiring early. Backtrack to the start of the tree and scoop up some more

Doom bonuses by investing into

The Doom of Azeroth. Swing back down the left side of the tree and talent into your second Golden Trait,

Stolen Power, which is a fine choice for single target damage.
1.3. Final Point Investment
From the start of the tree take the right path this time, grabbing some tasty

Call Dreadstalkers crit from the

Sharpened Dreadfangs trait. Go through

Soul Skin and

Firm Resolve to achieve true immortality. Invest into your final Golden Trait,

Thal'kiel's Discord. For your final two traits I recommend taking the

Dirty Hands trait first before finally rounding out Thal'kiel with

Legionwrath.
2. Patch 7.2: 35+ Trait Path for Demonology Warlock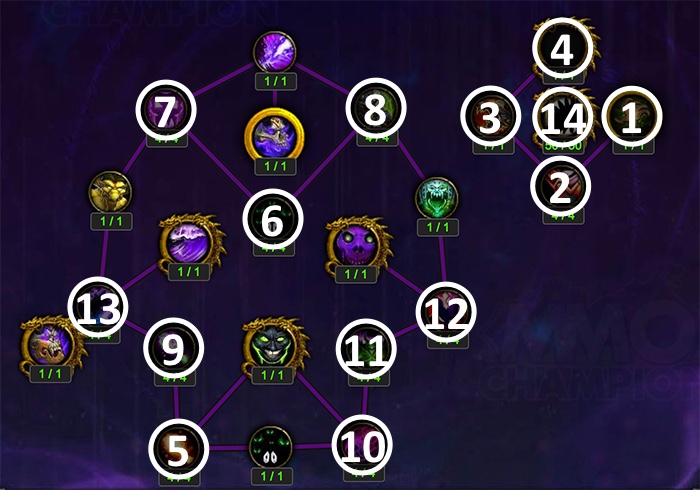 Patch 7.2 has replaced the 35-54 Paragon system with several additional new traits becoming available upon acquisition of the 35th point. All of the previous Relic traits will also unlock a 4th rank, along with a new Paragon system becoming available after all traits have been filled (via

Concordance of the Legionfall) which all additional Artifact Power will be spent on.
Detailed below is our suggested maxing order after 35 traits:
3. Relic Priority for Demonology Warlock
Infernal Furnace;
The Doom of Azeroth;
Maw of Shadows;
Summoner's Prowess;
Left Hand of Darkness;
Sharpened Dreadfangs;
Dirty Hands;
Legionwrath;
Any of the defensive Relics.
4. ChangeLog
17 Sep. 2017: Updated relic priority.
03 Sep. 2017: Slight update to 35+ trait path.
27 Mar. 2017: Updated for Patch 7.2. with new traits and order.
09 Jan. 2017: Checked and confirmed for Patch 7.1.5.
12 Nov. 2016: Updated Relic priority.
29 Aug. 2016: Added.
+ show all entries
- show only 10 entries