Survival Hunter DPS NetherLight Crucible Relic Paths (Legion 7.3)
Table of Contents
General Information
This page will help you choose the right paths on your Netherlight Crucible as a a Survival Hunters. It is updated for World of Warcraft Legion 7.3. For more information, please read our Guide to the Netherlight Crucible.
The other pages of our Survival Hunter guide can be accessed from the table of contents on the right.
About Our Author
This guide has been written by Azortharion, the main theorycrafter of the spec. He is also an accomplished player who raids in Solaris. You can also watch his stream on Twitch.
1. General Optimization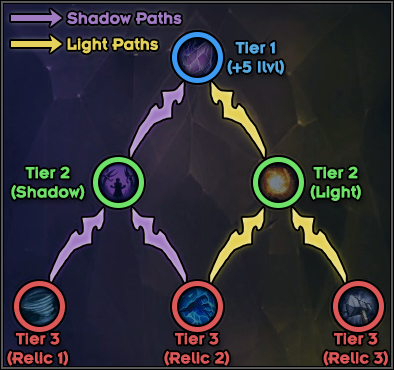 The only way to know for sure how to best slot out your relics in the Netherlight Crucible, is to simulate it using a site like RaidBots, ideally combined with the SimPermut AddOn.
Apart from simming, some basic maths can help you make the best decision.
Below you will find the DPS value of every tier 2 trait, and every tier 3 trait. To find out what your best option is in your relic, simply calculate the following for each option:
Tier 2 Trait Value + Tier 3 Trait Value
Repeat this for your different options. Left Tier 2 + Left/Middle Tier 3, and Right Tier 2 + Right/Middle Tier 3.
Whatever option comes out highest is the one that you should use.
2. Tier 2 - Weapon Item Level Values for Each Trait
Torment the Weak: 7.1
Secure in the Light: 6.7
Infusion of Light: 6.7
Shadowbind: 6.7
Chaotic Darkness: 5.8
Murderous Intent: 5
Light Speed: 4.6
Shocklight: 4.6
Master of Shadows: 3.75
Dark Sorrows: 2.1
Refractive Shell: 0
Light's Embrace: 0
3. Tier 3 - Weapon Item Level Values for Each Trait
How much you value the AoE traits will depend a lot on your playstyle — whether you are focusing on Mythic+ or raids and so on.
4. ChangeLog
+ show all entries
- show only 10 entries
13 Sep. 2017: Updated all trait values to be based on weapon item level, rather than DPS% values.
12 Sep. 2017: Updated the Tier 2 trait values after Blizzard changed them overnight.
10 Sep. 2017: Added initial page for the Survival Hunter Netherlight Crucible.

CONTENTS


FROM THE HUNTER FORUMS


Useful External Resources


RECENT FORUM POSTS
VISIT FORUMS


POPULAR FORUM THREADS
VISIT FORUMS