Holy Paladin Healing NetherLight Crucible Relic Paths (Legion 7.3.5)
Table of Contents
General Information
This page will help you choose the right paths on your Netherlight Crucible as a a Holy Paladins. It is updated for World of Warcraft Legion 7.3.5. For more information, please read our Guide to the Netherlight Crucible.
The other pages of our Holy Paladin guide can be accessed from the table of contents on the right.
About Our Reviewer
This guide has been reviewed and approved by Rhyno, a Holy Paladin moderator from the Hammer of Wrath Discord channel and a member of the Convert to Raid superguild on Aerie Peak-US.
1. General Optimization Advice for Holy Paladins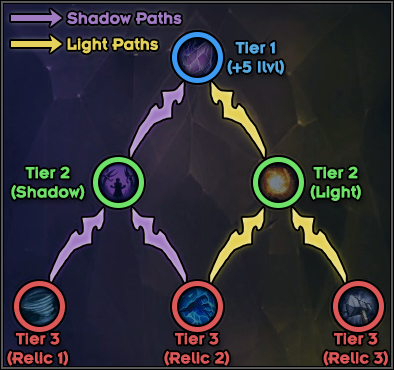 When deciding exactly which path to take, your most important choice is taking the best Tier 2 trait, even if this means that the path will lead you to taking a Tier 3 trait that provides no throughput whatsoever. However, in such cases, you should ideally look into replacing the relic so you can try to get both a best Tier 2 trait and a useful Tier 3 trait.
2. Tier 2 Upgrade Priority for Holy Paladins
Best: Refractive Shell, Master of Shadows, Infusion of Light, and Light Speed.
Good: Shocklight, Murderous Intent, Light's Embrace, and Secure in the Light.
Bad: Shadowbind, Chaotic Darkness, Torment the Weak, and Dark Sorrows.
3. Tier 3 Upgrade Priority for Holy Paladins
The Tier 3 upgrades are identical to the relic priority found in our Artifact Traits and Relics page, however, they have been relisted here for your convenience.
4. ChangeLog
12 Sep. 2017: Added Netherlight Crucible page for Holy Paladin.
+ show all entries
- show only 10 entries