Unholy Death Knight DPS NetherLight Crucible Relic Paths (Legion 7.3.5)
Table of Contents
General Information
This page will help you choose the right paths on your Netherlight Crucible as a a Unholy Death Knights. It is updated for World of Warcraft Legion 7.3.5. For more information, please read our Guide to the Netherlight Crucible.
The other pages of our Unholy Death Knight guide can be accessed from the table of contents on the right.
About Our Reviewer
This guide has been reviewed and approved by JaceDK, long-time Death Knight theorycrafter and moderator on the Death Knight Discord. You can also catch him on his stream or on his YouTube channel. He also raids in WHATEVER WERE AWESOME, a top guild.
1. General Optimization Advice for Unholy Death Knights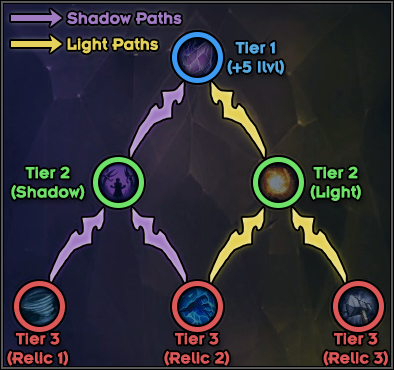 Optimizing through the Netherlight Crucible is straightforward; you are offered 2 initial paths, Shadow and Holy, and you should determine your path contingent on the following suggestions.
When deciding which path to take, compare the sum of the item level values of the tier 2 traits and the relics (listed in the sections below) to determine which the optimal path is.
2. Tier 2 Upgrade Priority for Unholy Death Knights
3. Tier 3 Upgrade Priority for Unholy Death Knights
The Tier 3 upgrades are identical to the relic priority found in our Artifact Traits and Relics page, however, they have been relisted here for your convenience.
Note that if you have the tier 21 set bonuses, the above priority changes, as follows.
4. ChangeLog
25 May 2018: Added tier 21 set bonus tier 3 relic priority and updated tier 2 priority.
12 Sep. 2017: Added Netherlight Crucible page for Unholy Death Knight.
+ show all entries
- show only 10 entries