Fire Mage DPS Artifact Talents/Traits and Relics (Legion 7.3.5)
Table of Contents
General Information
This page shows you how to level up the Artifact and how to choose the right Relics for your Fire Mages. It is updated for World of Warcraft Legion 7.3.5.
The other pages of our Fire Mage guide can be accessed from the table of contents on the right.
About Our Author and Reviewer
This guide has been written by Furty, who has an illustrious history in the World of Warcraft raiding scene and race for World First. He has been a member of guilds such as Serenity, Midwinter, and many more, and is currently raiding in Future. He plays most classes at the highest level. You can follow him on Twitter and watch him play on Twitch.
This guide has been reviewed and approved by Rinoa, a Fire Mage theorycrafter for Altered Time who is also a raider for Pieces.
1. Artifact Progression for Fire Mage — First 35 Points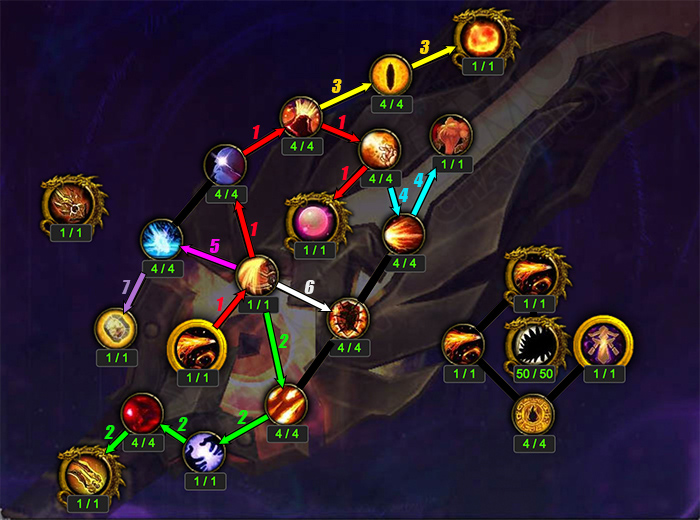 1.1. Early Point Investment
After acquiring the starting point,

Wings of Flame, take the upper right path into

Cauterizing Blink, which adds a nice healing effect to your

Blink. Snag

Pyroclasmic Paranoia, the highest value basic trait on the tree, adding some juicy damage to your

Pyroblast. Split right and max out

Fire at Will, another great basic trait which cuts down that filler cast time. Your first Golden Trait,

Pyretic Incantation, is a huge booster rocket for your damage no matter the situation. It also inflates the value of Critical Strike even further, and stacks up to 5 times.
1.2. Second Golden Trait
Go down from the starting point,

Wings of Flame, and fill out those

Great Balls of Fire for some filler damage. Go through

Big Mouth and grab the spicy

Ignite damage from

Everburning Consumption, another highly valued basic trait. Invest into your second Golden Trait,

Phoenix Reborn, which is another huge increase to your damage. This trait shines on fights with lots of stacked AoE and cleave, in particular.
1.3. Final Point Investment
Move up from

Pyroclasmic Paranoia on the upper part of the tree into

Burning Gaze, which is icing on the proverbial cake, though the multiplier is quite low. If single target damage is your top priority, grab

Reignition Overdrive and

Blast Furnace immediately before your final Golden Trait,

Aftershocks. For a more well rounded damage spread, however, it is recommended you instead grab

Aftershocks before

Reignition Overdrive and

Blast Furnace. The difference is small and mostly down to personal preference.
Your final point allocation is fairly straightforward.

Blue Flame Special will add some extra zest to your

Flamestrike. If

Koralon's Burning Touch ends up being your first legendary item, you should grab

Scorched Earth next. Otherwise, go

Molten Skin first before finally finishing

Felo'melorn with

Scorched Earth.
2. Patch 7.2: 35+ Trait Path for Fire Mage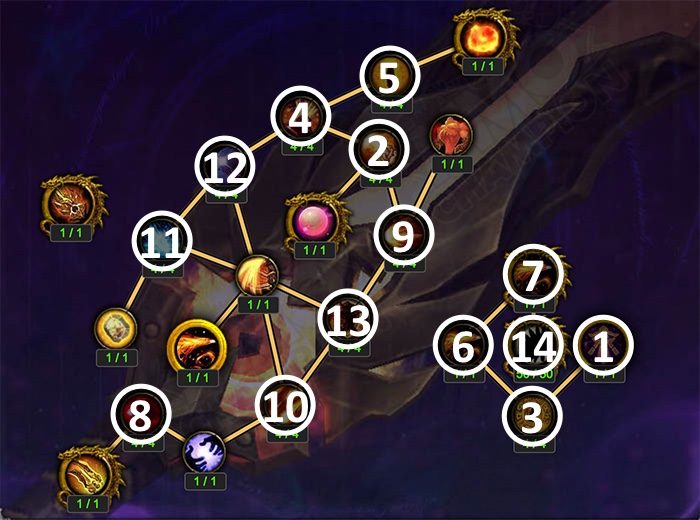 Patch 7.2 has replaced the 35-54 Paragon system with several additional new traits becoming available upon acquisition of the 35th point. All of the previous Relic traits will also unlock a 4th rank, along with a new Paragon system becoming available after all traits have been filled (via

Concordance of the Legionfall) which all additional Artifact Power will be spent on.
Detailed below is our suggested maxing order after 35 traits:
3. Relic Priority for Fire Mage
No trait is worth an upgrade of +3 item levels of any other available trait. Generally speaking, item level is the best indicator of value for Fire relics currently. +2 item levels is about the maximum trade off of a high value trait versus a non-damaging trait.
Everburning Consumption;
Pre-Ignited;
Pyroclasmic Paranoia;
Burning Gaze;
Fire at Will;
Great Balls of Fire;
Any of the other damage traits.
4. ChangeLog
11 Feb. 2018: Updated relic recommendations.
12 Jun. 2017: Added a paragraph discussing relic item level and how it relates to priority.
29 Mar. 2017: Moved Pyroclastic Paranoia a couple spots up in path priority.
27 Mar. 2017: Added path for new 7.2 traits.
20 Feb. 2017: Updated Relic priority.
29 Nov. 2016: Updated Relic choices due to more recent SimC info.
29 Aug. 2016: Added.
+ show all entries
- show only 10 entries