Guardian Druid Tank Artifact Talents/Traits and Relics (Legion 7.3.5)
Table of Contents
General Information
This page shows you how to level up the Artifact and how to choose the right Relics for your Guardian Druids. It is updated for World of Warcraft Legion 7.3.5.
The other pages of our Guardian Druid guide can be accessed from the table of contents on the right.
About Our Reviewer
This guide has been reviewed and approved by Treckie, who has been a long-time leading tank who has competed for world first kills for 5 years. He is one of the casters for both last year's and this year's upcoming Mythic Dungeon invitational. You can watch his stream on Twitch and you can follow him on Twitter.
1. Artifact Progression for Guardian Druids
Please note that at this stage in the Legion expansion, unlocking your pre-Patch 7.2 artifact traits happens almost instantly, and as such, choosing a particular path through them is irrelevant.
Afterwards, it takes a bit more time (although not that much) to reach

Concordance of the Legionfall. Optimizing your path here is more worthwhile.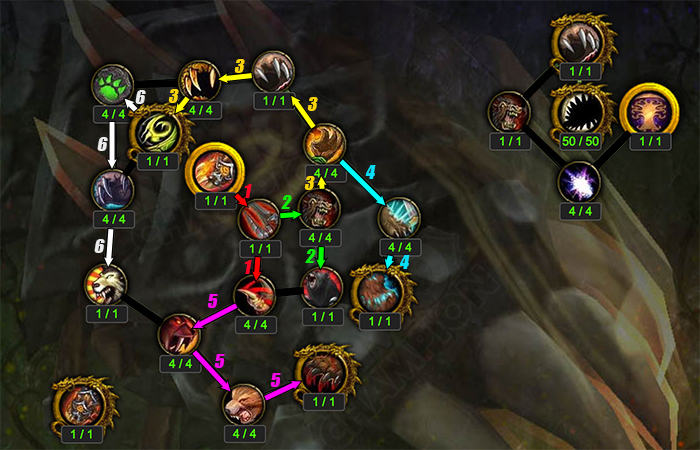 For the first 35 Artifact points, the Guardian Druid Artifact progression path is mostly straightforward, but there is one to choice to be made at a certain point.
1.1. Shared Path
The first part of the progression path is the same no matter what choice you make later on. You will aim to go for

Embrace of the Nightmare as your first golden trait, by choosing the following traits, in order.
1.2. Adaptive Fur Versus Gory Fur
At this point, you will need to choose if you want to unlock

Adaptive Fur or

Gory Fur as your second golden trait. We recommend Adaptive Fur, as going down this path is quicker. However, Gory Fur provides a greater survivability increase.
If you are going for

Adaptive Fur, simply take

Reinforced Fur and then Adaptive Fur.
If you are going for

Gory Fur, then take

Sharpened Instincts,

Ursoc's Endurance, and then Gory Fur.
Regardless of your choice, your next step should be to take the golden trait that you chose not to take first.
Once you have unlocked the first 3 golden traits, all that is left is to take any remaining traits up to the new traits added in Patch 7.2.
Bestial Fortitude
Ursoc's Bond
1.3. Patch 7.2 Traits for Guardian Druids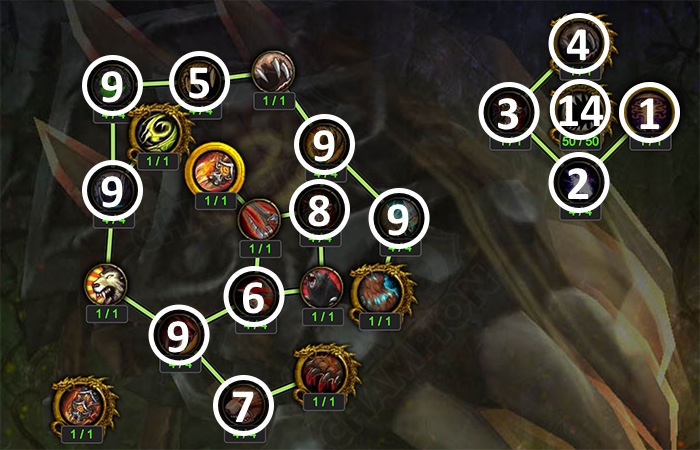 For the traits added in Patch 7.2, you should follow this order:
2. Relic Choice for Guardian Druids
When choosing which Relics to use, the benefit the relic offers is important, and you should be willing to sacrifice item levels to gain the desired trait.
2.1. Survivability
For survivability, the traits to look out for are, in rough order:
Keep in mind that these traits all work slightly differently, and obviously the

Ironfur relics have little impact against magic, while

Wildflesh gains strength the more you actively use

Frenzied Regeneration.
Both

Sharpened Instincts and

Perpetual Spring are very weak traits, as

Survival Instincts is generally way too strong already, so reducing damage taken during it further is overkill, and Perpetual Spring reduces the cooldown of

Barkskin by 3% per stack, which is less than 3 seconds per rank.
2.2. Damage Output
The best offensive traits are, in rough order:
Jagged Claws;
Vicious Bites;
Mauler.
While some of the defensive traits are fairly strong, the impact of

Jagged Claws is hard to ignore; it can be worth sacrificing up to 40 item levels on a relic just to get Jagged Claws. This trait has greater impact in Mythic+ than any of the defensive traits, and even for raiding it is very valuable.
3. ChangeLog
18 Mar. 2018: Significantly revamped relic priority.
12 Sep. 2017: Updated relic priority.
12 Jun. 2017: Page reviewed and deemed updated for 7.2.5.
27 Mar. 2017: Added path for the Artifact traits added in Patch 7.2.
16 Dec. 2016: Removed a mention of Relics that enhance Roar of the Crowd, since none actually exist.
29 Aug. 2016: Added.
+ show all entries
- show only 10 entries