Guardian Druid Tank Artifact Talents/Traits and Relics (Legion 7.2.5)
Table of Contents
General Information
This page shows you how to level up the Artifact and how to choose the right Relics for your Guardian Druids. It is updated for World of Warcraft Legion 7.2.5.
The other pages of our Guardian Druid guide can be accessed from the table of contents on the right.
About Our Reviewer
This guide has been reviewed and approved by Justwait, a top tank who raids in Method. You can also watch his stream on Twitch and follow him on Twitter.
1. Artifact Progression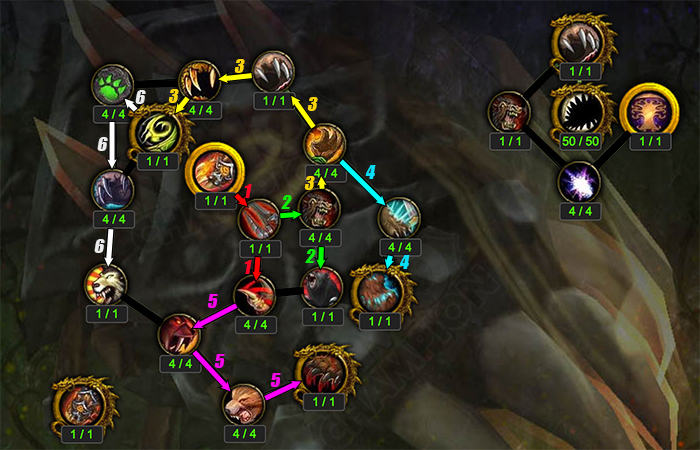 For the first 35 Artifact points, the Guardian Druid Artifact progression path is mostly straightforward, but there is one to choice to be made at a certain point.
1.1. Shared Path
The first part of the progression path is the same no matter what choice you make later on. You will aim to go for

Embrace of the Nightmare as your first golden trait, by choosing the following traits, in order.
1.2. Adaptive Fur Versus Gory Fur
At this point, you will need to choose if you want to unlock

Adaptive Fur or

Gory Fur as your second golden trait. We recommend Adaptive Fur, as going down this path is quicker. However, Gory Fur provides a greater survivability increase.
If you are going for

Adaptive Fur, simply take

Reinforced Fur and then Adaptive Fur.
If you are going for

Gory Fur, then take

Sharpened Instincts,

Ursoc's Endurance, and then Gory Fur.
Regardless of your choice, your next step should be to take the golden trait that you chose not to take first.
Once you have unlocked the first 3 golden traits, all that is left is to take any remaining traits up to the new traits added in Patch 7.2.
Bestial Fortitude
Ursoc's Bond
1.3. Patch 7.2 Traits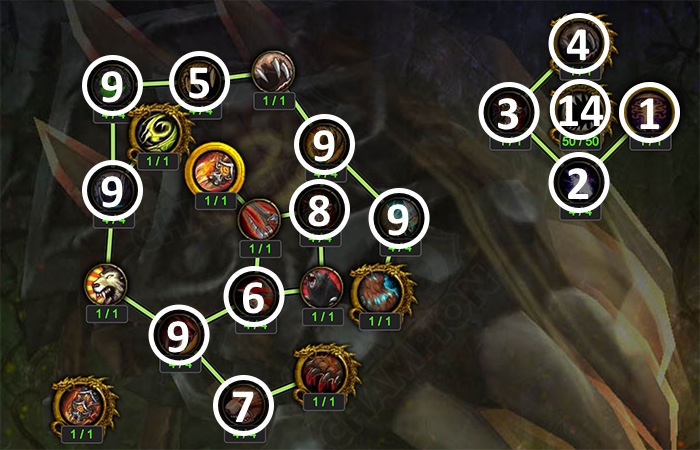 For the traits added in Patch 7.2, you should follow this order:
2. Relic Choice
When choosing which Relics to use, always take the one that grants you the highest item level, regardless of the benefit it offers. When having to choose between Relics that grant the same item level, you should choose based on the traits that they enhance.
When trying to maximise survivability, look for Relics that enhance

Wildflesh,

Ursoc's Endurance, or

Reinforced Fur.
If you want to improve your DPS, then you should look for Relics that enhance

Jagged Claws or

Vicious Bites.
Relics that enhance

Mauler are generally undesirable unless they offer an item level increase.
3. ChangeLog
+ show all entries
- show only 10 entries
12 Jun. 2017: Page reviewed and deemed updated for 7.2.5.
27 Mar. 2017: Added path for the Artifact traits added in Patch 7.2.
16 Dec. 2016: Removed a mention of Relics that enhance Roar of the Crowd, since none actually exist.
29 Aug. 2016: Added.

CONTENTS


FROM THE DRUID FORUMS


RECENT FORUM POSTS
VISIT FORUMS


POPULAR FORUM THREADS
VISIT FORUMS