Arms Warrior DPS NetherLight Crucible Relic Paths and Weights (Legion 7.3.5)
Table of Contents
General Information
This page will help you choose the right paths on your Netherlight Crucible as a a Arms Warriors. It is updated for World of Warcraft Legion 7.3.5. For more information, please read our Guide to the Netherlight Crucible.
The other pages of our Arms Warrior guide can be accessed from the table of contents on the right.
About Our Author and Reviewer
This guide has been written by Wordup, a frequent theorycrafter involved in a number of class communities. He is also an experienced player who has been in the world top 100 since the days of Sunwell, currently raiding in Echoes. You can also follow him on Twitter.
This guide has been reviewed and approved by Archimtiros, one of the best DPS Warriors in the world, who raids in Infinity. You can follow him on Twitter.
1. Optimization between Light/Shadow Tier 2 and Relic Tier 3 Choices for Arms Warrior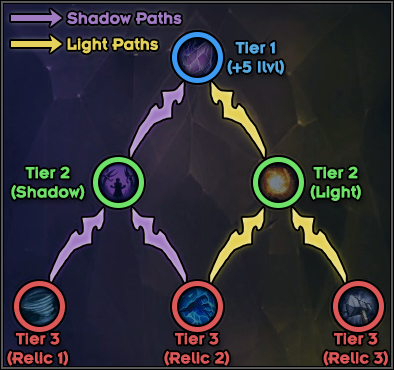 Optimizing the Netherlight Crucible for Arms is about carefully finding the balance between your tier 2 Light/Shadow powers and the tier 3 Relic traits that are presented to you on the tree. Your path will be specific to you, so there is no universal rule on teh path to take, but rather the best combination of high value options that you can get from the tree.
For each of the Tier 2 and Tier 3 options on the Crucible then, I have added a value next to each choice that has been calculated through SimulationCraft, based on the equivalent Item Level value each trait is. To work out your best choice with the options, simply take the values of the Tier 2 and tier 3 options you use, combine them and select the highest possible combination.
2. Tier 2 Priorities for Arms Warrior
The Light/Shadow traits on Tier 2 have a lot of high value options in the Crucible. Due to how even most of the effects are, there are only a small number of weak options that are listed below that you should avoid, otherwise most other choices remain equal:
2.1. Best
2.2. Weak
Note that anything with defensive added next to it has additional benefit from through the defensive bonuses they also grant. This has no value for dealing damage, but some players may want to focus on this depending on the content they participate in.
3. Tier 3 Priorities for Arms Warrior
Ideally, you should attempt to take the best Tier 2 trait to lead to the highest value Tier 3 trait. However, if you find that the Tier 2 option would outvalue any of the Tier 3 options available to you, then deciding instead based on the Light/Shadow choice is optimal. Note that these values are much more specific than those on the Relic page, as they have been done at a much more specific gear level to allow for more focus. Most importantly, bear in mind that these choices have been generated with a Tier 21 profile that have talents to accompany it, so if you do not have access to that, some choices (

Many Will Fall in particular) will lose value quickly:
The traits not listed here (

Tactical Advance and

Touch of Zakajz) are very low value traits that are defensively oriented and provide little to no benefit, and should be avoided wherever possible.
4. ChangeLog
28 Nov. 2017: Updated for Antorus release.
12 Sep. 2017: Added Netherlight Crucible page for Arms Warrior.
+ show all entries
- show only 10 entries