Frost Death Knight DPS Artifact Talents/Traits and Relics (Legion 7.3.5)
Table of Contents
General Information
This page shows you how to level up the Artifact and how to choose the right Relics for your Frost Death Knights. It is updated for World of Warcraft Legion 7.3.5.
The other pages of our Frost Death Knight guide can be accessed from the table of contents on the right.
About Our Reviewer
This guide has been reviewed and approved by Ertrak, a top Frost Death Knight who raids in Azshari Vegans.
1. Artifact Progression for Frost Death Knights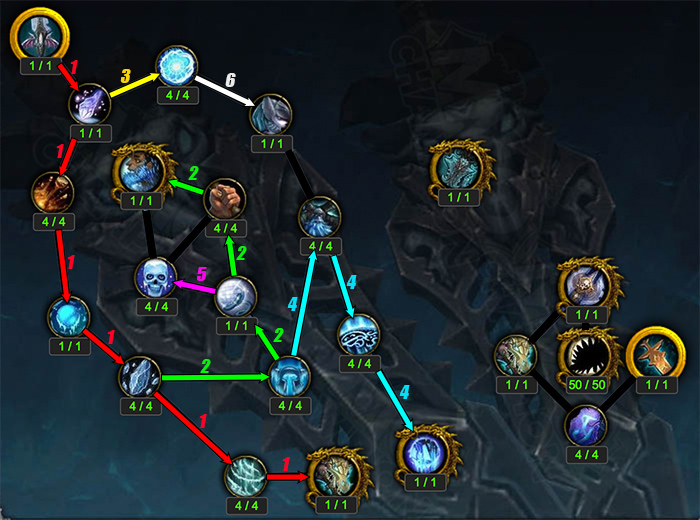 For the first 35 Artifact points, the path for Frost Death Knights is very straightforward.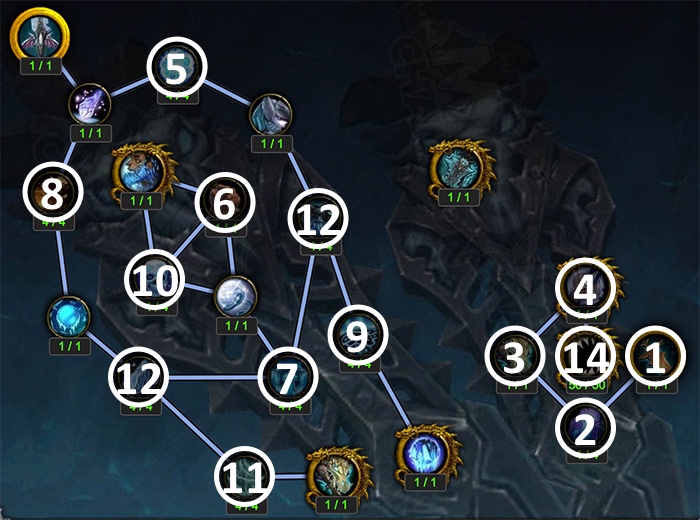 After this, you should place your remaining points in the following order.
2. Relic Choice for Frost Death Knights
Both the item level and trait of the relic can have a huge impact on your choice. Each trait is worth a certain number of item levels in terms of raw DPS; below is a list of each trait and how much they are worth in terms of your weapon's item level. When comparing relics, you should compare the combined item level increase provided by the actual relic and the value in the list below, and then choose the relic with the higher combined value.
2.1. Single Target
2.2. AoE
3. ChangeLog
25 May 2018: Updated relic priority.
11 Aug. 2017: Updated relic priority slightly.
13 Jun. 2017: Page reviewed and deemed updated for 7.2.5.
22 May 2017: Added a mention to better give context to the relic priority.
24 Apr. 2017: Removed mention of Machine Gun playstyle and slightly updated relic priority.
27 Mar. 2017: Added path for the Artifact traits added in Patch 7.2.
21 Feb. 2017: Updated Relic priorities.
17 Jan. 2017: Added a mention of a different Relic priority if using Breath of Sindragosa as your tier 7 talent, and removed a mention of different Relic priorities for AoE damage.
10 Jan. 2017: Checked and confirmed for Patch 7.1.5.
27 Oct. 2016: Updated Relic priority.
05 Oct. 2016: Updated the Relic priority slightly.
29 Aug. 2016: Added.
+ show all entries
- show only 10 entries