Discipline Priest Healing Artifact Talents/Traits and Relics (Legion 7.3.5)
Table of Contents
General Information
This page shows you how to level up the Artifact and how to choose the right Relics for your Discipline Priests. It is updated for World of Warcraft Legion 7.3.5.
The other pages of our Discipline Priest guide can be accessed from the table of contents on the right.
About Our Reviewer
This guide has been reviewed and approved by Mend, admin and editor at Focused Will (Discord and Blog for healing Priests). You can also follow Mend on Twitter.
1. Artifact Progression for Discipline Priests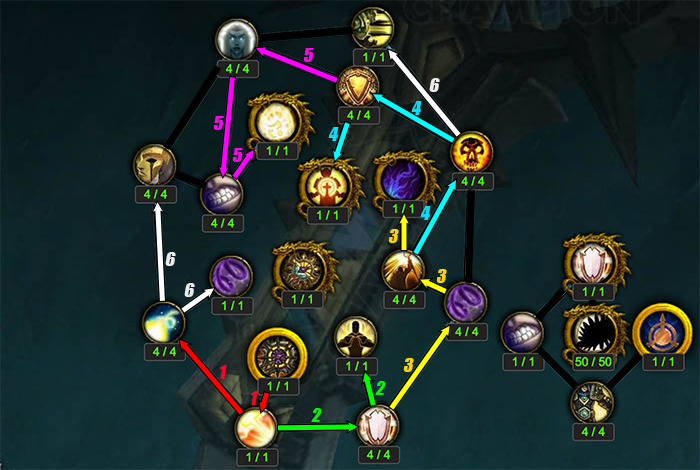 As a Discipline Priest, for your first 35 Artifact points, there is a very clear path that you should follow, with very little room for alternative choices.
You are aiming for

Confession first, as this is a big buff to

Penance, which is one of your biggest contributors to

Atonement healing. Then, you will head for

Power of the Dark Side, which is another great buff to Penance (and you will also take

Share in the Light along the way, which is a free absorb).
Your next goal is

Sins of the Many, which results in a very nice DPS boost. Finally, you will take

Barrier for the Devoted, which provides healing to players inside your

Power Word: Barrier, and in doing so you will also pick up a few other useful traits along the way.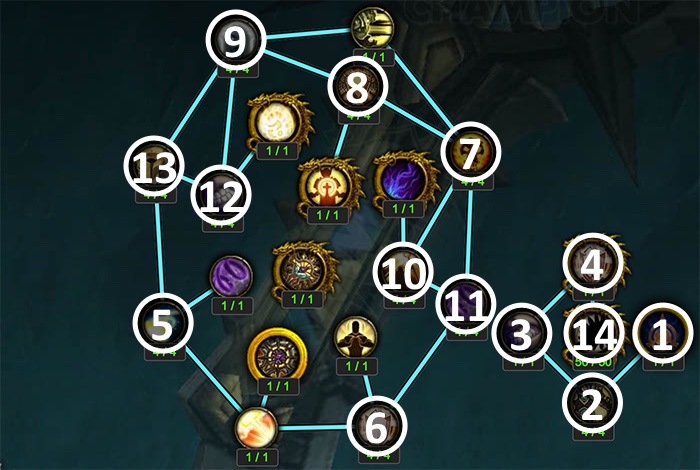 After placing these initial 35 points, you should distribute future points as follows.
2. Relic Choice for Discipline Priests
When choosing which Relics to use, always take the one that grants you the highest item level, regardless of the benefit it offers. When having to choose between Relics that grant the same item level, chose based on the following trait enhancement priority.
Confession (+3 item levels);
The Edge of Dark and Light, Shield of Faith, Lenience's Reward (+2 item levels);
Everything else (+0 item levels).
3. ChangeLog
12 Sep. 2017: Updated relic priority.
12 Jun. 2017: Page reviewed and deemed updated for 7.2.5.
17 Apr. 2017: Updated the relic priority.
27 Mar. 2017: Added path for the Artifact traits added in Patch 7.2.
10 Jan. 2017: Checked and confirmed for Patch 7.1.5.
10 Nov. 2016: Updated the Relic priority to account for the Shield Discipline talent being recommended for raiding.
29 Aug. 2016: Added.
+ show all entries
- show only 10 entries