Fury Warrior DPS NetherLight Crucible Relic Paths (Legion 7.3.2)
Table of Contents
General Information
This page will help you choose the right paths on your Netherlight Crucible as a a Fury Warriors. It is updated for World of Warcraft Legion 7.3.2. For more information, please read our Guide to the Netherlight Crucible.
The other pages of our Fury Warrior guide can be accessed from the table of contents on the right.
About Our Author and Reviewer
This guide has been written by Wordup, a frequent theorycrafter involved in a number of class communities. He is also an experienced player who has been in the world top 100 since the days of Sunwell, currently raiding in Echoes. You can also follow him on Twitter.
This guide has been reviewed and approved by Archimtiros, one of the best DPS Warriors in the world, who raids in Infinity. You can follow him on Twitter.
1. Optimization between Light/Shadow Tier 2 and Relic Tier 3 Choices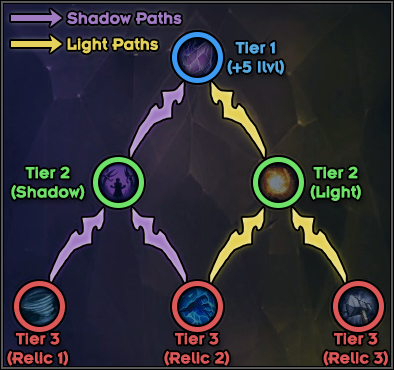 Optimizing around the Netherlight Crucible for Havoc is decided based on the current traits that your weapon Relic already has on it. The priority is to aim to get

Unrivaled Strength on all 3 Relics, either through your Tier 3 option at the bottom of the tree, or on the Relic itself. This always takes precedence, and so if you need to unlock this via the crucible, your Tier 2 option will be decided by whichever is the best choice that eventually leads to it.
If your relic has Unrivaled Strength on it, then choose your Tier 2 and Tier 3 options based on the advice in the sections that follow.
If your relic does not have Unrivaled Strength on it, but has it on its Tier 3 line, then select the path that leads to Unrivaled Strength.
If your relic does not have Unrivaled Strength at all, then to optimize it, follow the advice in the sections that follow.
Below, I will be listing the individual values of all of the Crucible traits, so in some fringe cases certain combinations may come out slightly more valuable than this rule, so if you are unsure combine these together to see if you can reach a higher value than focusing on

Unrivaled Strength, but this will be rare.
2. Light/Shadow Tier 2 Options
If your relic does not have

Unrivaled Strength on its third line (Tier 3), then your path is dictated by the best choice of Light/Shadow powers on the Tier 2. These powers are broken down into the brackets below. Powers in the same bracket are roughly equal to each other.
2.1. Best
2.2. Good
2.3. Weak
Note that anything with defensive added next to it has additional benefit from through the defensive bonuses they also grant. This has no value for dealing damage, but some players may want to focus on this depending on the content they participate in.
3. Tier 3 Priorities
Ideally, you should attempt to take the best Tier 2 trait to follow the rules relating to

Unrivaled Strength at the top of the page. However, in situations outside of this, the values below show the value of each trait, which when combined with the above tier 2 numbers above will show the overall value of the relic and combination of traits:
The traits not listed here (

Bloodcraze,

Battle Scars, and

Uncontrolled Rage) are very low value traits that are either defensively oriented or provide little to no benefit, and should be avoided wherever possible.
4. ChangeLog
+ show all entries
- show only 10 entries
12 Sep. 2017: Added Netherlight Crucible page for Fury Warrior.