Discipline Priest Healing NetherLight Crucible Relic Paths (Legion 7.3.5)
Table of Contents
General Information
This page will help you choose the right paths on your Netherlight Crucible as a a Discipline Priests. It is updated for World of Warcraft Legion 7.3.5. For more information, please read our Guide to the Netherlight Crucible.
The other pages of our Discipline Priest guide can be accessed from the table of contents on the right.
About Our Reviewer
This guide has been reviewed and approved by Mend, admin and editor at Focused Will (Discord and Blog for healing Priests). You can also follow Mend on Twitter.
1. General Optimization Advice for Discipline Priests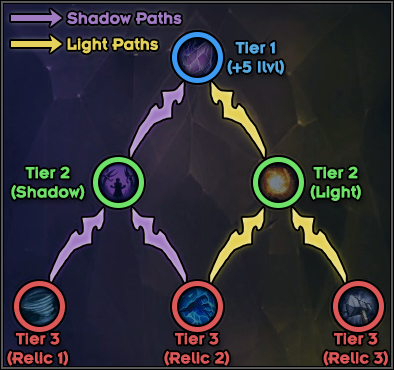 The most important thing to consider when choosing your path is that the trait provided by the relic (or by the Tier 3 of Netherlight Crucible) is a desirable one, as listed below. Once this is assured, find the best path you can based on the rankings listed in the Tier 2 trait section.
Currently, the state of theorycrafting for Discipline Netherlight Crucible choices is incomplete. We will update this page as we know more, but until then tier 2 trait rankings are approximate.
2. Tier 2 Upgrade Priority for Discipline Priests
3. Tier 3 Upgrade Priority for Discipline Priests
The Tier 3 upgrades are identical to the relic priority found in our Artifact Traits and Relics page, however, they have been relisted here for your convenience.
Confession (+3 item levels);
The Edge of Dark and Light, Shield of Faith, Lenience's Reward (+2 item levels);
Everything else (+0 item levels).
4. ChangeLog
12 Sep. 2017: Added Netherlight Crucible page for Discipline Priest.
+ show all entries
- show only 10 entries